Cech - We proved people wrong
Chelsea's Petr Cech was delighted to prove the doubters wrong with his penalty heroics against Bayern Munich.
Last Updated: 20/05/12 12:45pm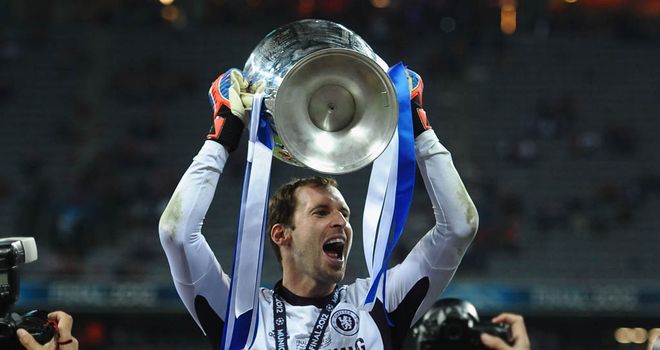 Chelsea's Petr Cech was delighted to prove the doubters wrong with his penalty heroics against Bayern Munich.
Cech helped end the Blues' agonising wait for UEFA Champions League glory as they earned a dramatic shoot-out victory in the Allianz Arena on Saturday.
The success marked an early 30th birthday present for the goalkeeper and, more significantly, a remarkable turnaround in fortunes for a club that looked out of the competition on numerous occasions.
Chelsea were 3-1 down after the first leg in Napoli at the last 16 stage before being a goal and a man down in Barcelona.
But there was more drama in the final in Munich with Chelsea just minutes from losing in normal time, conceding a penalty in extra-time and going 3-1 down in the shoot-out.
And Cech feels the success was a phenomenal response to the criticism the team has endured this season in relation to the March sacking of Andre Villas-Boas and the sixth-place league finish.
"It was a kind of revolt against everybody," Cech said. "Because everything was going against us and we didn't have results.
No chance
"Andre Villas-Boas had to leave, he was sacked, and everybody was saying, 'You have no chance against Napoli, second leg'.
"Everybody wrote us off against Barcelona, everybody said that Bayern is playing at home, that we have missing players, and we have no chance.
"So, we kept proving everybody wrong."
Asked if it had been destiny for Chelsea to win given the obstacles they overcame, the Czech Republic shot-stopper said: "It must have been because, all those years, we've been really doing well in the league.
"And throughout all the years, we were so unlucky in the Champions League.
"This year, everything was going wrong in the league. We finished in sixth place, where we had never finished since I joined the club, and it was the moment where we won the Champions League.
"So many times this season, people wrote us off, and we said, 'Okay, everybody keeps writing us off, but we will do it'.
Unexpected
"Finally. It's been eight years. The chance came and in a moment when nobody expected it. We grabbed the chance.
"I said prior to the game that if we win the cup, I don't want a cake, and this is the best present I can get. It's a dream come true."
Cech saved three penalties on the night, one from Arjen Robben in extra-time before denying Ivica Olic and Bastian Schweinsteiger in the shoot-out, and hailed it as a once-in-a-lifetime achievement.
"It was fantastic and when I saved the first one in extra-time, obviously it gave me confidence for the penalty shoot-out," said Cech.
The goalkeeper had watched on as John Terry missed a penalty that would have won the 2008 Champions League final in Moscow and saw this as redemption for the side.
He added: "I saw Didier (Drogba) step up for the fifth one and thought, 'This was the moment that should have happened in Moscow'.
"When he scored, for the first time in my life I didn't know what to do. I heard him crying. I was crying, shouting. It was unbelievable."