Euro star
Theodor Gebre Selassie failed to impress when given the tough task of stopping Cristiano Ronaldo.
By Peter Fraser - Follow me on Twitter @SkySportsPeteF
Last Updated: 21/06/12 10:59pm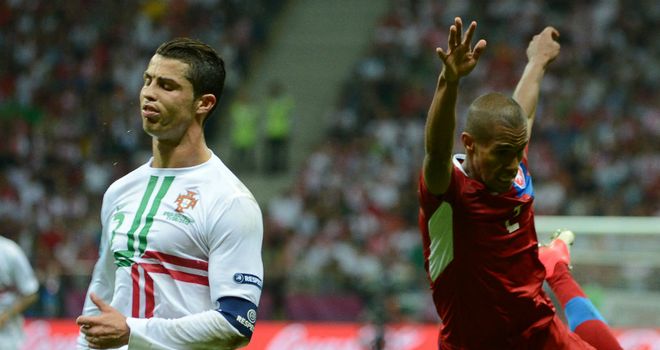 Rumour has it Chelsea scouts were at the National Stadium in Warsaw on Thursday night to watch Theodor Gebre Selassie. In truth, they will have not gathered much positive information from the trip.
The Czech Republic right-back was on the losing side against Portugal in the quarter-finals of Euro 2012 and was prevented from demonstrating his ability by coach Michal Bilek's premeditated and obsessive tactics which focused upon stopping Cristiano Ronaldo.
Bilek's game-plan ultimately proved flawed and so Gebre Selassie's athleticism, running and energy levels were largely wasted. The full-back was designated with preventing the threat of Ronaldo. He failed. He did not manage one successful tackle. Ronaldo was allowed eight shots.
In the first half, Gebre Selassie was essentially on a man-for-man-marking project on Portugal's captain. The full-back had clearly been given permission to move out of position and into central areas to fulfil his task.
Chelsea, obviously, will not want a player who likes to wander. Right-back has been a problem for the UEFA Champions League winners in the past, with Jose Bosingwa now released and Branislav Ivanovic in the past having had to be converted to a flank.
Out of his depth
Gebre Selassie cannot be faulted for his endurance, aerobic capacity and all-round fitness. The 25-year-old covered an impressive 10,328 metres against Portugal. But most of that involved chasing the world's most expensive player, Ronaldo.
It was a task in which Gebre Selassie ultimately proved to be out of his depth. Ronaldo scored the winner when heading into the back of the net in the 79th minute. The Real Madrid superstar's specified marker committed the cardinal sin of allowing himself to be beaten on the inside of his body.
Slovan Liberec man Gebre Selassie had carved a reputation for himself in the group stages of Euro 2012 as another of the breed of attacking full-backs. He had helped create what proved to be the winning goal against Greece
But against Portugal there was only really one flash of his capabilities in the 28th minute when he galloped forward and sent in a cross which caused panic in the opposition six-yard box. In the second half, he was pinned back by the advancing Fabio Coentrao.
Instead, there was more of a reflection of the performance when Czech Republic were hammered by Russia on the opening day of Euro 2012 and Gebre Selassie was tormented by the movement of the likes of Andrey Arshavin.