Ronaldo - We're ready for fight
Cristiano Ronaldo is ready for battle against France or Spain after helping Portugal into the semi-finals of Euro 2012.
Last Updated: 22/06/12 8:26am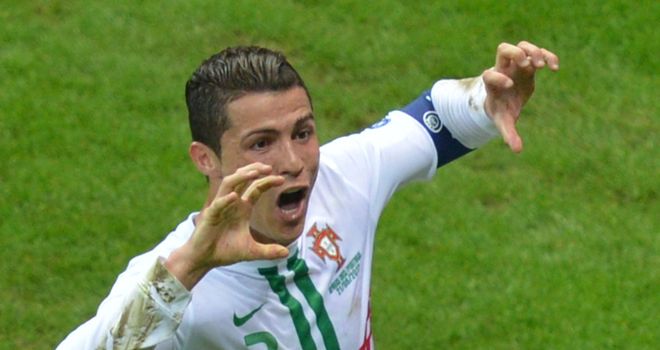 Cristiano Ronaldo revealed he was 'ready for the fight' after helping Portugal into the semi-finals of Euro 2012 at the expense of the Czech Republic in Warsaw.
The Real Madrid forward had twice hit the woodwork and seen his side have a goal chalked out for offside before he headed home the winner with 11 minutes remaining in the quarter-finals.
Portugal have reached the last four in three of their last four European Championships and Ronaldo, who is Euro 2012's joint leading scorer with three goals, is looking ahead to taking on either Spain or France at the Donbass Arena in Donetsk next Wednesday.
"I thought we played very well and created many chances," said the Real Madrid star. "We hit the post twice but it was important to get through to the semi-finals.
"We are happy for that and we know it's going to be difficult in our next match but we are ready, we are confident, the team is very mature, so we are ready for the fight."
Overjoyed
Ronaldo knew it was always going to be a tough match against a Czech side who sat deep but he was always confident Portugal would progress.
"I remember the last game (against Holland) when I also hit the post, so it happened again today," said Ronaldo.
"But the most important thing was that I scored and the team won. The side played very well and we are in the semi-finals, so we are very happy for that.
Meanwhile, winger Nani admitted he was overjoyed after the resilient Czechs had threatened to take the game to extra time.
The Manchester United player said: "It was a very difficult game but we did very well. I think everyone was fantastic on the pitch, so we're satisfied with the result.
"Now it's going to be more difficult every game. But all the team are very confident and I am very confident in the next game and now we have to rest and prepare."