Crazy money?
As Sunderland make a reported £12million bid for Wolves striker Steven Fletcher and still fail to land their man, Adam Bate looks at the reasons why the numbers are quite so big when it comes to this particular player.
By Adam Bate - Follow me @GhostGoal
Last Updated: 12/11/12 1:34pm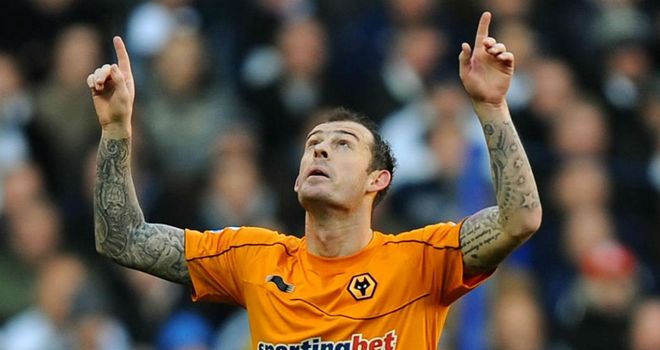 Now would be a good time to pitch up a car boot sale outside the Stadium of Light, or so the joke goes. They're paying crazy prices, you see. How can Steven Fletcher be worth £14million of anybody's money? As Sunderland continue to up their bids for the Wolves striker it does indeed seem to be getting out of hand. After all, this is a player who has been relegated with his two previous clubs. But given that nobody is suggesting Sunderland boss Martin O'Neill and Wolves chief executive Jez Moxey are the centre of a brazen money laundering scam, there must be something to all this. The answer is simple but lengthy - there are many reasons why the Black Cats may end up paying a significant premium for the Scot.
Proven Premier League striker
Fletcher is one of only a dozen players to have scored 30 Premier League goals in the past three seasons and one of only three to have done so at a club that has not played in the UEFA Champions League during that period. It would be ludicrous to suggest he has received the quality of service or the quantity of chances of the other men on the list. Indeed, the only other player to have achieved the feat without playing for a club competing in Europe is Darren Bent. You'll remember him as Sunderland sold him for £24million last year.
It is clear that clubs will pay a premium for a striker. Fletcher scored a Premier League goal once every 170 minutes he spent on the pitch during his two seasons at Wolves. Given O'Neill's tendency to prefer working with a small squad and utilising minimal squad rotation he will envisage the 25-year-old getting close to the 20-goal mark. That's a feat no player outside the top five has achieved - other than Bent - in the past seven seasons.
Adapting
Of course, Papiss Cisse wasn't a 'proven Premier League striker' and any advocate of paying this much money for Fletcher must face accusations of being inward-looking. But adapting to a new country is a valid concern and it's one every manager must consider when making a signing. For every Cisse there is an Afonso Alves or a Mauro Boselli and Sunderland will be acutely aware following their dalliance with Asamoah Gyan that even if the player is a success, he may not wish to stay on the island. Need we even discuss unproven Championship forwards such as £12million-man Connor Wickham or the recent £7m transfer of Jay Rodriguez from Burnley to Southampton?
Age
With his receding hairline and weathered appearance, Fletcher may have the look of a man who has seen better days but the birth certificate does say 1987. When Fraizer Campbell was handed a shock England debut by Stuart Pearce last year it was explained away as 'one for the future' but the former Manchester United trainee is only six months younger than Fletcher. Even James McClean, whose breakthrough last season was heralded as a breath of fresh air on Wearside, has only two years on the Scotland international. His most productive seasons should be ahead of him.
International commitments
Newcastle boss Alan Pardew spent part of his summer persuading the club's No.9 not to attend the Olympic Games as an over-age player for Senegal. Cisse relented but will be attending the African Cup of Nations for the second successive year. While most other quality forwards in Europe are spending this week traipsing across the continent playing in international friendlies, Fletcher remains out of the Scotland squad with no sign of ending his squabble with manager Craig Levein. Fans expect players to be at 100 per cent every time they pay to see them perform but football clubs know different. A 25-year-old with no pending international commitments is an attractive proposition.
Availability
"Fletcher for £14m? You can get [insert world-class player who has just joined world-class team] for £Xm!"
This has to be the most fatuous argument of them all. It would be an excellent point... if Robin van Persie would consider the possibility of a move to Sunderland over Manchester United. He wouldn't, by the way. It might even be possible to entertain the notion that left-back Jordi Alba could do a better job than Fletcher up front for the Black Cats, but again there's those pesky chaps at Barcelona to scupper a deal.
It's perfectly plausible for Fletcher to be an inferior option for Arsenal, a team able to attract players who want to play in the Champions League, but be the absolute best player that Sunderland can possibly attract. O'Neill may be aware he could buy a slightly inferior player for a lot less money - but what use is that to a manager anxious to acquire the best player he can get? As discussed above, there are few players with Fletcher's goalscoring record as it is, let alone ones who want to play for O'Neill's side.
Suited to Sunderland
With Sebastian Larsson on the right flank and McClean on the left, O'Neill knows he has players capable of delivering the ball into the box. What he needs is a forward who can make the most of that service. Fletcher scored more headed goals than any other player in the Premier League last season. There is far more to his game than this but with the only current strikers on the books being Wickham, Ji Dong-Won and Fraizer Campbell, the difference that Fletcher could make to Sunderland in this area alone is potentially huge.
Steven Fletcher - PL
2011/12
Career
 
PL 2011/12
Goals (headed)
Appearances
32
96
 
Fletcher, Steven
7
Starts
26
76
 
Rooney, Wayne
5
Substitution On
6
20
 
Holt, Grant
5
Substitution Off
10
40
 
Crouch, Peter
5
Minutes Played
2353
6621
 
Morison, Steve
5
Goals Scored
12
30
 
Yakubu
5
Headed Goals
7
12
 
 
 
Minutes per Goal
196.08
220.7
 
 
 
Shots On Target
28
69
 
 
 
Shots Off Target
35
95
 
 
 
Shooting Accuracy
44.44
42.07
 
 
 
Shots to Goal Conversion Rate
19.05
18.29
 
 
 
Assists
2
9
 
 
 
Chances Created (inc assists)
36
88
 
 
 
Total Passes Made
802
2251
 
 
 
Pass Accuracy
71.82
70.28
 
 
 
Fouls Made
13
98
 
 
 
Fouls Won
28
108
 
 
 
Offsides
24
74
 
 
 
Yellow Cards
2
4
 
 
 
Red Cards
0
0
 
 
 
Value to Wolves
"We know clubs will want our best players but we are ready to do battle with anyone," said Wolves chief executive Jez Moxey in June. "In some ways, there's nothing I enjoy more." With Fletcher having three years remaining on his contract at Molineux, Moxey will feel he is in a strong position to secure the best possible deal for his employer. Unusually in this scenario, it is the top-flight club desperately needing to buy and the lower-league club comfortable if they don't make a sale. That's a dangerous situation for Sunderland to find themselves in and could inevitably lead to a premium being paid.
Conclusion
If this transfer does go through at anything like the numbers quoted, there's no avoiding the fact that it will raise eyebrows. But it's worth remembering that this is not fantasy football where every player has a set value based on their ability. Ultimately, in any deal, the only thing that matters is what the player is worth to the two parties involved.