Trouble for Levein
The storm clouds are gathering around Scotland manager Craig Levein. Adam Bate discusses the reasons for the gloomy outlook and what the manager must do to brighten the mood.
By Adam Bate - Follow me @GhostGoal
Last Updated: 12/09/12 9:54pm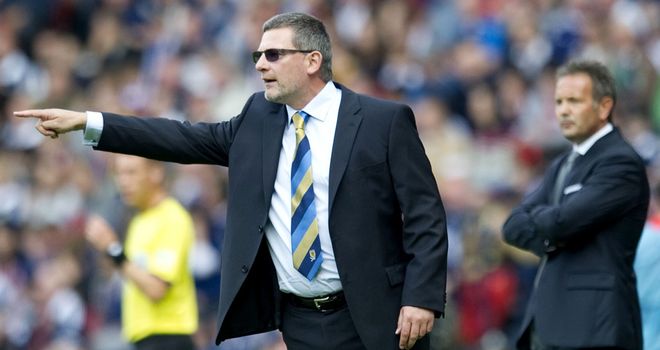 "We are very positive about what we are doing," said Craig Levein, doing his best Steve Kean impression at the weekend. "What's important to me is that there is an overwhelming feeling within the country about the positivity of our national team. We are fighting negativity at times when there is no reason for that." Even after Tuesday's 1-1 draw with Macedonia he was undaunted. "I feel that this job was always going to be difficult but things are going reasonably well," he declared.
You have to admire Levein's steadfast refusal to be bowed by events on the pitch. It's two matches played and two Hampden Park draws for his Scotland side. Home games against Serbia and Macedonia were far from easy fixtures, but in a group that includes Croatia and Belgium it's tempting to conclude that as many as six of Scotland's remaining eight games will be tougher than the two they've already played. The SFA will not be booking those Rio hotels for 2014 just yet.
How much of this can be blamed on Levein is debatable. What is beyond doubt is that the former Hearts boss risks accusations of being deluded in his insistence that he retains supporters' backing. A crowd of under 33,000 for Tuesday's fixture was the lowest at Hampden for a competitive international in over a decade and his team have been booed off twice in a week. The mood is gloomy and the perception is that the manager is doomed.
World Cup qualification may be beyond any boss but where Levein is surely culpable is in failing to get the best out of those players that are at his disposal. Scotland have won just three competitive games in his three years in charge - and two of those were against Liechtenstein. Charlie Adam, Steven Naismith and Robert Snodgrass were axed after the weekend, hinting at uncertainty over selection. And then there's the small matter of Steven Fletcher.
The £12million Sunderland striker has not featured for Scotland since declaring himself unavailable - via text message - for a friendly against Northern Ireland in February 2011. The 25-year-old was apparently unhappy at being left on the bench by Levein. It's the sort of incident that the manager would have hoped could have just gone away but Fletcher's consistent form at Premier League level has only served to make it an ongoing issue.
Contrast
Fletcher has now scored 32 Premier League goals in 97 games. In contrast, Levein continues to entrust the forward role to Kenny Miller - a 32-year-old playing in Vancouver who has a woeful Premier League record of just six goals in 55 matches. Nobody can dispute that Fletcher would represent a considerable upgrade on Miller, if only Levein could build bridges with the forward.
That's the sticking point. Levein stands firm in the belief that team morale could be compromised if he backs down and shows that the rules are different for some players. But is he mistaken? As former Manchester United goalkeeper Peter Schmeichel said of a legendary ex-Scotland manager: "Alex Ferguson treats all his players differently. Someone will have two months off, another two minutes off. You need to have different personalities in a football team."
Another former Scotland boss also hopes work is being done to end the impasse. "I'm not speaking for Craig Levein but me personally, I would be trying to resolve something," said Alex McLeish. "I'm sure that Craig would have discussions with senior figures at the FA but at the end of the day they will respect what Craig feels. I still hope that there is a chance for Fletcher to come back."
Trying to resolve the dispute is the bare minimum Scotland fans are entitled to expect. With the out-of-work Gordon Strachan also looming in the shadows, Levein must fight to dispel the notion that his very presence as Scotland boss is holding the team back. He must prove he is a man worth backing.
For now, Levein is adamant. "The door is closed," he maintained last week. "I left it open for a year. All he needed to do was send a text or make a phone call to play for his country. He didn't do it, so as far as I'm concerned the door is closed and we'll move on without him." If Levein doesn't turn things around fast - whether it is on the field or off it - then he is the man who Scotland will be moving on without.