In the zone
The discussion on zonal marking has resurfaced after Arsenal adopted the defensive system this season and conceded at a corner against Manchester City. Here, we look at the debate
Last Updated: 24/09/12 5:40pm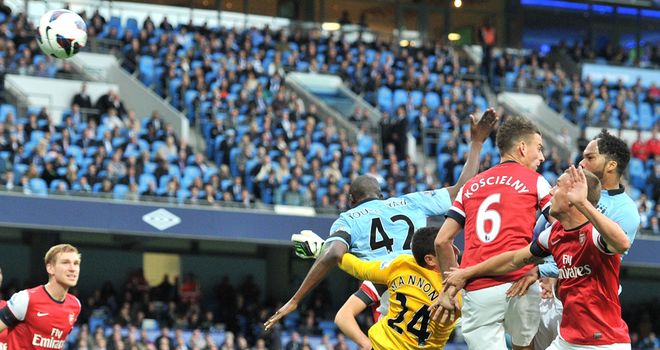 Zonal marking
The principles behind the system are that players mark key areas of space at set-pieces rather than men.
Arsenal set up against City with the four men who would, in theory, be considered their best four headers of the ball along the edge of the six-yard box. These were Lukas Podolski, Laurent Koscielny, Per Mertesacker and Abou Diaby.
Two players are then also positioned in the six-yard box to squeeze the space when the ball is delivered from a corner or wide free-kick. Against City, Arsenal used Carl Jenkinson and Aaron Ramsey in these roles. Mikel Arteta and Kieran Gibbs were on the posts.
Arsenal have undoubtedly improved defensively using the system since the arrival of assistant boss Steve Bould, as the goal against City was only the second they have conceded in the Premier League this season.
However, when it goes wrong, there are issues of accountability. It is difficult for players to designate which opponents to challenge when there is confusion between defensive areas.
There is also a need for the defending player to show full commitment and strength against an opponent who has a running start.
Against City, Podolski was the guilty man when not producing a full challenge on goalscorer Joleon Lescott.
The Germany international looked uncertain as to whether to leave Lescott to Koscielny and then also seemed to shy away from the physical contest.
It is likely Olivier Giroud would normally operate in Podolski's position when defending but the Frenchman was still on the bench at the time of Lescott's goal.
Man marking
This system addresses the process of decision-making for players. Before a match, a coaching staff will allocate the men to mark for their players who are strongest in the air.
There is then no doubt as to who takes the responsibility for defending against a specific man.
Attackers must be marked closely and it is the responsibility of the marker to follow any runs and jumps.
The positives are that a defender should not find himself flatfooted when against an opponent who might have had a running start, as in the case of zonal marking.
Man marking can also be effective in that a defender can put off an attacker simply by his presence even if he cannot get a head to the ball.
The negatives, though, mean offensive teams can often work out strategies to block defenders from following the runs of the men they are supposed to be marking.