Yacob bite
West Brom's summer signing of Claudio Yacob might not have been the most celebrated arrival of the summer. But, as Adam Bate explains, the Argentine midfielder has had a significant impact at the Hawthorns.
By Adam Bate - Follow me @GhostGoal
Last Updated: 12/11/12 1:33pm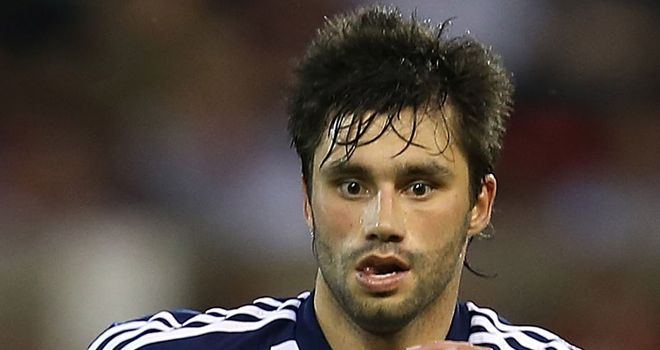 There were plenty of big-name transfers in the Premier League this summer. Two months into the season Sky Sports commentator Martin Tyler has selected eight of those who have made the best impression so far. There are several newcomers to these shores that are predictably included - Santi Cazorla and Eden Hazard among them. Michu has received plaudits too. But the name of West Brom midfielder Claudio Yacob remains a mystery to some.
There's little cause for Premier League fans to be ashamed for not knowing too much about the 25-year-old signing from Racing Club in Argentina - even his own team-mates were nonplussed. "He's amazing but I must admit I'd never heard of the bloke," Baggies goalkeeper Ben Foster told the Birmingham Mail. "I'm not disrespecting him but I didn't know anything about him. I'm not the biggest football fan in the world anyway - but he's not someone I'd come across."
His Albion team-mates know all about him now. Yacob was named man of the match on his Premier League debut in the 3-0 opening-day win over Liverpool and his colleagues have quickly come to rely on his tidy work on and off the ball in front of the back four. "His game is getting the ball back, winning it and playing it simple," defender Gareth McAuley explained to the Express and Star. "He is a great player and a great find for the club. I'm delighted to have him in there because he does a lot of hard work to break up play and makes our job at the back a little bit easier."
Baggies boss Steve Clarke is not surprised by the manner in which Yacob has adjusted to English football. "He's settling in very well," Clarke told the Birmingham Mail. "But the Argentinians have a great mentality. They're a strong nation and the players tend to settle in well. It's a similar game - a tough, physical league over there. I think he's shown in training and the games that he's played that he is what we thought we'd get - he's an Argentinian No.5, who breaks up play and keeps the ball for his team. That's the characteristics for that position and it's what he's done."
Protection from midfield had been an issue for West Brom last season and was evident from their lack of clean sheets. Prior to a strong finish to the campaign, Albion endured a period of just five shut-outs in 61 Premier League games. While Paul Scharner had experience at centre-back, he curiously seemed to struggle with positional discipline in midfield. As then boss Roy Hodgson searched for the right mix in the middle, stability became an issue and that flexibility occasionally felt like a compromise.
Now the dual shield of Yacob and fellow midfielder Youssouf Mulumbu has provided clarity. "He's that guy in front of you that if they break on us, and we look like we might be a bit exposed, he'll be the one getting the tackles or blocks in," added Foster. "He and Youssouf have got that central midfield nailed down. They are so calm and know how to pick passes out. Youssouf will do his usual, stick his big backside out so everyone has to roll around him but it's great to watch - both are so calm under pressure. And Claudio's passing is brilliant."
Player Surname
Team
Total Passes ( Excl Crosses & Corners )
Passing Accuracy ( Excl Crosses & Corners )
Arteta
Arsenal
658
93.77%
Allen
Liverpool
530
92.64%
Cole
Chelsea
336
92.26%
Britton
Swansea City
421
92.16%
Scholes
Manchester United
381
92.13%
Skrtel
Liverpool
388
91.49%
Mertesacker
Arsenal
304
91.12%
Chico
Swansea City
315
91.11%
De Guzmán
Swansea City
328
90.85%
Cazorla
Arsenal
501
90.82%
Williams
Swansea City
392
90.56%
Mikel
Chelsea
433
90.53%
Yacob
West Bromwich Albion
321
90.03%
Mata
Chelsea
386
89.64%
 
 
 
 
 
 
 
 
Player Surname
Team
Total Passes ( Excl Crosses & Corners )
Passing Accuracy Final third
Osman
Everton
335
85.00%
Arteta
Arsenal
658
84.97%
Yacob
West Bromwich Albion
321
84.91%
Cazorla
Arsenal
501
84.82%
Allen
Liverpool
530
83.62%
Rafael
Manchester United
313
82.47%
Hazard
Chelsea
372
82.46%
Gibbs
Arsenal
351
82.00%
Mata
Chelsea
386
81.71%
Cole
Chelsea
336
81.43%

It's that passing that has provided a new dimension to West Brom's football this season, helping them take maximum points from four tricky home games. Yacob is one of only 13 players in the Premier League with a pass completion rate in excess of 90 per cent alongside the usual suspects such as Joe Allen, Leon Britton, Paul Scholes and Jon Obi Mikel. But these aren't just sideways passes from deep in his own half. Yacob is giving Albion a platform to play in the opposition half - only Mikel Arteta and Leon Osman can better the Argentina international for passing accuracy in the final third of the pitch.
This has facilitated a more expansive game with Yacob serving the ball to attacking midfielders who are now free to do just that - attack. James Morrison has been widely praised for his contribution this season, scoring crucial goals against Tottenham and QPR and earning himself a new four-year contract. But the improvement has come thanks to the Scotland international being free to operate as a more genuine No.10 rather than share midfield duties as part of trio.
Is there more to come from the man who captained Racing while still a teenager? Newly-appointed FA technical director Dan Ashworth - the man who brought Yacob to England - certainly thinks so. "He was a captain when very young and the Argentinian league is very good," Dan Ashworth told the Express and Star. "Anybody who can be captain of Racing, who are the third or fourth biggest club in Argentina, has got to have some leadership attributes. I'm sure after two or three months his leadership qualities will come out."
Ashworth may have anticipated a quiet start to Yacob's Premier League career. But if the first few months are anything to go by - West Brom have got themselves a significant player.