Firing blanks
Arsenal had plenty of the ball at Carrow Road on Saturday but Arsene Wenger was clearly alarmed by how little they did with it. Adam Bate delves into the details of a disappointing day for the Gunners.
By Adam Bate - Follow me @GhostGoal
Last Updated: 23/10/12 7:51am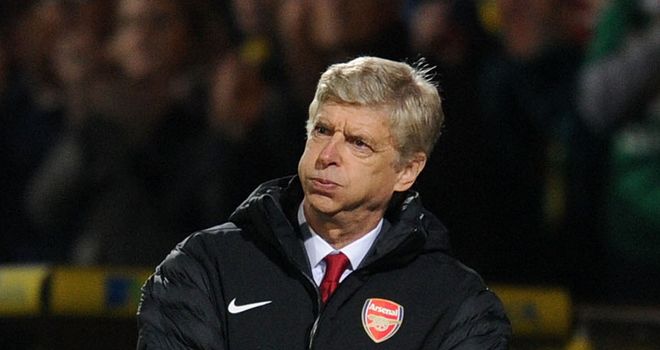 "For the amount of ball we had in the game, we should have done more and created more scoring situations," said Arsenal midfielder Mikel Arteta after his side's dismal 1-0 defeat at Norwich on Saturday. He wasn't wrong. The Gunners had almost 72 per cent of possession but managed just five shots on target and hardly a chance worthy on the name.
"We have to acknowledge that we did not create a lot," agreed Arsene Wenger. "There was something missing and offensively we were not at our level." Asked if he would bring in a striker in January, the Arsenal boss added: "I cannot tell you that now. We have players out and when they come back, we will see. We did not create a lot that is for sure."
The easy narrative is to bemoan the absence of Robin van Persie. But this wasn't the classic example of the wasteful striker. The chief problem appeared to be getting the ball to him in the first place. "Our offensive performance today was very, very poor," admitted Wenger. "We didn't win the decisive fights and some of our possession was negative and not going anywhere."
This theme of negative possession is a recurring debate in the game. While the prevailing mood is one of unquestioning praise for ball retention at all costs, Real Madrid coach Jose Mourinho was critical of strikerless Spain in their opening game against Italy at Euro 2012. "It's not good to keep on passing between Xavi, (Andres) Iniesta and (Cesc) Fabregas without creating a big threat on (Gianluigi) Buffon's goal," Mourinho told Al Jazeera. "Yes there was a big effort from Spanish midfielders but without a striker the team was sterile."
In Arteta and Santi Cazorla, the Gunners have two highly-rated Spanish midfielders of their own and they were the dominant figures at Carrow Road. Arteta played 99 successful passes in the game - remarkably, that's 72 more than the top Norwich player. Cazorla played the most in the final third of the pitch. Between the two of them they completed 57 passes in the attacking third at an impressive success rate of 89 per cent.
But crucially they were not able to find their striker. Norwich were well-organised and defended in numbers with centre-backs Michael Turner and Sebastien Bassong admirably screened by the hard-working Bradley Johnson and Alex Tettey. As a result, while the statistics show that the nine top passers in the match were all wearing Arsenal shirts, the 10th and final outfield starter was left languishing down at No.15 in the list. Giroud completed just 14 passes all game.
Player Surname
Total Successful Passes
Passing Accuracy
Mertesacker
59
95.16%
Podolski
38
95.00%
Arteta
99
93.40%
Vermaelen
51
91.07%
Jenkinson
52
89.66%
Ramsey
80
87.91%
Cazorla
61
87.14%
Gervinho
27
87.10%
André Santos
75
85.23%
Oxlade-Chamberlain
3
75.00%
Arshavin
11
73.33%
Giroud
14
70.00%
Gnabry
6
66.67%
Mannone
11
61.11%
It was a significant problem. Arsenal completed 587 passes to Norwich's 175. But that domination was not evident where it mattered - goalscorer Grant Holt received the ball 26 times compared to the 29 occasions that the Gunners got the ball to Giroud. Given that Holt was invariably receiving the ball in more space due to the Canaries playing on the break - and impressively getting men in support - this was a poor return for Wenger's side.
And it must have been frustrating for the lone forward. "Unconsciously maybe I put myself under more pressure," Giroud told France Football earlier this month. "I still feel a bit of tension when it is time to score, a lack of success. It is so tiny. But I've made good runs." He added: "You must not give up. You cannot be worried. I know what I have to do."
The France international has been candid about his confidence problems in his early months at the Emirates Stadium and the honesty is refreshing. But it is essential he keeps making those good runs in order to find space rather than be overcome by the fear of failure. And the task for the Gunners' much-vaunted midfield is to do a rather better job of getting the ball to him than they managed on Saturday.