Rooney (under)rated?
With Wayne Rooney's brace at the weekend marking his tenth year in the Premier League, Alex Dunn argues the England man is not given the credit he deserves and calls for his detractors to celebrate what he is rather than magnify what he's not...
By Alex Dunn - Follow me on Twitter @skysportsaldunn
Last Updated: 12/11/12 1:42pm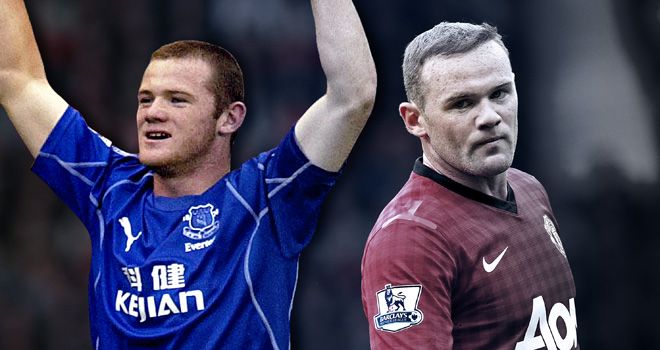 For 26 minutes at Old Trafford on Saturday the script was being adhered to perfectly. The cherubic image of Wayne Rooney ten years hence in an Everton strip had already been chosen; juxtapose it with a head in his hands shot after his faux pas into his own goal and a decade as much about devilment as delight would be captured perfectly. A minute later and, as is his wont, the Manchester United man rewrote a ten-year epitaph to his own design.
It's what he's done throughout a career of billowing peaks and troughs. From giving David Seaman 'the eyes' before 'that' goal against Arsenal as an (admittedly bull-necked) 16-year-old to titles and tantrums it's a journey scored by Ennio Morricone. Except the good, the bad and the ugly doesn't cover the half of it.
Picture editors rolled their eyes, but some subs were happy to perpetuate the myth of Wayne on the wane. A well-taken brace and a pair of equally perfectly conceived assists were good enough to condemn Stoke City to a 4-2 defeat but not sate the expectations of the Mail on Sunday, who chose to celebrate Rooney's tenth year at the top with 'Why didn't you play like this for England?'
Yeah Wayne, why didn't you win the Great British Bake-off either? Loser.
After Juan Mata's equally dazzling display for Chelsea at Tottenham I was expecting a 'Doesn't Mata Juan, you're still not good enough for Spain' headline but surprisingly they went with 'Mata the magician has Spurs in his spell'. Funny that.
An abject display in Poland gave Rooney's detractors free rein to pontificate on their favourite topic; with every rank England performance accompanied by a dissection of their faltering forward's limitations. Call me old fashioned but if my centre-forward scores in a 1-1 draw he wouldn't be the primary concern. If Michael Owen had got the crucial goal in Warsaw - and it may well turn out to be critical to qualification - an ability to sniff out a goal when not playing well would have been heralded. Some would have liked to have had it chalked off on the grounds of accumulative misplaced passes.
Paul Hayward wrote: 'In this kind of form, England's best-known player has no business appearing in the same paragraph as Lionel Messi or Cristiano Ronaldo (ED - don't then), the competing monarchs of Catalonia and Castilla. Nor could he linger long in a discussion about the world's great creative midfielders. There are days when Rooney plunges into the swamp of English mediocrity and appears incapable of mastering even basic ball retention.' It seems somewhat arbitrary to argue with a point you bring up yourself or has Rooney been boasting of sharing his chicken nuggets with messrs Messi and Ronaldo of late?
The Daily Telegraph has also this week been running a poll - 'Has Wayne Rooney lived up to his potential?' and herein lies a nation's obsession with judging its best player in terms of 'what if'. Given potential is an abstract projection, possible as opposed to actual, it seems peculiar that we look to qualify it in terms of tangible evidence. We look not at what Rooney is but who he might have been and that's a pretty tough set of criteria to judge anyone, is it not?
James Ducker, in The Times, is equally sceptical as to whether the player has delivered over past the decade: 'Characterising Rooney's ten years at the top is not easy - for all his talent, there is the nagging feeling that his true potential remains unfulfilled - but as he approaches the age of maximum expression for footballers, the early signs are that his partnership with Robin van Persie could prove the catalyst that brings the very best out of the Manchester United and England striker'.At the time of writing said poll is split at 49.85 'yes' to 50.15 per cent 'no'. Ahead of turning 27 tomorrow Rooney has scored 200 club goals, won four Premier League titles, the Champions League and two League Cups. He's been capped 78 times for his country and scored 32 goals. It's not exactly Stuart Slater's career stats. Rooney, for many, is deemed potential unfulfilled on the grounds he's not the white Pele. If you're of that persuasion stop reading now because I'm not the English Mailer and this article ain't the football equivalent of The Fight.
Oh to be so unfulfilled.
Season
Team
Apps
Goals
Assists
Yellow Cards
Red Cards
Wins
Draws
Losses
Season 2012/2013
Manchester United
5
2
4
0
0
3
0
2
Season 2011/2012
Manchester United
34
27
4
1
0
26
4
4
Season 2010/2011
Manchester United
28
11
11
5
0
18
6
4
Season 2009/2010
Manchester United
32
26
3
6
0
23
3
6
Season 2008/2009
Manchester United
30
12
7
7
1
21
5
4
Season 2007/2008
Manchester United
27
12
9
8
0
21
5
1
Season 2006/2007
Manchester United
35
14
11
6
0
25
5
5
Season 2005/2006
Manchester United
36
16
9
8
0
24
7
5
Season 2004/2005
Manchester United
29
11
2
7
0
18
7
4
Season 2003/2004
Everton
34
9
4
11
0
8
11
15
Season 2002/2003
Everton
33
6
4
6
1
13
8
12
David Moyes, his first manager at Everton, is one of those who voted in the minority: "I think he has gone on to be the player we hoped he would be. He has been an exceptional player, at the very top, for 10 years. He has won a European Cup and titles and other cups. It's not his fault England aren't doing as well as people would like. Generally England haven't done that well for a long time." Yeah but 'what if' Dave...
It would be fallacious in the extreme to suggest either the player or Sir Alex Ferguson would be influenced by those who write or rant about them but there is gathering momentum to the perception Rooney in some way needs to adapt his game to stay relevant. Time catches up with the best of us but even after a decade, lest not forget Rooney - age-wise at least - should be approaching his prime not looking back on it wistfully. By all means let him make that jazz album he's always dreamed of, but in five years' time not now.
The popular line of late is that Rooney is being groomed to take over from Paul Scholes, with Robin van Persie's defection to Manchester pushing him back to the apex of a diamond midfield. His performance in a 3-0 win at Newcastle earlier in the season, where his willingness to crunch into tackles in the full-back positions demonstrated talismanic leadership qualities that can't be manufactured, had Alan Pardew gushing: "I would go as far to say Wayne Rooney is the difference between United being a top-four team and a top-two team. That's how influential and powerful he is. I love Rooney. I love his passion for the game - and his toughness."
Rooney himself tweeted post-match that he was 'really enjoying my new midfield role', while a confession that he was not 'anxious at all about not scoring' further underlined a perception his days as a centre-forward could be numbered.
In this respect Rooney has done himself no favours with revelations, however pertinent, in his recent publication My Decade in the Premier League that make him sound like a hybrid of Paul McGrath and Ledley King.
"Physically I've taken a bit of a battering over the years; being lumped by Transformer-sized centre-backs or having my muscles smashed by falls, shoulder barges and last-ditch tackles, day in, day out, has left me a bit bruised. When I get up in the morning after a game, I struggle to walk for the first half an hour. I ache a bit. It wasn't like that when I was a lad. I remember sometimes when I finished training or playing with Everton and United, I'd want to play some more. But football has had a massive impact on my body because my game is based on speed, power and intensity."
That Rooney's best position is a topic of debate is both testimony to his versatility and Manchester United's relative dearth of options in the centre of the field. Is it not though premature to encourage a deeper role for a player who scored 38 goals last season? He may never be classed a 'natural' goalscorer but 20 goals a season over ten years suggests to the contrary.
Regardless of where Rooney 'ends up' playing he'll have an influence on Manchester United and England for the foreseeable and beyond. He'll likely never be the white Pele that not just David Seaman thought he might become, or even scale the current heights of the monarchs of Catalonia and Castilla, but the best English player of his generation - for all his heavy touches and extra-curricular own goals - should be enjoyed for what he is, not what he's not.
For unless St George's Park also houses a miracle suite alongside the Neville room, we won't be producing anyone like him anytime soon.