Brits abroad - Wayne Thomas
Continuing our Brits abroad series in which we speak to players and coaches to get the lowdown on their time overseas, Adam Bate talks to former Stoke man Wayne Thomas about life in Greece.
By Adam Bate - Follow me @GhostGoal
Last Updated: 26/11/12 2:14pm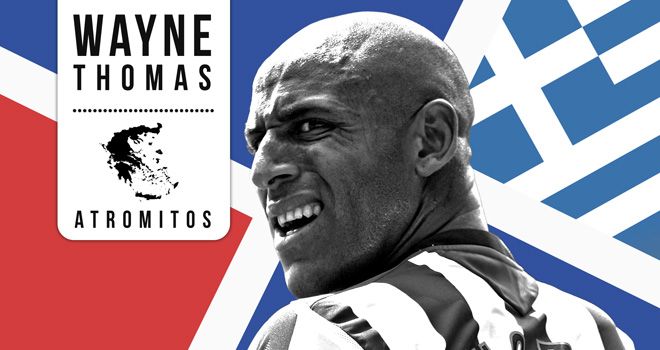 Wayne Thomas enjoyed a lengthy career in English football, captaining teams in the Championship and chalking up nearly 500 games for Torquay, Stoke, Burnley, Southampton and Doncaster. But in the summer of 2011, the defender opted for a new challenge and travelled to Greece. An eventful season with Atromitos followed before, after an abortive move to Cyprus, Thomas found himself back in the Greek Super League with Veria. Adam Bate caught up with him to discover how he's finding this new adventure.
How did the move come about - Ade Akinbiyi was involved wasn't he?
Yes initially Ade put me in touch with Michael Kathopoulis, an agent who specialises out here, and he's been my constant contact since being here. Good job really as things aren't as straightforward here in Greece as in England!
What was your reaction when Atromitos were mentioned - did you have to google them?!
Yeah I googled them, saw where they were, the stadium, squad etc. The season before I joined they narrowly escaped relegation but I was impressed with the coach Giorgos Donis (now at PAOK) and the facilities. The lads seemed great and to be honest I didn't really have many other options!
What were your first impressions when you got out there?
First impressions were that I'd packed too many jeans and jumpers and not enough shorts and T-shirts! No, I liked it. The atmosphere of the team and club were great and the set up was good. I think it was probably more professional than I'd expected and the football was great. Different but good.
In what way was it different? Everybody in England is very impressed by Kevin Mirallas who has joined Everton from Olympiakos. That suggests the standard is pretty good?
Greek football is good. I played against Mirallas a few times last year. He was one of the stand-out players in the Olympiakos team but they had a very strong squad which is expected to be competing in the Champions League every year.
But even aside from Olympiakos, last year the league was very competitive with the likes of PAOK, Aris, Panathinaikos and AEK Athens all very strong. I don't think the overall standard of the league is as high this year as last, probably due to the economic situation, but it is still very good.
As a rule of thumb all of the teams are very technical and have very skilful and technically very good players. Teams like to pass the ball from the keeper to the front via every player in the team. Defenders are expected to really begin all of the play. A lot is made of tactics and the most popular formation is 4-1-2-3 or any variation of basically 4-3-3 a la Barcelona.
This was a massive football shock for me as the game was so dependent on passing and slow continental build-up but I felt that I'd adapted to this quite quickly. The game isn't as physical and there aren't many situations where you can have a good old 50/50 challenge. The tempo is slower. It's not as high action end-to-end but as I say it is very technical and poses more of a mental test rather than being physically as tough as England.
And how about life off the field?
Obviously, the weather is the major difference. As I write this I'm in shorts and a T-shirts and it's nearly November! The pace of life is very relaxed and everything seems to be tomorrow which is culturally very different to back home and takes some getting used to.
In the summer you train in the evening due to the heat as it can get very warm. However, as I'm sure is widely documented, the tomorrow attitude also seems to apply to payments/wages and not only within football. It happens in every walk of life - shops, doctors, hospitals, everybody.
I can see why there are the problems here that there are, and wonder how people survive but survive they do and from how busy the cafes are all day and night you'd be forgiven for thinking that the entire population of Greece had retired! They must be up there with one of the biggest coffee consuming nations on the planet!
Have you noticed any of the effects of the economic problems in Greece?
In Athens it was more apparent than here in Veria. It is a year down the line but I felt that the media did seem to over-dramatise. My wife and I would receive texts and calls asking if we were okay as there were pictures of riots etc on the news, yet it wasn't what we saw in reality.
Yes the riots occurred, particularly in and around Syntagma Square in Athens, but an hour before and an hour after the so-called chaos you wouldn't even know anything had gone on - it was business as usual and the cafes, streets and shops were very busy.
You had a great year in Athens at Atromitos with the club qualifying for Europe. What were the highlights of last season?
Last year was great. It was the best season in the club's history. We split the so-called 'big five', qualified for the Europa League via the playoff system and narrowly lost 2-1 to Olympiakos in the Greek cup final. That game was probably my highlight. The atmosphere was crazy! I think there were about 60,000 at the Olympic stadium, flares & bangers going off, it was a real experience and we were 20 seconds away from a penalty shootout at the end of extra time before they scored!

Do you enjoy the passion of the supporters out there?
The support is mental. Okay some clubs don't have so much support but at some of the stadiums it's crazy. As I say, flares, bangers and drums, constant singing and a few missiles as well. Hostile I'd say, but personally I enjoy these types of atmospheres.
So how come you briefly moved to Alki Larnaca in Cyprus in the summer?
Well it was a tough decision. I really enjoyed my time at Atromitos and I was offered another year to stay. But I was also offered two years at a Cypriot club and at 33 I had to make the decision - do I stay to play in the Europa League or do I move for the security of a two-year deal? I chose the latter and it was for the two years as the financial side was pretty much the same, if anything a bit less... In hindsight I should have stayed. That issue is currently being dealt with by FIFA so I can't really go into detail but given the choice again I would have stayed put!
But you must have been enjoying life out there to then join another Greek club. Were you not tempted to move home?
Initially when I joined Atromitos, as I said, I didn't have to many options. I did find it a bit surprising, frustrating, upsetting - all the emotions - that I didn't seem to be good enough for any English clubs even though I'd spent the majority of my career captaining teams in the Championship.
The same situation still seems to be true as when things ended prematurely in Cyprus no English clubs were interested at all. Yes I'd like to come back home and play but I can only take what's on the table.
Thankfully, after last year I had a good reputation in Greece and had four or five actual offers from Super League teams. Seems the old saying 'out of sight, out of mind' rings true.
But I can't complain - I'm playing against teams that are competing in the biggest European competitions in the sunshine and am enjoying the football. But yes I would like to come home at some point. When? I can't answer!
It's been a positive start to the season for newly-promoted Veria hasn't it? What are your personal ambitions for the season?
We've started the season very well and as I said it appears that the league isn't quite as good as last year. So with that in mind I do truly believe that it's possible for us to have as good a season this year as Atromitos did last year. I don't think a playoff spot is out of the question and the cup is the cup in any country.
You never know where you'll end up personally. I just want to get another 20+ games behind me and I'd like to nick a few more goals too - at least five is the target.
Then we will see what happens come the summer. I'll ask around again if there's any interest in England as I'm more than confident that I'm still able to compete at Championship level.
If anything I've probably been forced to become a better player since being abroad due to the style. I also feel that I'm at the point of my career where I don't solely rely on physical aspects any more. I still have them, I'm just able to make better decisions these days as to what I need to do and where I need to be - something that comes with experience I suppose
So in summary would you recommend other British players in your position open themselves to the possibility of heading abroad?
I think, yes, I would recommend moving abroad to players. It's a great way of life and the football is very good. But they must take care with regard to contracts, finances etc. Use someone who is familiar with the leagues and the clubs who is going to be around to deal with issues as no doubt they will arise.
Like I said, Mike Kathopoulis of Global Elite Management specialises in Greece and a few other countries and has been brilliant for me. I'm certainly enjoying my time abroad - how long it lasts I don't know but while the sun is shining I will try my best to make hay!