Becks still divisive
As David Beckham prepares to bid farewell to Los Angeles Galaxy and walk away from Major League Soccer, Adam Bate wonders why it is so difficult to find a fair assessment of the player's ability.
By Adam Bate - Follow @GhostGoal
Last Updated: 28/11/12 11:48pm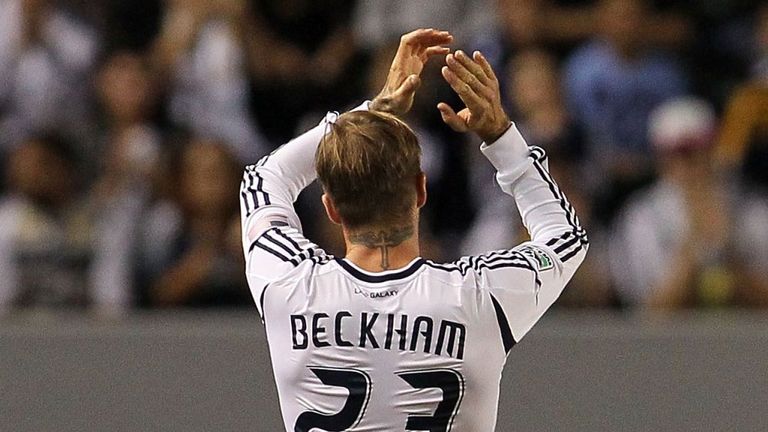 David Beckham's final game for his country tells you everything you need to know about what a divisive figure he became in English football. Coming on as a 58th-minute substitute for Aaron Lennon against Belarus in October 2009, Beckham delivered a series of crisp passes, took a few corners and promptly swaggered away with the man of the match champagne.
Many were apoplectic over the decision made by Beckham's former Manchester United colleague Steve Bruce. Veteran football writer Jeff Powell was particularly enraged. "Beckham mania descended into certifiable lunacy on Wednesday as England's bit-part celebrity was named the man of a match to which he made a lesser contribution than the ball boys," wrote Powell in the Daily Mail.
A lesser contribution than the ball boys? Bruce felt the need to hit back and made a rather pertinent point in doing so. "I saw Mr Powell's article calling it grotesque in the Mail and then I flicked over the page and his correspondent gave Peter Crouch man of the match nine, and David Beckham eight," said Bruce. "Yet he was caning me for some grotesque insult to English football." Clearly objectivity regarding Beckham is a challenge for those on both sides of the divide.
It's always been the way with Beckham. He polarises opinion. Many appear to worship him. Others insist he was never a player. To praise Beckham's ability is perceived in some circles as an admission that you don't even like football and are no better than the screaming adolescents who seem to accompany his incessant public appearances.
Obviously that viewpoint simply does not stand up to the slightest scrutiny. Sir Alex Ferguson and Fabio Capello are not slaves to celebrity culture and yet they managed to find a use for the midfielder in title-winning campaigns at United and Real Madrid respectively. Throw in Carlo Ancelotti and Vicente Del Bosque and it emerges that Beckham has earned the respect of four Champions League winning coaches - including the only three to win the trophy multiple times during the player's prime (1999 to 2008).
Peak
Those peak years are long gone. Beckham turns 38 in May and hasn't played in a European league game since snapping his Achilles tendon for AC Milan in March 2010. Assessing the merits of Major League Soccer is a challenge for chief scouts let alone casual viewers. And yet everyone still has an opinion on Beckham's abilities. Critics focus on irrelevant 'brand Beckham' issues. Worshippers cling to a YouTube clip of his latest free-kick.
The odds are not in his favour. There are only two outfield players older than Beckham currently playing in the Premier League. But their identity will give him hope. Are Ryan Giggs and Paul Scholes a class above the Los Angeles Galaxy player? Only anti-Beckham revisionists would argue that there were not games - even entire seasons - in which the former England captain outperformed his fellow United midfielders in a Red Devils shirt.
The key difference is not ability but rather their career paths. The argument goes that MLS is a retirement home for top-class players and will ensure their skills diminish far quicker. It is logical. But again, Beckham fans will cite the performances of US-based stars Thierry Henry, Robbie Keane and Landon Donovan in the Premier League last season. All are now the wrong side of 30 and yet each made contributions for top-flight clubs in 2012.
Beckham is two years older than Henry let alone Keane and Donovan. So while he is unlikely to be about to humiliate himself, this could come down to how significant a figure in the Premier League his audience expects him to be. Should one assist prompt howls for his England recall? Surely not. Can he be Queens Park Rangers' answer to Fulham's veteran freebie Giorgos Karagounis? Quite possibly.
Unfortunately, as ever with Beckham, there will be no grey areas.