Zenit hit back at claims their player recruitment policy is biased against minorties
Zenit have reiterated their opposition to views advanced by a group of their fans about the club's transfer policies.
Last Updated: 18/12/12 6:28pm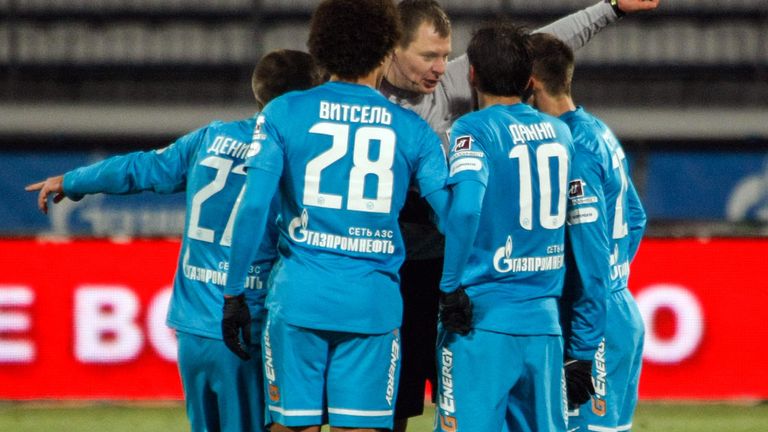 Director of sport Dietmar Beiersdorfer insisted the Russian club was concerned only with the quality of players and not their ethnic origin, nationality or sexual orientation.
Zenit was the only Premier League team without a black player in their squad until earlier this year, when they brought in Hulk and Axel Witsel from Porto and Benfica respectively.
Zenit remain the only club in the top flight to have never signed an African player, but Beiersdorfer told fc-zenit.ru: "Our club's goal is to win the Russian championship and to be highly competitive in international competitions as well.
"To reach these goals we need a team formed with players which we develop in our academy, as well as the best current and available players from Russia and abroad.
"We make our player selections without any limitation regarding origin, religion or skin colour. We have absolutely no policy in Zenit of limiting our player selection in any superficial way.
"The one and only restriction our club sets is the matter of quality."
Beiersdorfer's comments came after Zenit coach Luciano Spalletti on Monday spoke of the need for tolerance, seemingly in response to the publication of an open letter titled 'Selection Manifesto 12'.
The letter was published on influential Zenit fan website Landscrona and detailed its authors' "principles for selection" and preferred criteria for future signings.
Spalletti said: "Tolerance for me is the ability to understand and accept differences.
"Furthermore, being tolerant means that you fight against any kind of stupidity.
"I can personally assure you that I will do everything I can to help those who seek to explain what tolerance is, and the need to respect other cultures and traditions.
"The team has gathered players from different countries and ethnic groups who work together to achieve a common goal. Their combined efforts bring tangible results."'
The letter published on the fans' website, landscrona.ru, read: "We object to representatives of sexual minorities playing for Zenit.
"We are not racists and for us, the lack of black players at Zenit is only an important tradition, which emphasises the identity of the club and nothing more.
"Zenit has its own identity in the world of football, along with a number of football clubs that have retained their own identity.
"As the most northern club of the major European cities, we have never been associated with Africa, South America or Australia and Oceania.
"We have absolutely nothing against the people of these and any other continent. But now black players are being imposed on Zenit almost by force.
"We only want players from other brotherly Slav nations, such as Ukraine and Belarus as well as from the Baltic states and Scandinavia. We have the same mentality and historical and cultural background as these nations."