Galatasaray call on Wesley Sneijder to decide on proposed transfer
Galatasaray warn Wesley Sneijder that he must decide on a proposed transfer soon or they will explore other options.
By Nadia Carminati
Last Updated: 15/01/13 2:44pm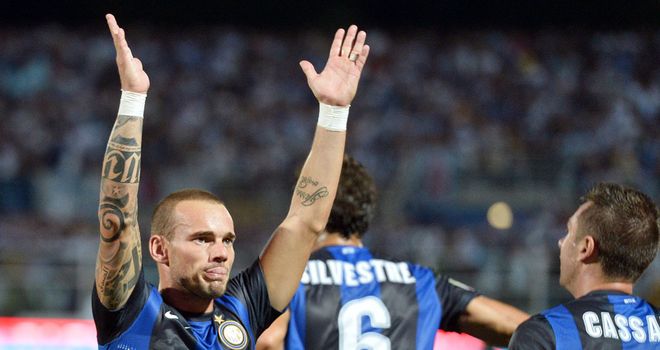 The Turkish giants have reached an agreement with Inter Milan for Sneijder, but have yet to put a package in place with the Holland international.
Sneijder is in no rush to make a call on his future, with it suggested that he is holding out for other offers - possibly from the Premier League.
Galatasaray acknowledge that the Dutchman may be stalling in an effort to entice rival bids, but have made it clear that they will only wait so long before turning their attention elsewhere.
"We can't force him to come here if he doesn't want to. Perhaps he prefers to play in the Premier League," Gala official Semih Haznedaroglu is quoted as saying by F5haber.com.
"He has to give us an answer as soon as possible because we have done all we can. Perhaps he'll give us an answer today, but all this delay isn't ideal.
"All this waiting is no good for us and we'll look for an alternative. It was the same situation with Kaka. We did everything possible without any success.
"We can understand that there is no rush from Sneijder, but we have done our job. We've got an agreement with Inter and made the player an offer. We need a decision from him, a yes or no."