Shefki Kuqi looking to make the most of his chance in football management
Shefki Kuqi is looking forward to cutting his teeth in football management after being handed the post at FC Honka.
By James Pearson and James Poole
Last Updated: 19/02/14 2:24pm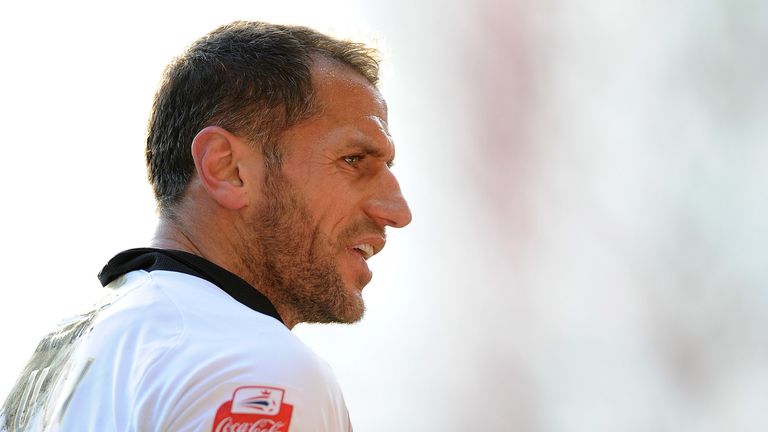 The well-travelled striker, who has a UEFA 'B' and is close to completing his 'A' Licence, is thrilled to have been given the opportunity to battle champions HJK Helsinki for the title race.
The new season gets underway in April and the 37-year-old manager wants to make the most of being at the helm as he also wants to qualify for the Europa League.
"This is a great opportunity because it's not easy for people to get their first job at a club who are fighting for the championship," he told Sky Sports.
"We are in the Europa League qualifiers this season so for my first job it's a great opportunity. Hopefully things go well and we can achieve some results. Both parties will then be happy, myself and the club."
Kuqi is certainly not a one-club man having played for the likes of Sheffield Wednesday, Blackburn Rovers, Crystal Palace, Swansea City and Newcastle United during his time in England.
He has worked under Roy Hodgson, Brendan Rodgers, Mark Hughes, Alan Pardew, Neil Warnock and Joe Royle and Honka's new man believes that experience will only enhance his abilities.
"I think I had a decent career in England and built up a good name over the years," he continued. "People know I've been at loads of different clubs and the reason behind that's because I always wanted to play football and for me there is nothing better.
"You work a whole week and then you get the reward on Saturday, the game and if you're not playing and not involved then that's not the way I want to be, that's why I had so many clubs.
"Because of that I have obviously had a lot of different managers. Some have liked an old style, but I've had new ones and young ones and old ones. I've been in loads of different dressing rooms with different people, different culture and different characters.
"I'm been fighting for promotion to the Premier League, battling to stay in the division. I've had a season in League One as I wanted to see that level and I've also had a season in the Scottish league because lots of players come in from Scotland.
"I wanted to gain as much information and as much experience as I could and because of that I think I have a lot to offer to the team that I'm in charge of."
Kuqi is looking to utilise the many contacts gained throughout his extensive career and is hoping they are able to assist him assessing his current crop of players.
He has also not ruled out the possibility of bringing players over from England.
Kuqi added: "I'll have a look what we've got and also consider people over in England. We'll look at training sessions and watch games and see what they think about them.
"If I need a specific position then I can bring somebody over from England."
Kuqi is an ambitious man and after seeing Ole Gunnar Solskjaer impress in Europe before winning a move to the Premier League with Cardiff, he is hoping to follow a similar career path.
"That is my aim, because I want to one day I want to be a manager over in England at the highest possible level," he concluded.