Transfer targets
As part of our Transfer Targets series, we turn our attention to Brazil to assess the chances of five of their biggest stars moving to the Premier League in January.
By Adam Bate and Paulo Freitas
Last Updated: 31/12/12 1:33pm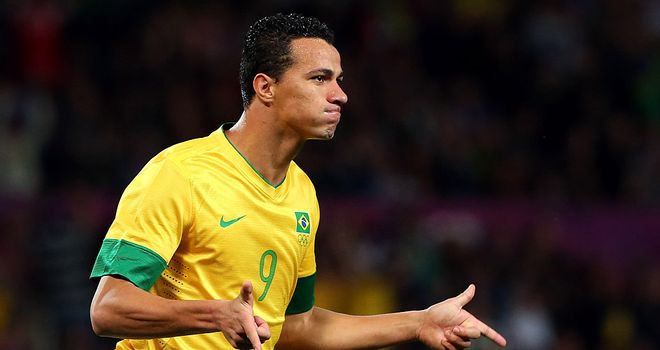 Bernard - Atlético Mineiro
Chelsea have already raided Brazil to sign Wallace from Fluminense and are believed to have identified Bernard as their next South American target. But prising away the Atlético Mineiro midfielder could be a tricky business given that club president Alexandre Kalli has stated his intention to retain the 20-year-old for the 2013 Copa Libertadores.
"I don't want to sell Bernard, if I have to lose money to keep him for Libertadores, I will. That's what I want. That was a discussion we have with him - that I want to keep Bernard at any cost," Kalli told Radio Itatiaia. That seems to suggest it will be a summer move for the youngster given that he has expressed a desire to stay at the club in the short-term as long as he feels valued.
Sky Sports' Brazilian expert Paulo Freitas says: "Bernard has been linked to Chelsea and Eastern European teams. He was the best young player in the Brazilian 2012 season, helping his team Atlético Mineiro finish in second place in the league. Bernard is versatile, can play on both wings and centrally. He has good technique and speed but isn't physically imposing."
Dedé - Vasco
This imposing centre-back is on the radar of many European clubs but, unusually perhaps given the improving financial might of Brazilian clubs, the driving force behind his transfer may come from Vasco da Gama rather than the player himself.
"I am not ready to leave," Dedé told Lancenet in March and he then echoed those sentiments in the summer. "I would like to stay as long as possible so that I can be close to my family," the24-year-old told Extra Online. But with the likes of AC Milan monitoring the defender, the decision may be taken out of his hands if the price is right.
Sky Sports' Brazilian expert Paulo Freitas says: "He is widely regarded as the best centre-back in Brazil and has been called up for the national team on a regular basis. Dedé is a complete defender, has physical strength and good positioning. His club are experiencing financial difficulties, several players have left recently and thus might feel forced to sell him."
Leandro Damião - Internacional
The Brazil international striker has long been linked with a move to the Premier League with Tottenham reportedly sounding out Internacional over a deal in the summer. But the Porto Alegre club are far from cash-strapped and have thus far refused to budge regarding their prized asset given that he is under a long-term deal at Estadio Beira-Rio.
The player himself has stated his intention to follow his friend Oscar, now at Chelsea, to the European game and at the age of 23 the time could soon be right for the forward to make his move.
Sky Sports' Brazilian expert Paulo Freitas says: "The striker is wanted by several teams such as Chelsea and Tottenham. He is a strong player with good finishing as well as being technically decent. His market value increased a lot though after his good Olympic performance, which may scare off potential buyers."
Marcos Rocha - Atlético Mineiro
When Newcastle's negotiations with Lille over the transfer of Mathieu Debuchy began to stall in the summer, the Magpies were forced to look elsewhere for options and they wouldn't have had to examine Brazilian football too closely in 2012 to spot the talents of right-back Marcos Rocha.
Rocha denies there has been any contact with Newcastle and has also stated a willingness to remain with Atlético Mineiro until after the Copa Libertadores is concluded but he refused to rule out the prospect of a move to the Premier League eventually. "Everyone knows the Premier League is one of the best leagues," he told Globo Esporte. "It's hard, not everyone can play there, so I can only be thankful (at the interest)."
Sky Sports' Brazilian expert Paulo Freitas says: "He was the best right-back in the Brazilian league in 2012 and has been linked to Newcastle. Marcos Rocha is the typical Brazilian full-back, attacks well, has speed and technique, but isn't defensively as impressive. He can be pretty tough at times, having received 13 yellow cards during the league season."
Paulinho - Corinthians
Arguably the hottest property in Brazilian football, Paulinho has emerged as a target for a number of Premier League heavyweights. The midfielder was part of the Corinthians team that won the Club World Cup in December and that triumph might be seen as an appropriate high on which to bow out at the Sao Paulo club.
But the player himself has moved to distance himself from the speculation while appearing to invite more serious interest. "There were lots of rumours that I could possibly leave the club, that there are talks, but I have never been aware of anything concrete, apart from Inter Milan, which everyone knows about," he told Esporte iG.
Sky Sports' Brazilian expert Paulo Freitas says: "The Corinthians player has been linked to Chelsea, Manchester City and Inter Milan. He is a modern midfielder that can both attack and defend. Paulinho marks well and has a good passing range. However, he has stated a few times that he prefers to stay at Corinthians for now."