Brits abroad - Anthony Hudson
After beginning his coaching career with Real Maryland Monarchs in the United States, Anthony Hudson is now in charge of the Bahrain national team at the age of just 32. Here is the Englishman's story...
By Adam Bate - Follow @GhostGoal
Last Updated: 21/01/14 9:11am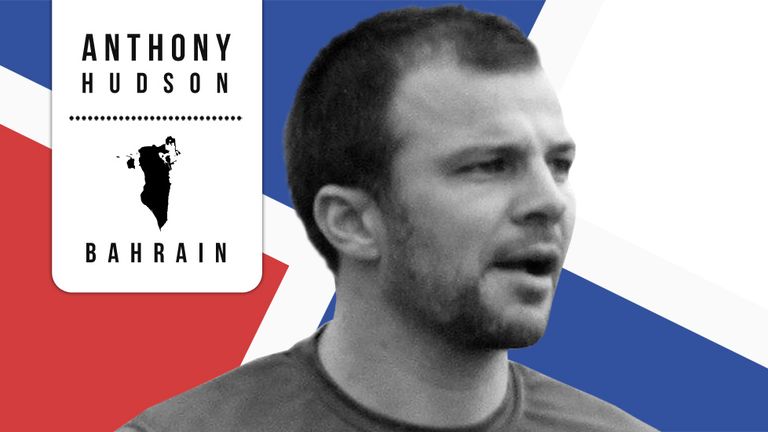 Anthony Hudson began his managerial career at the age of just 27 with Real Maryland Monarchs in the United States. Now in charge of Bahrain, he recently helped the country qualify for the 2015 AFC Asian Cup. Adam Bate caught up with him to find out more about his experiences in the Gulf.
Your first foray into coaching overseas came in the United States. How was that experience?
It was great. I'd already worked with younger players but that gave me the chance to work with senior players when I was at a younger age than them. That was my first manager's job and it was an incredible experience. We were one of the smaller clubs and didn't have a lot of money. For me as a younger manager to get the chance to work with budgets and experience all that was really important. They were challenging times but some real lessons for me.
You went out to Bahrain in March 2012. How did that move come about?
Peter Taylor brought me out here as the Under-23 coach. I'm still in touch with him. He's a good man and a good coach. I'm really grateful to have been able to get to know him and work with him.
Was it a big decision?
It was an easy decision for me. I'm just that type of person. I'm happy to go anywhere as long as it is a progression and a challenging job. If I feel it is going to help me going forward then the destination or the environment isn't really relevant. To come and work with Peter was something I jumped at.
And now you're in the top job, things are going well...
When I first took the job, the first objective was to qualify by whatever means. I had to juggle a few things and bring in a few experienced players. The vision was only very short term - just a couple of months ahead - because it was all about getting those wins. It's slightly different now because we've now got to look long term. We were organised but I feel now I've got the chance to get stuck into how I really want to do things.
Is there the talent in Bahrain to achieve your goals?
I think overall the Gulf is definitely improving. There are a lot of good young players in Bahrain. I've been here long enough now to have a real effect and the players are responding. It's been good. The spirit and the ethic of the players makes them really good to work with.
Bahrain has its pros and its cons. The domestic league isn't that strong so the earlier (in the season) we play our international games, the more difficult it is because the players are not as fit as they might be. We found this when we played away at Malaysia, we just had so many players pulling up with cramp. We weren't physically at the level of Malaysia because their domestic league is far stronger with big crowds. In terms of fitness, they'd played a lot more high intensity games.
So the timing of our international games makes a huge difference. Now we're a bit further along and have a few games under our belt. Where the pros are is that we're not like the English Premier League, we can be a little bit more flexible with our domestic league and I can try to get extra days here and there with the team. The downside is that when they go away from us, the intensity of the games and the training is a little bit lower than the level they're competing at.
So you have to tailor your coaching to the ability of the players?
It's massive. Me and my assistant are always asking ourselves the question: Can we do it? Do we need to be a little bit more cautious? So far we haven't held back. I'm picking a squad now that has a lot more youth, more energy and more legs. It's a more positive squad with players who want to go forward. So what we maybe lack in experience, we are gaining in the qualities that matter to me in terms of what we are trying to do.
Presumably, these are the different challenges you face when coaching abroad...
It's very different. I don't know why. For example, ever since I've been here I've tried team-building exercises but it's never really been well received. That's just the culture and how people are brought up. It's not better or worse it's just different to what I was used to in England. The best moments are when we go away and stay in a hotel together. And besides, team spirit for me is not just a matter of doing something together. It's coming through difficult times, working for each other on the pitch, having to rely on each other and coming out the other side. When you fight for something, that's when you really become a team in terms of spirit.
It's a case of respecting the local culture...
Yeah, there's a really fine line in terms of getting the balance right. For example, it's National Day in Bahrain on December 17th and we gave them all the day off. It's right that we do that out of respect and we also have to be mindful that we can't overload them with information. But there's so much we need to do and so much they need to take on board in such a short space of time that we have to make it full-on in terms of meetings and training and making sure everyone is on the same page.
It's interesting because if you are going to make a plan to win a game of football and run your programme purely on footballing reasons, you'd do it one way. However, because of the culture you have to factor these things in. It's a great experience and I don't have a problem making those adjustments - I think it's the right thing to do - but it is a challenge.
And it's helping you to become a better coach?
I've learnt a completely different culture and how to communicate in lots of different ways. I've got many more ways to get my ideas across now and get messages to the team. With the national team, you have got the players for such a short period of time that you have to use every bit of contact time you have with a player in order to get something across. I want to keep improving so I'm thinking about things I can show players on the iPad when we're in the hotel or even just in the lobby when we're waiting for meetings. So it's made me a lot more resourceful as a coach.
I really feel I'm developing quickly and becoming more comfortable in the role. I've grown a lot in the last few years working here. It's really opened my eyes to things like managing staff and managing upwards dealing with a board of directors, sheikhs and senior players. There's a lot that comes with managing a national team, whether it's dealing with the local Arabic press or other things coming at you from all different directions. It's been a great experience and I'm definitely learning a lot from it.
Are you enjoying life there away from football?
If the football's good then I'm happy and my life is going well. I'm a lot like a player when he has a good game - everything is fine and you're happy. I wake up every day and take my dog for a walk with the sun shining. I've got a lot to be grateful for. If I ever have a bad day or am feeling down, I just remind myself how lucky I am to be living this life.
Would you recommend other British coaches try their luck abroad?
I'm not really in a position to tell anyone what to do. I'm just out there finding my own way. All I can say is what's right for me. This is what I'm passionate about.
Would you be interested in a move back to England?
To be honest, I just see England as another football country now. Football-wise, it's just another place. The games I watch, my style of play and what I am passionate about - none of those things are in England. They are in Germany, Spain, Chile and elsewhere in South America. So I feel compelled and driven to be going to those players before anywhere else. Obviously, it would be a dream to work in the Premier League one day and I believe that's where I will be but certainly in order to get there I have to gain experience in other places first.