Valcke clarifies Qatar email
Fifa secretary general Jerome Valcke has attempted to clarify his email which referred to the 2022 World Cup.
Last Updated: 31/05/11 8:23am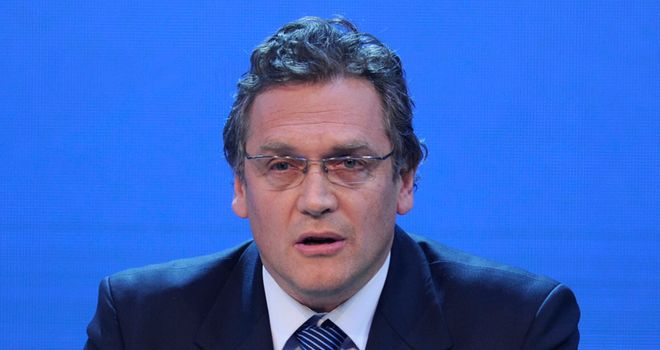 Fifa secretary general Jerome Valcke has attempted to clarify his meaning by insisting an email which suggested the 2022 World Cup was 'bought' referred to Qatar using their 'financial strength' to legitimately lobby for votes.
The email to Jack Warner about was made public by the suspended Fifa vice-president in a blistering attack by the Trinidadian on the world governing body on Sunday.
It referred to Mohamed Bin Hammam, the Qatari who had announced he was standing against Sepp Blatter for Fifa presidency.
Valcke wrote: "For MBH, I never understood why he was running. If really he thought he had a chance or just being an extreme way to express how much he does not like anymore JSB [Blatter]. Or he thought you can buy Fifa as they bought the WC."
In a statement released on Monday, Valcke stated: "Mr Warner has published an email which I sent to him. I'd like to clarify that I may use in an email - a 'lighter' way of expression by nature - a much less formal tone than in any form of correspondence.
Budget
"Having said that, when I refer to the 2022 Fifa World Cup in that email, what I wanted to say is that the winning bid used their financial strength to lobby for support.
"They were a candidate with a very important budget and have used it to heavily promote their bid all around the world in a very efficient manner.
"I have at no time made, or was intending to make, any reference to any purchase of votes or similar unethical behaviour.
"I would also like to clarify that there is, as I said yesterday, no investigation open at Fifa regarding the 2022 Fifa World Cup host election."
Qatar 2022 responded by saying "Mr Valcke's statement [to Warner] was clearly taken out of context but again Qatar's name has been dragged through the mud for absolutely no reason.
"We would like to reaffirm we won the World Cup bid with the best campaign and without breaching Fifa rules."