England manager Roy Hodgson has Arsene Wenger's trust over Jack Wilshere
England's Roy Hodgson insists Arsenal boss Arsene Wenger trusts him to look after Jack Wilshere on international duty.
Last Updated: 12/11/12 11:27am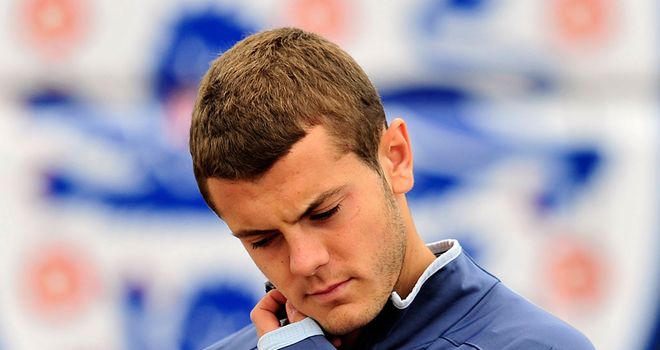 Just three games into his comeback after 17 months on the sidelines with a variety of injuries, even Wilshere concedes he is surprised at how quickly he has returned to the international fold.
Wenger has expressed his unease at the midfielder's selection in the squad for Wednesday's friendly with Sweden in Stockholm.
But Hodgson has confirmed his intention to treat the 20-year-old with kid gloves and has already confirmed Wilshere will not start in the new 50,000-capacity Friends Arena.
"I am aware of Arsene's concerns, which I fully understand as he needs to look after a player who has been out for a length of time," said Hodgson.
"But Jack is an important player for us and now he is fit and playing and available for selection, he understands we are going to put him in the squad.
"He trusts me to make certain I look after him.
"I have made it clear if he plays in this game it will be part of the game and won't be a case of him starting the game and playing 90 minutes, which might be a bit much for him at international level at this moment."
Conflict
The England boss added: "Unfortunately, conflict will always exist between national teams and club teams.
"We are never going to get a 100% situation but we are perfectly satisfied."
Meanwhile, Hodgson will feel an enormous sense of pride at handing Steven Gerrard his 100th cap in Stockholm on Wednesday.
Gerrard will become only the sixth England player to reach the milestone, following Peter Shilton, David Beckham, Bobby Moore, Bobby Charlton and Billy Wright.
It is a fine achievement, considering earlier in his career there were some who felt the Liverpool captain's dedication to the Three Lions cause was not all it might have been.
However, the 32-year-old has led England into their last two major tournaments and, providing he stays injury-free, is likely to have become England's fifth most experienced captain before his career comes to an end.
"Anybody who gets 100 caps for his country has got to be one hell of a player," said Hodgson.
"I'm delighted I am going to be the manager of the team when he gets that 100th cap because I regard that as an honour. It's nice if you happen to be the man on the bench that day."