Franck Ribery blames bad German for controversial comments on playing for France
Franck Ribery has played down comments in which he suggested playing for Bayern Munich was more important than France.
Last Updated: 12/11/12 1:06pm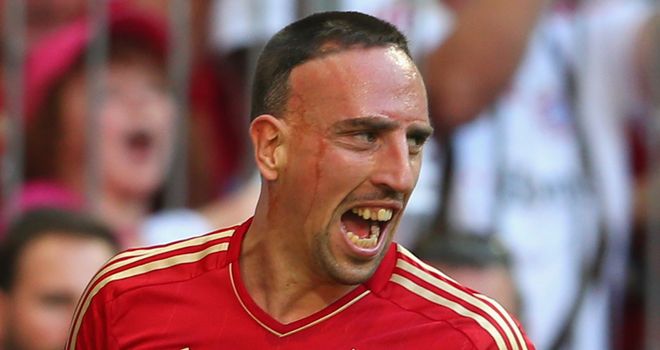 After scoring in Saturday's 2-0 win over Eintracht Frankfurt, Ribery told reporters in Munich, in German: "I have been at Bayern for six years. It is always good here, I am happy. It is more important for me than the France team."
Those remarks understandably proved controversial in his homeland but he was quick to try to play down the issue, blaming it on his lack of fluency in German.
In a statement issued on Sunday night, the 29-year-old said: "I perhaps do not have good enough control of the German language to say things clearly.
"Obviously, contrary to what you want me to have said, I don't prefer Bayern to the France team or vice-versa. It is ridiculous to compare the two."
His agent Jean-Pierre Bernes added in L'Equipe on Monday: "Franck did not want to say that, as you can well imagine.
"He does not deny having uttered that sentence but he does not express himself well in German. He just wanted to say that Bayern and France are both very important to him."
France coach Didier Deschamps was unconcerned by Ribery's comments and is confident over the commitment of a player who has won 69 caps for Les Bleus, scoring 11 goals.
"I have no doubt over his attachment to the jersey," Deschamps told television station France 2.
"Do you think Franck would say in Germany that the national team is more important than his club? It's impossible. Bayern is his daily bread.
"It serves no purpose to create a controversy, and I am not just saying that because of his last performance with the France team."
Ribery was at his best as France drew 1-1 with Spain last month, setting up Olivier Giroud's injury-time equaliser and several good chances for Karim Benzema as well as forcing a fine save from Spain keeper Iker Casillas.