FA appoint Mark Sampson as new head coach of England senior women's team
Mark Sampson has been named as the new head coach of England senior women's team.
Last Updated: 07/12/13 11:30pm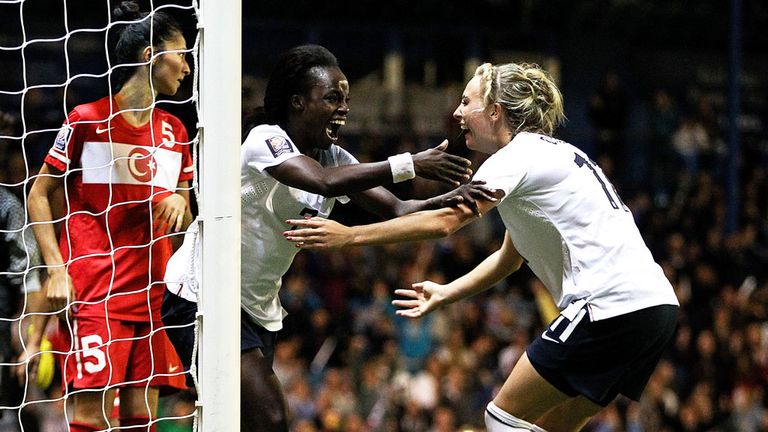 Sampson has signed a four-year deal with the Football Association and his first task will be to select a squad for the January training camp in La Manga.
He will work closely with the national coaches and the new Head of Elite Women's Development at St George's Park to improve England teams at all levels.
England currently sit top of Group Six in their qualifying campaign for the 2015 World Cup with four wins out of four under caretaker boss Brent Hills.
Sampson, who previously was in charge of Bristol Academy WFC, said: "I'm very proud and honoured to be offered the opportunity by the Football Association to manage the England women's senior team.
"Women's football in England is in a fantastic place right now with the growth and development of the game in the last few years and I am ready to give everything I have to build an England team that every English supporter can be proud of.
"I am also very thankful to Brent for the excellent work he has done in helping the team get off to a winning start in the qualifying campaign for the World Cup in 2015. The aim is to build on this momentum going forwards, and I look forward to the first training camp in January.
"This is huge challenge for me personally and one in which I'm looking forward to taking on. I hope everyone in the game can unite behind me and the squad and together we can share a new and exciting journey for women's football in England."
The FA's director of football development Sir Trevor Brooking said: "Mark is an outstanding manager with a tremendous passion and commitment to drive the game forward in this country.
"We were extremely impressed by Mark's vision for the England women's team and we are all looking forward to working with him in what is a very exciting time for the women's game in this country."
Sampson worked under Roberto Martinez at Swansea City as the centre of excellence manager before his successful five-year spell in Bristol.