World Cup views
Our pundits on Northern Ireland, defeat for Wales and Scotland and 'farcical' scenes in Poland.
Last Updated: 17/10/12 1:23pm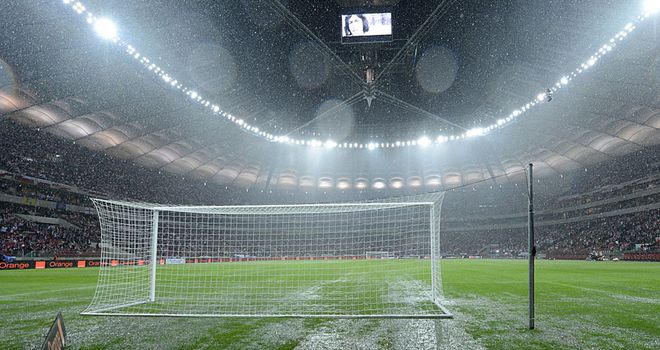 Tuesday's World Cup qualifiers saw Northern Ireland claim a point in Portugal, Scotland downed by Belgium, Wales sunk in Croatia and England left kicking their heels. Read below for our pundits' thoughts on the Home Nations' nights...
Phil Thompson on the cancellation of England's game in Poland
"It's dreadful. Why did it take so long for the match to be called off? The Polish players were still in their kit when it was announced. The English players were in tracksuits all waiting in the tunnel. Why the referee had to go out three times to check the pitch I don't know. It was still bucketing down and there's no way it would have gone on.
"There were so many thousands of people still in the stadium being kept waiting - although some made it onto the pitch and were diving in the water! Why wasn't the roof closed? That's scandalous. They had plenty of time to do it and I'm absolutely astonished they haven't done so. It's a farce."
Click here for more on this story
Andy Walker says it is time for Craig Levein to go
"There's absolutely no chance of qualification. We have to get back some sort of pride, respectability and, as much as we sometimes dismiss the FIFA world rankings, we have to get some wins to boost our status.
"As far as Craig Levein is concerned, I don't see how he can possibly survive. We can't win games under him. It's no disgrace to lose to Belgium, they are full of Premier League quality, but we don't win games when it matters, and it mattered at the start of the campaign with two home games against Serbia and Macedonia and then a game away against Wales. When you can't win games I don't think you can expect to survive.
"His talk of progress is quite baffling. I can't see where the progress is because we're sitting bottom of the group and we're the only nation in the group that haven't won a match so far. Against Belgium we were playing one of the favourites - Croatia being the others - but the first three games were absolutely perfect.
"We do have a decent group of players but we've struggled to make an impact. And the worrying thing now is the supporters' enthusiasm is on the wane, they are so disappointed with the start of this campaign and you just wonder how many of them will stick by Craig Levein for the next run of games.
"The management of getting Steven Fletcher and Kris Commons back into the squad was highly questionable. Levein said at the outset his remit was to get Scotland to a major tournament, he's had a couple of goes at it now and it hasn't worked out. We need to get someone else in.
"Management can be brutal sometimes but if you don't get results you can't expect to remain in the job. It's time for him to go now. This qualifying campaign has been nothing short of embarrassing."
Find out more about this story
Charlie Nicholas on Craig Levein's future as Scotland boss
"I think Craig Levein has had his time. The fact is we've said for the last eight years or so this is the best bunch of attack-minded players we've had at our disposal. It's up to Craig as the manager to make this team better than what it is. He's had two goes at it in terms of qualifying campaigns and we're bottom of the table. It's not working.
"Will it make a significant difference if he gets the sack? If Craig stays in the job then so be it. It's not a major drama for me. I'll still have the realistic view that we're not good enough, the players have improved - but the improvement has been individually, with players going to Premier League clubs, it's not made the team any better, we're still losing and we still don't know how to attack or, more importantly keep the ball.
"Who would replace him? It's madness we go through this every two or three years and we'll have the usual names thrown into the hat: Gordon Strachan is someone a lot of the fans want, then there's Alex McLeish because he was a bit more attack-minded and Walter Smith because he stabilised the mess that Bertie Vogts had built up many years ago.
"The problem for me is I'm not inspired by a lot for the young coaches coming through, although I quite like Danny Lennon at St Mirren, who's working without a big budget.
"The one I'd put forward is Joe Jordan; he's a fantastic coach, he's worked with Harry Redknapp and he understands the game inside out.
"I think there are better managers out there than Levein but when I hear the players say 'what do you want us to do? Attack Belgium? They'll rip us a part!' Well I'm sorry - they rip us apart when we try to defend. How they ever going to win football matches with that mentality? The Scottish fans just want a team they can come and watch with an aspiration."
Find out more about this story
Graeme Sharp on Scotland's 2-0 defeat in Belgium
"It was men against boys at times, even though you had eight Premier League players playing for Scotland; Belgium were so much on top. This squad of players is the best we have had in a long while but they played second fiddle to a very good Belgium side.
"Allan McGregor made save after save and had one of those nights but that was never going to last and we didn't really have a threat ourselves; we had a couple of free-kicks from distance in the first-half but apart from that we didn't create a lot or get on the ball enough.
"Darren Fletcher stuck at it and got through an awful lot of work, Shaun Maloney was bright in flashes, but Belgium were in cruise control. We are slow at the back which stops us pushing up and condensing the play and when you are playing against teams that are technically better than you, you are playing into their hands. It could have been more than 2-0.
"I think the press will have a field day, while there were banners in the crowd saying bring Gordon Strachan in to replace of Craig Levein. That's fine but will he want this tough job? I'm not sure that a change would be the right thing at this time - qualification is beyond them so a new man won't take them to Brazil - but I would like to see some pace brought into the back four."
Stephen Craigan on Northern Ireland's 1-1 draw in Portugal
"Northern Ireland boss Michael O'Neill said the players and his coaching team did a great job, but I think he has to take a lot of credit. He has taken a bit of stick over the last few months but in his opening six games as an international manager he has been in Portugal, Russia and Holland; it has been tough for him.
"Michael's preparation is impeccable, he has been trying to build momentum and give everybody hope and impetus, and there have been good vibes coming from the players. But the business we are in is ultimately about results and confidence and this will give everybody a huge lift. We now have four home games in a row and I think we can really stamp our authority on our group.
"Games like this, against some of the best players in the world, give you the opportunity to enhance your career and your position as a football player and Niall McGinn, Craig Cathcart, Corry Evans, Oliver Norwood, people who have maybe been written off in their careers before, really stood up and took the game to Portugal. When Northern Ireland are up against it they love to come out fighting and prove people wrong and they did that (on Tuesday night).
"When we scored the goal through McGinn you wondered if we could go on and get a win, never mind a draw, but you speak to anyone who has got a positive result with Northern Ireland away from home and you have to defend.
"You have to ride your luck and put your body on the line; you have to hope and pray sometimes. It came to fruition, though, and the boys deserved to get something out of the game; it would have been heart-breaking if they hadn't got a point."
Mark Bowen on Wales' 2-0 defeat to Croatia
"2-0 flatters Wales as Croatia totally outclassed them. All the good things we saw against Scotland weren't there and Wales never seemed to get into their stride. I thought they started off poorly in the first 10-15 minutes and their mentality was wrong.
"I was looking for Wales to get in their faces and make it difficult for Croatia and make it physical and play in their half more. But Wales came to play a game of football and found Croatia were better at that, a lot better. The likes of Luka Modric were running the show.
"Every time Gareth Bale got the ball in the first half of the game and went on a run he was stopped by someone bringing him down, giving away a cynical free-kick - but I didn't see Wales do that once to Modric all night. They were simply running alongside people, trying to play pretty football. Sometimes you have to grind out results, be physical and get in people's faces but Wales didn't do that.
"On chances Croatia could have won 6-0, 7-0 or 8-0, but the actual goals they scored were defensive errors, with men not doing their jobs. Lewis Price, the goalkeeper, did very well - but if he wasn't there, who knows what the score would have been?
"Wales' game-plan for the foreseeable future seems to be: 'Let's get all our men behind the ball, defend and try to stay in the game and hopefully give it to Gareth Bale'. The only joy Wales fans have at the moment are montages of Bale's play. It seems to be a one-man team at the moment.
"Wales are definitely missing Craig Bellamy because with him in the team there was a twin-prong attack with Bale. It's unfortunate with the pool of players Chris Coleman has got to choose from but I'm sitting here thinking if Wales have to play a game in the future without Bale because of injury or whatever, what are they going to do? But more important than worrying about that is the need to work on other areas to stop soft, silly goals going in."