Northern lights
Belgium may be many people's idea of 'the next big thing' in European football but it's Norway's youngsters ruffling feathers at youth level. Adam Bate caught up with Under 21 coach Per Joar Hansen to find out what's going on and see if there's anything British football can learn.
By Adam Bate - Follow me @GhostGoal
Last Updated: 27/10/12 1:33pm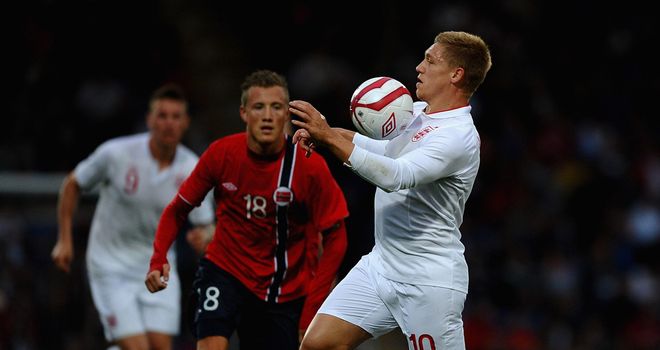 While England were enduring a traumatic passage through to next summer's European Under 21 Championships with their win in Serbia earlier this month, the other story in the tournament was unfolding in Norway.
Per Joar "Perry" Hansen's Norwegian side were eliminating a highly-fancied France team in dramatic fashion as they turned around a one-goal deficit from the first leg with an astonishing 5-3 win in Drammen.
With an Under 19 side also beating Holland this month it seems the future is bright for Norwegian football. Adam Bate had a chat with Hansen to get the full story on a promising generation of players - including some insight into what British football could do to punch above its weight...
The win over France was a surprise to many. Was it a surprise to you?
That's a very good question. In two play-off games France will always be favourites against Norway but we have a strong side and we have belief in ourselves. After the first game in France we thought that we had a possibility if we performed at our best in the home game.
But of course for European football it was a big surprise I think. For us, maybe now that we have done this we have broken a barrier.
Is this the best crop of Norwegian players ever?
We have a very strong side and we have a large number of good players born in 1990, 1991, 1992 and 1993. It's a very good group but it's not easy to compare with other generations. But this generation has very interesting players in all positions.
Is it just good fortune that these players have come along?
We have good players but we have a concept. A year ago we were nothing in the eyes of the Norwegian press. We lost 3-0 against Scotland in August 2011 before the qualification began and nobody believed in us.
But after that game I delivered what you could call 'the hairdryer' in the dressing room. And we decided to stick together and do something with this generation.
We met Iceland and Azerbaijan in the first two qualifying games and we found our concept - strong defence, quick counter-attacks and playing the way Rosenborg played in the 1990s using the midfield, the wings and offensive full-backs.
And we had some good results. The players began to believe in the way that we played and we believed in ourselves. We also used the same players from game to game and built a very strong unit. And from there it's been a fairy-tale.
It has also been suggested you have embraced the Dutch philosophy rather than the long-ball traditions of Norwegian football?
Yeah it's a Dutch style. We have been much more offensive. I think it's the best of the Ajax concept with a bit of the Rosenborg style thrown in because my offensive thinking comes a lot from the Rosenborg way of playing in the late 1990s and early 2000s (when Hansen was coach there).
We have very good individuals and strong technical players. I want to use the skills of the players when we have the ball and we have succeeded with that. I think also we have surprised a lot of the big nations because we are playing possession football in the midfield with our good passing players. We have good wingers and strikers with excellent technique.
And we are building from the back. I think that was a particular shock to France. They didn't know what him them when we played them at home in Drammen. In that game we also pressed them very high - very aggressive and high pressure. It's been a success playing in that way.
The Under 19 side also beat Holland so you can be excited for the next few years now...
Yeah we have a good group coming through behind the current Under 21 side. In fact, a number of the current squad are players born in 1993 who are knocking on the door to play for me. The future in Norway is bright and I think it comes down to five main reasons.
Firstly, we have worked very hard in recent years - since 2002 in all of the top clubs we have hired good coaches. There was a particular focus on individual training to develop the young players in a way that suited them. We are seeing now the benefits of that approach.
The financial crisis in Norway was also very good for the young players because we kicked out some very bad foreign players who took the places of the Norwegian youngsters. So when the financial crisis came to Norway the young players could go in and play in the [Norwegian] Premier League from very early on and it was a big success.
From the Norwegian FA they introduced 30 per cent more international games for the younger age-groups. From the age of 15 the focus was on them getting out and playing more international games and getting more international experience.
The introduction of artificial pitches in Norway was a help too. We built indoor halls with artificial turf so that young players could train in winter in perfect conditions. That also has been a factor in the success that we are seeing now.
Finally, when I took over the media in Norway was very aggressive and told the players that Norwegian football was nothing. That was psychologically damaging - if you always tell the players that they are worth nothing then they will start to believe it.
So I have been very clear that we are good players with good skills. We are not standing behind any teams in Europe and we have built a belief in ourselves. Those five factors I think explain a little bit the success that we are having.
And presumably playing in a tournament will help them develop further?
Of course. Going to an international tournament with the best teams in Europe is a fantastic advantage for Norwegian football in the future.
You look at those big nations, there is a very high standard and you get vital international experience. You live and play together for a few weeks and the experience they get from playing in the competition could be important for the Norway senior team in the future.
Is there anybody in particular that we should be looking out for? Fans in the UK may be aware of Manchester City youngster Omar Elabdellaoui and Manchester United's Joshua King...
Omar has been one of many good players and he has been outstanding at full-back for me.
But I think it's not easy to say that this player is better than that player and so on because nobody in Norway had heard of Joshua King a year ago and now he is playing well for me in the U21s and the senior team.
And we have four or five players in my generation who are now playing for the first team. Many of those players have taken big steps over the past year. There are also other players in my U21s who can achieve big goals in the next six months so you never know because young players develop in different ways.
Would you be interested in working with this group of players at senior level as Norway manager?
As a coach you always have ambitions. I love my job and I love the group that I work with now but you never know in soccer what is going to happen in the future.
My ambition is to do the best possible job where I am and in the future I have ambitions to go out into Europe and coach a European team. I have been in Scandinavia now for many years. In the future I hope maybe I could take a club in a European league. That is my goal.