Sky Sports speak to Toni Duggan ahead of the Women's European Championship
England striker Toni Duggan looks forward to the Women's Football European Championship.
By Sam Drury
Last Updated: 03/07/13 12:06pm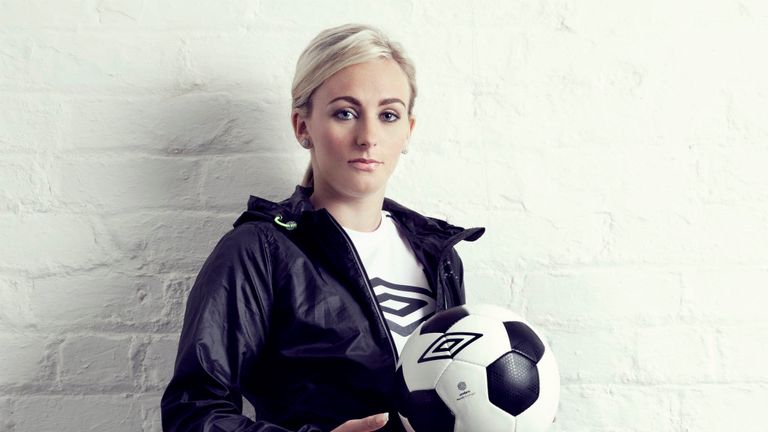 Firstly, you must be excited ahead of your first senior international tournament?
Yeah, I can't wait. I made my debut the start of last year, which was a fantastic achievement coming up from the youth system but the ultimate is to go to a big tournament like this. Finally it's come so I just can't wait to get out there now.
You face France, Russia and Spain in the group stage. France would seem like the biggest threat on paper. How confident are the squad that you can progress to the knock-out stage?
We're under no illusions; we know we've got a tough group. I think any game at a European Championships is going to be tough.
I mean on paper you look at France and you look at Spain and they're tough teams but you can't really underestimate Russia. They'll be going out to win the competition and I'm sure they'll have prepared as best as possible, just like we have.
The strength in depth of our squad, we've got to give ourselves credit as well. We've done all our preparation right and we're feeling confident. Our aim is just to get out of the group stage and we'll go from there.
The side reached the final in 2009, albeit with a number of players no longer with the squad. How much will the experience of the likes of Kelly Smith, who played in tournament, help the younger players such as yourself?
Yeah it's massive, experiences like that - they know what it takes to get to the final and we'll be hoping to go one better. Second best isn't really remembered so we'll be aiming for that gold.
Even the (younger) girls within the squad - myself included - won the U19s European Championship in 2009 as well. So we've got that youth experience and we know what it takes to win a tournament and be on the road for three to four weeks in that environment.
So we can bring all that experience to the table whether it be the youngsters or the experienced girls, we can mix our experiences and hopefully come away with success.
One of the more experienced players, of course, is Rachel Yankey, who reached a national record of 126 caps in the draw with Japan. What do you make of that record and how important is it to have players like her to look up to when you're breaking into the squad?
It's amazing, you know. I watched something Yanks was on the other day saying that there were no role models for her and it was very limited, as well, when I was younger but Yanks has always been the name that people were talking about.
Her and Kelly Smith were the household names, so being in the squad when she got her 126th cap, it's a fantastic achievement for her, but to play alongside her and be with her in training is a real honour. It's no more than she deserves.
I'm just happy that she's a part of the squad, hopefully I can learn from her experiences, how she got to be so successful. She's a great player and someone I get on with.
The draw against Japan wasn't the ideal result but what were the positives the team can take from the match?
We're England. We go into every game and we want to come away with the win but I think if you look maybe two years ago, we'd have accepted a 1-1 draw with Japan.
I think that shows how far the squad has come that we're now disappointed with a draw. They are the world champions but so what? We're England, we're improving and we want to be playing against the best teams, competing with them and coming away with a win.
Obviously, after the game we were disappointed to have conceded a sloppy goal but performance-wise I think the girls held their own and played some great football. I think we were on top from the first half performance so to give away a sloppy goal - it's unfortunate - but we can take away some real confidence from that game into the tournament.
You travelled to Sweden on Monday and you then face them in your final friendly game before the tournament. What are you expecting from that game?
Yeah, it's going to be great, you're playing against the hosts so we'll be expecting a good crowd and Sweden are a great team. I've played against them in younger ages groups, that was who we beat in the European Championship final as well, so we'll expect tough opposition from them.
Their camp is going to be buzzing, they're the host nation so it's going to be a tough game but these are the best games to prepare you for such a big tournament. Hopefully it can stand us in good stead regardless of the result.
It'll get us used to the occasion, the atmosphere within the stadiums. Hopefully we can go into each game and use the experiences from the Japan and Sweden games and use that to our advantage.
On a personal note, you've been in good form for Everton - three goals in five WSL games - and your record at international youth level is also impressive. Are you confident that you can take that form into the Championships?
Yeah, I'm hoping I can. This season I've been telling myself that I've got to play consistently well for Everton and I think I've done that looking back at the first half of the season, but the European Championships is another level.
It's international football and it's senior football, it's totally different to what you play in the youth system so I'm going to have to step it up myself but I'll be doing everything I can in training to be, if not part of the starting XI, certainly to have a good impact on the squad whether I play 10 minutes or I play a game.
I'm just out there to enjoy the experience and hopefully play a game as well.
With Everton, you currently lie third in the Women's Super League table. What are you aims once the season resumes?
I think we've done OK. Obviously, we've got a young squad now. It's been quite tough, we've been in a bit of a transition period, we lost a few years and we lost our manager who we'd had for 25 years, Mo Marley. She was a great manager and our assistant (Andy Spence) stepped forward.
He's really come into his own these last few months and put his stamp on the game but we're going well and to be third going into the second half of the season, we quite happy with that.
Every team's improved, you look at Liverpool now and they're up the top end of the table and the past few seasons they've been near the bottom end so it's getting tougher. So the second half of the second we know it's going to be massive for us and let's not forget we're in the semi-final of the Continental Cup as well, we face Arsenal as one of our first games back, so we're looking forward to that. Hopefully we can gel as a team and continue to develop the youth in the team and hopefully we can be up there at the top of the league.
You've spoken in the past about enjoying the derby matches with Liverpool. They've improved significantly from last season to top the table, how much is overtaking them a motivation for the second half of the season?
Hopefully we can catch them in the second half of the season. They're our rivals - it's no different to the men's game.
Personally I'd be gutted to finish below them but they've had a lot of investment and I can only say it's good for the league. Obviously, at Everton we've invested more in the youth system and Liverpool have gone out and got internationals and it's paid off for them but I just hope we can stay in contention with them and hopefully we can come out on top.
You're, obviously, a local girl playing for Everton but I hear you were a Red when you were younger?
Yeah, it's true. It's quite tough. When I was younger I was football mad and I loved Liverpool. I'd run around with my Liverpool kit on with 'Owen' on the back and I never thought I'd wear an Everton kit. The thought of it just never even crossed my mind.
Obviously as I got older and I got into the first team, I took it more seriously then and Everton has become a huge part of it. I'd even go as far as to say I want Everton to do just as well as I want Liverpool to do well. For someone to say that coming from Liverpool, it's quite a big statement because the rivalry is tense but that's how I feel and that's what Everton Football Club does to you.
I'm just thankful that they've given me this opportunity to play for them, they've always supported me and backed me. I wouldn't be going to these European Championships without them, I'm grateful for that.
You also won the U23's Player of the Year for England in past few months. How much of an honour was that?
It was a massive honour. I've been striving to get into the first team for the past maybe two years now. Individual awards are always great and it was good to be a part of the under 23s.
Most of the girls that I was in that squad with, again, we won the under 19s together, we grew up together, so the girls are like sisters. So just to be recognised as a stand out player is a massive achievement - that's what got me a place in the senior line-up.
Finally, what are your goals for the next few years with both Everton and England?
At Everton, like I say, it's just to develop the youngsters, myself included. I'm obviously still only 21. I do think that you look along our squad and there's so many internationals across the lines whether it be under 19s, under 17s, we've got a lot going for us so I do think the next couple of years is going to be massive in that respect.
Internationally, I just want to keep doing what I'm doing and be part of the squad. It's difficult to get into so hopefully all my hard work can pay off and I can get towards that starting XI. I'm not one of those players that's happy to be going along and sitting on the bench and making up the numbers, I want to be in that starting XI so that's another ambition for me.
England Women and Everton Ladies striker Toni Duggan wears Umbro football boots www.umbro.com