Saint-Etienne replay
Few matches - World Cup or otherwise - have been jam-packed with as many memorable moments as England's meeting with Argentina at France 98. Fifteen years on, Jon Holmes replays an epic encounter.
Last Updated: 01/07/13 8:08am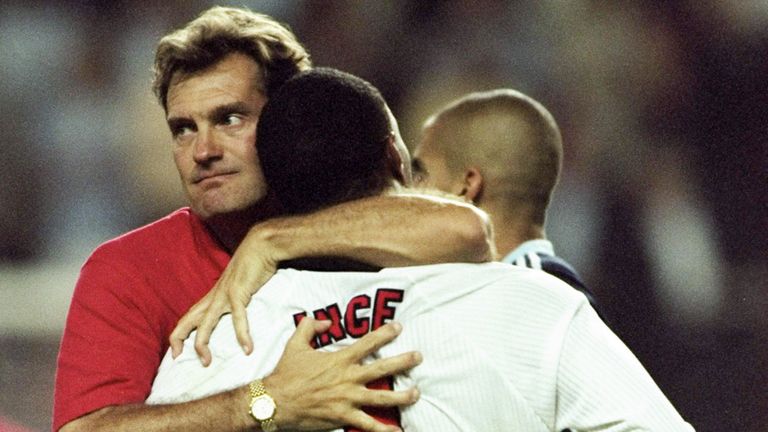 Frustration, relief, elation, admiration... and that was only the first half.
By the end, when David Batty was struggling to keep his upper lip stiff and it was nearing midnight at the Stade Geoffroy-Guichard on Tuesday 30 June, 1998, just about every feeling possible in football had been experienced by those present and watching on TV. As for anyone with English or Argentinian blood coursing through their veins, those emotions were intensified by a World Cup match that must surely rank among the most incident-packed fixtures of all time. The images from that night tell a gripping story.
Younger readers will have to forgive this wallowing in nostalgia. They may even be somewhat baffled as to why this particular Three Lions tournament exit above all others is deemed worthy of such treatment. But the Saint-Etienne nailbiter really is deserving of its own spot on the mantelpiece of our national game, and on its 15-year anniversary, memories of the match remain crystal clear.
For this game still says much about England, encapsulating its football values and offering a telling postscript in light of the recent clamour over Glenn Hoddle's coaching acumen. At times, it seems those values are now at risk; strength and steel are rarely spoken of in our increasingly desperate quest for a superior style of football. The epic encounter with Argentina had it all - here were moments of supreme skill and technique as well as the heroism that often accompanies an England defeat against the top nations. That sense of injustice, the perceived sneakiness of the opposition, the simultaneous feelings of pride and disappointment, and always, always, the sickener of the penalty shootout...
Setting the scene
Having seen off Tunisia 2-0 in Marseille, England had been on course to draw with Romania in Toulouse, only to lose 2-1 when Graeme Le Saux's weak defending let Dan Petrescu slide home late on. However, Darren Anderton's thumping strike and David Beckham's first international goal - a free-kick, of course - ensured second spot in Group G in Lens, the final score England 2 Colombia 0.
Meanwhile, Daniel Passarella's formidable Argentina hadn't conceded a goal in three straight wins over Japan, Jamaica and Croatia in Group H.
The first seven last-16 ties had failed to produce a significant shock. Brazil had blitzed Chile 4-1, Laurent Blanc's golden goal allowed France to edge past Paraguay, and late strikes from Oliver Bierhoff and Edgar Davids saw Germany and Holland respectively into the quarter-finals. As it transpired, the best of the second-round matches had been left until last.
First blood to Batigol
This wouldn't be Diego Simeone's most memorable contribution to the match, or arguably his most cunning, but within six minutes Argentina showed England that their combination of arts both fine and dark would be hard to combat. Ariel Ortega, who despite his undoubted quality was ultimately crushed by the weight of the 'next Maradona' tag and ended up hitting the bottle, pitched a looping ball from the right flank towards the area, where Gabriel Batistuta headed it on between Tony Adams and Gary Neville. Anderton found himself in a position similar to that of Le Saux against Romania, with Simeone in the Petrescu role, so this time David Seaman chose to twist rather than stick. However, Simeone's spinning-top act resulted in Kim Milton Nielsen pointing to the spot, from which Batistuta slammed home the opening goal. Seaman almost saved the penalty too.
Shearer's swift response
Commentator Brian Moore: "Owen... a chance to run at them now... Michael Owen, with a chance to run at them! And that's surely another penalty!" The rollercoaster ride was already in full effect after only 10 minutes, the Danish referee seeking to level the trough with a peak for England. Perhaps he'd secretly acknowledged his generosity in his award to Simeone, because Owen was barely brushed by Roberto Ayala as he ran into the box. Despite a considerable delay for Argentinian protests (yet it was Paul Ince who managed to get himself booked), Shearer kept his cool and struck a fierce spot-kick to Carlos Roa's right.
Owen, going... goal!
In his 2004 autobiography Off The Record, Owen describes his extraordinary 16th-minute solo effort: "The start of it all is a good first touch, because the initial movement is all in my natural stride. As soon as I took the touch, I knew I wasn't going to be caught. (Ayala and Jose Chamot) were back-pedalling... by the time I got to the point where I let rip, I'd run a good 20 or 30 yards. Anxiety and confusion were telling Ayala to continue to fall back. By the time I pushed the ball across him, I was in full flight. Just then I saw Paul Scholes appear on my right-hand side, shouting 'Leave it!' or 'Scholesy's!' If I'd left the ball for him, it would have seemed incredibly odd. When I finally struck it... I managed to clip it hard and fast towards the far corner." The goal would later be voted England's third greatest-ever by supporters, topped only by David Beckham's free-kick against Greece in 2002 World Cup qualifying and Paul Gascoigne's against Scotland at Euro 96.
Witch's brew for Zanetti
All but one of the 28 players involved in the match have since retired - the last man standing is Javier Zanetti. He'll celebrate his 40th birthday on August 10, a fortnight ahead of the start of the new Serie A season in which he'll again be pulling on the Inter Milan jersey (once he's shaken off an Achilles injury, at any rate). Peeling off from behind the wall to swivel and unleash a left-footed shot, his equaliser in first-half stoppage time was the result of supreme set-piece engineering from Argentina. Sol Campbell's tug on Claudio Lopez created the chance, but the goal was crafted by the intelligence of Juan Sebastian Veron. Three years later, Manchester United would break the British transfer record in order to tap into The Little Witch's magic themselves - but his spells were never as potent in the Premiership.
'One Stupid Boy'
Who was to blame for that red card, two minutes into the second half? Mainly Beckham himself for retaliating of course, but also Simeone for manipulating the situation - and some would say referee Nielsen delivered a harsh punishment. But what about Hoddle? Le Saux has since stated that he believes the coach's treatment of Beckham was one of the root causes. Hoddle constantly demanded better from the 23-year-old, in his football and in his behaviour; most likely, he saw glimpses of his young self in the midfielder. Le Saux recalls: "If Hoddle had judged David's character accurately, he'd have chosen his words more carefully. But he created this seething resentment... it was only a matter of time until David blew it."
Sol sparks pandemonium
After 81 minutes, a Shearer free-kick was deflected off Veron for a corner, swung in by Anderton. The ball dropped over the jumping Shearer and Roa and straight onto the head of Sol Campbell, who nodded it downwards and saw it bounce over the line. Cue the wildest of celebrations - from Campbell, from the coaching staff, from England fans inside the ground, and from supporters back home in pubs, clubs and living rooms across the land.
Except the goal wasn't given. Shearer had led with his arm as he jumped into Roa, and with Nielsen's permission, Argentina saw a chance to steal a march. A lightning-quick counter-attack downfield ensued, led by the charging Veron - only Neville, Adams and Gareth Southgate stood between the Argentinian attacking wave and Seaman's goal. But another England player was making a lung-bursting run to get back. He was snapping at Veron's heels. He couldn't stop the ball reaching Marcelo Gallardo, who evaded Neville's desperate attempt to intercept and found Ortega. But he was alert to the through-ball to Hernan Crespo, and he executed a crucial saving tackle to sweep the ball out for a corner. That player? Anderton, who had taken the original corner down at the other end.
Early in extra-time, Chamot appeared to handball in the box under pressure from Shearer, but Nielsen wasn't interested. Inevitably, only a shootout would separate the two sides.
Brave Batty's penalty woe
Sub Sergio Berti buries his spot-kick to Seaman's left - 1-0. Shearer scores his high into the roof of the net - 1-1. Then Crespo is denied by Seaman! But likewise Ince is thwarted by Roa! Veron replicates Shearer's effort - 2-1. Paul Merson, with the pressure ratcheted up by Roa's antics, finds the top corner - 2-2. 'Baby Face' Gallardo fires home for Argentina - 3-2. Owen pings his in off the post, and celebrates cheekily - 3-3. Ayala slots his spot-kick low - 4-3. Up steps Batty, who'd never taken a penalty before in his life...Also cruelly put on the spot was Kevin Keegan, co-commentating alongside Moore and sold an absolute pup with the question: "Kevin, will he score, yes or no?" He could hardly write Batty off at such a moment - but Roa guessed correctly.
The aftermath
'Glenn Hoddle: My 1998 World Cup Story' was released in bookshops less than two months later. Containing revelations about England players - such as the extent of Gascoigne's fury when he learned he had failed to make the final 22-man World Cup squad - the backlash began to swing away from Beckham and, after a poor start to Euro 2000 qualifying, onto Hoddle.
One of the manager's admissions was his regret over not taking faith-healer Eileen Drewery to France. Six months later, Hoddle elaborated on his unusual views on karma and sin in an interview with The Times, causing a national uproar. He was soon out of a job.
It seems to say a great deal about the coaching problems in this country that Hoddle has come back in vogue in recent weeks. With only a quarter of bosses currently employed in the Premier League being English, the pool of genuine home-grown candidates for the top FA jobs remains relatively small. Back in the mid-1990s, Hoddle was seen as a tactical innovator - but his man-management skills left a lot to be desired.
The final word on England v Argentina should go to Adams, a true colossus in central defence. Reflecting on the game and the missed opportunity, he said: "I thought it was a super occasion. Our fans were incredible, I'll always remember that - so passionate, particularly when we went down to 10 men. You could only hear the English supporters.
"I just wish that I'd taken the ball off of David Batty, and gone up there, and shoved it in the top corner, and we've had gone on and won... 'ifs and ands, pots and pans', as my mother used to say."
View our picture gallery of England v Argentina at France 1998, and follow Jon on Twitter at @jonboy79.