Summer Scout - Abel Hernandez
The Summer Scout eyes Uruguayan Abel Hernandez, spotted at the Confederations Cup.
Last Updated: 21/05/14 12:02pm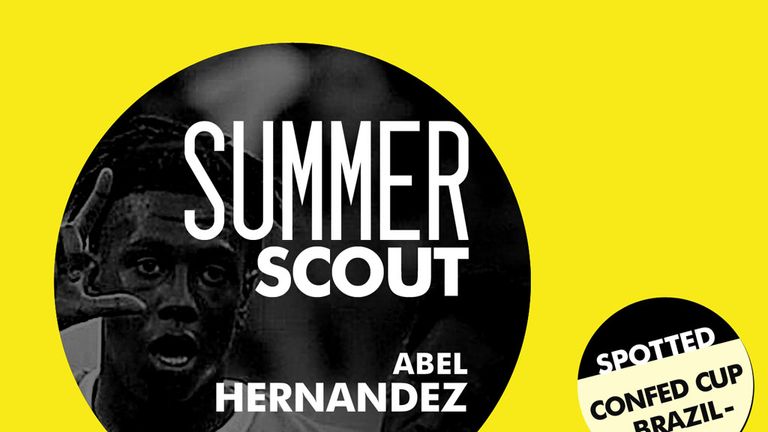 Our scout will report back and you can comment on what you think of their appraisal.
You can only nominate a player by emailing here, including the word 'Scout' in your subject line, and please check to make sure we have not already covered the player.
You can also now interact with the scout via his all-new Twitter feed! You can get in touch with him and interact here or just search for @skysportsscout
The latest player to be spotlighted is Uruguay's Abel Hernandez.
The scout reports...
Abel Hernandez caught the eye with his four goals against Tahiti in the Confederations Cup, and he is a player who has already caught the eye of a number clubs.
Born in 1990, he was picked up by Uruguayan giants Penarol aged just ten, but he spent just a year with them before linking up with Central Espanol.
He flourished at the smaller club and was soon pushing the first team ranks at Parque Palermo and he made his debut in 2007 before his first full season saw him claim nine league goals.
This form brought him again to the attention of Penarol, who re-signed him but his time with them lasted just six-months after three goals in eight games - he was snapped up by Italian side Palermo.
However, there was a delay in his signing - during his medical it was discovered that he had a cardiac arrhythmia and was ordered to stop playing and training and he underwent minor surgery.
He was given the all clear and he made his debut just a month after signing and he featured against Lecce in March 2009 - replacing fellow countryman Edinson Cavani.
That summer he featured in the Under-20 World Cup, but he soon returned for his first full season with Palermo and he scored seven goals - his best season to date in Italy.
Hernandez made a glittering start to his career which saw the likes of Real Madrid, Barcelona, Arsenal and Tottenham all linked.
He perhaps has not kicked on like many thought, but he never played centrally throughout a season.
A skilful, elegant forward - Hernandez's best work can often see him coming in from the flank. But there is no getting away from it that he is a quality finisher when given the chance.
Although over 6ft, physically he is not the strongest and with this he is now too powerful in the air, but he makes up for the in skill on the floor.
Clearly he has a lot to offer and showed in the Confederations Cup he is a more than capable performer.
The scout says...
Still only 22, Hernandez has great experience for a player so young - now linked to Premier League Sunderland, he certainly represents an intriguing prospect.
Hernandez has heaps of ability and would surely make an impact in the Premier League if a deal was done for him to play in England.
The Scout rating...
Shooting: 8 out of 10
Passing: 7 out of 10
Tackling: 5 out of 10
Heading: 6 out of 10
Pace: 8 out of 10
Vision: 7 out of 10
Current ability: 8 out of 10
Potential ability: 10 out of 10
OVERALL SCOUT RATING:59/80
Current value: £12million
Potential value: £30million
Your opinion...
You have read our opinion of Hernandez - now we want your views. Have you seen Hernandez in action? Do you agree with our assessment? Do you think he will make it?
Get in touch, either using the form below, email or the scout's Twitter feed - @skysportsscout