Super Frank
Frank Lampard will never receive the full credit he deserves for his England career due to being a part of the 'Golden Generation' but he can be considered one of the best of all time, writes Peter Fraser
By Peter Fraser - Follow me on Twitter @SkySportsPeteF
Last Updated: 09/09/13 1:25pm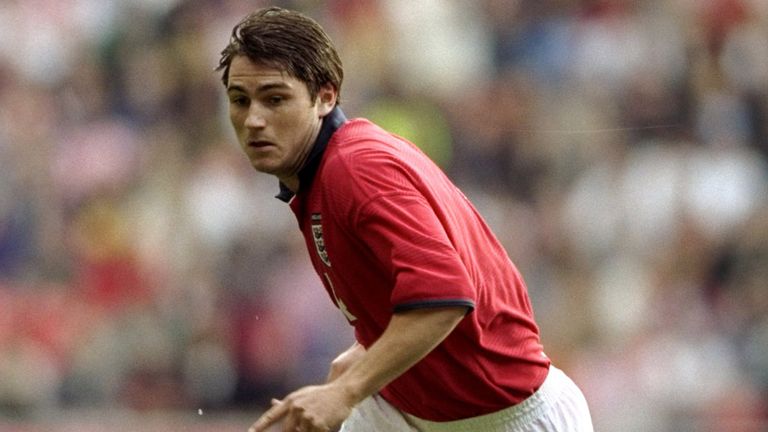 When England's achievements to date in the 21st Century are considered, it will be the usual case of what might have been. Frank Lampard has been a prominent figure in that time but there can be no such regrets about his personal contribution.
Since making his senior debut for his country in October 1999, and a little more than a decade after his first international goal for the Three Lions in August 2003, the Chelsea midfielder is now set to earn his 100th cap when facing Ukraine on Tuesday night.
In the time since he first appeared for England, Lampard has undisputedly been one of the best midfielders of his generation, both in this country and the world. Fans have perhaps become so accustomed to his professional attitude, immense talent and unshakable spirit that some may even have grown complacent about the now 35-year-old's ability. It is possibly even only once Lampard calls time on his England career after next summer's World Cup, if Roy Hodgson's team manage to qualify, when he will be truly missed.
Such were the gifts of Lampard as an 18-year-old at West Ham United, where he always faced accusations of an easy ride given the club's management team were made up of his father, Frank, and uncle, Harry Redknapp, he was invited by England boss Terry Venables to train with the Euro '96 squad. No matter how much was expected back then of the teenager, it could surely not have been predicted he would go on to become not just one of the best of his peer group, but also one of England's greatest of all time.
After his senior England debut in the 2-1 friendly win over Belgium in 1999, Lampard was surprisingly overlooked for Euro 2000 and the 2002 World Cup. But, since then, he has regularly been a man for the big occasion for his country. Only injury denied him what would likely have been another influential place in the England team at Euro 2012.
He will never be as fondly recognised as England's World Cup-winning heroes of 1966, such as his West Ham predecessors, Martin Peters, Bobby Moore or Geoff Hurst, for obvious reasons. He will probably also never be held in the same nostalgia as the likes of Paul Gascoigne from the eras of the 1990 World Cup and Euro '96 semi-finals, or possibly even Bryan Robson from the late 1980s.
But that is perhaps also a consequence of the period in which Lampard has played, a time-span when an element of football snobbery means it is trendy to look for the negatives and, most recently, turn noses up at anything which is not the technical perfection of tiki taka.
England's shortcomings during Lampard's potential 100 caps, years which were dubbed the 'Golden Generation', combined with the constant, tired debate over whether he could play in the same central midfield as Steven Gerrard, will always be the question mark against his international career.
Lampard was even booed by fans amid England's doomed Euro 2008 qualifying campaign. He at times found himself out of the plans of manager Steve McClaren. But the boos could be seen as a sign of his country's wider frustrations. Lampard would not have been singled out if he was an irrelevance, a man making up the squad.
Lampard has the ability to produce when his county has needed him - earning a place in UEFA's Euro 2004 team of the tournament, scoring the winner against Poland which secured qualification for the 2006 World Cup, or even against Germany at the 2010 World Cup when his infamous long-range strike was wrongly disallowed.
Reaching 100 caps should not be the accolade for Lampard. More than 250 players around the world have become footballing centurions for their respective country, with representatives ranging from Austria to Zambia. Lampard's personal achievements, albeit in a team sport, in that time should be what is truly recognised.
No matter what the criticisms of the 'Golden Generation', it is worth remembering that England's current run of having reached four successive World Cups since 1998, of which Lampard has played his part, is the country's best record since six in a row between 1950 and 1970, when qualification criteria was significantly different to the current structure and England also benefited from being the host nation in 1966.
From midfield, Lampard has scored an impressive 29 England goals. Nine of those goals have been penalties, making him his country's top international scorer from spot-kicks. His overall goals total is just one less than Nat Lofthouse, Tom Finney and Alan Shearer and means he sits among England's top 10 international leading goalscorers in history.
Even in 2013, Lampard is proving he can still mix it with the best. In February's friendly with Brazil at Wembley, at a time when his Chelsea future was up in the air, he came off England's bench at half-time to score the winner and beat the South Americans for the first time in 23 years. He was also recently on target against San Marino and Republic of Ireland.
That is why he should be considered one of England's finest of all time. When some of his international colleagues have at times failed to live up to expectations, Lampard will never give anything less than 100 per cent.
The professional manner in which he carries himself on the field, as well as off it - where he speaks honestly and accurately - mean the Football Association is rightly concerned at not producing more in the same mould amid the grand predictions for the 2022 World Cup.
When, as expected, Lampard makes his 100th appearance for his country at the Olympic Stadium in Kiev on Tuesday, England should rightly recognise they can rely upon one of their most talented.