Football Expert & Columnist
Jamie Redknapp hails graft of England centurion Frank Lampard
Jamie Redknapp says pure hard work has taken Frank Lampard to 100 caps - and he'll be vital in Ukraine.
Last Updated: 11/09/13 9:10am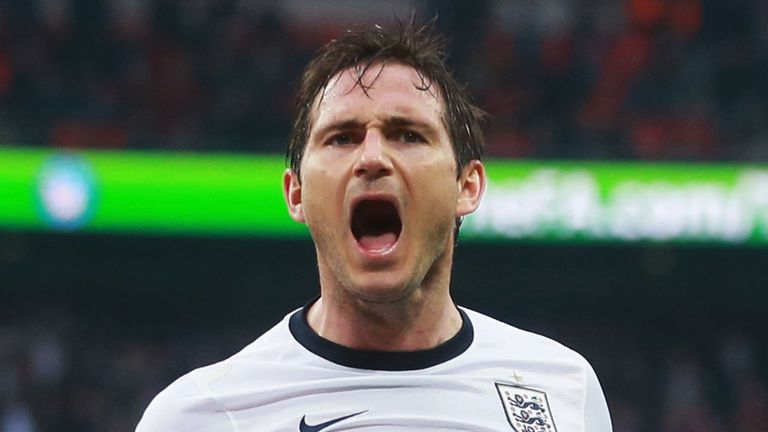 It was obviously a very special occasion for our family. Frank's mum, who passed away a couple of years ago, was at the game and so were my mum and dad. I think he was nervous in the dressing room, but you always feel nervous playing for your country and I'm sure it's no different for him now.
For Frank to go on and get 99 caps - and he looks certain to collect his 100th on Tuesday night - is an amazing achievement. Only seven other Englishmen have reached that landmark, so it's a tremendous honour for him and for the family.
But he deserves all the success he gets because he's such a great role model for young footballers.
One of the hot topics in football at the moment is the hunger of young players. People have been questioning the willingness of the new generation of footballer to toil and do everything they can on the training field to achieve their potential.
Young footballers nowadays are so quick to leave their training grounds and seem to be more worried about the trimmings of what football brings them - the money and the cars - rather than the hard work.
Well, Frank is a great example of how far graft can take you. He wasn't an England schoolboy superstar and he wasn't one of the players who really stood out at that age - but what he had was a big appetite for hard work.
His dad was always very fierce with him and made him train hard. My dad played with Frank Sr and said he used to do a huge amount of training on his own after the regular sessions; doing sprints and shuttle runs when everyone else was long gone. That's something that he put into his son's game as well.
Frank Lampard to score 1st and England win 1-0 - 50/1
Frank went to Chelsea at a great time in his career and has often said that Claudio Ranieri helped to change his mindset and turned him into a real all-round professional. Then Jose Mourinho arrived and also helped to bring his game on.
I remember when my dad was at West Ham and a lot of the fans didn't think he was good enough to be playing. He got a lot of stick - and still does when he goes back to Upton Park - but I bet a lot of them wish he was playing for them now!
And he's had stick from England fans over the years as well, but he's not the only player that's happened to. It's happened to David Beckham and it even happened to John Barnes, who was one of the best players I've ever played with.
Frank came through that and has scored 29 goals for his country and I think he will now be remembered as a great England player. People who score goals from midfield - which is something he's done throughout his career - are worth their weight in gold.
Fill up
I think Frank will have a big role to play against Ukraine because Roy Hodgson will be looking to fill up the midfield.
The England manager has always been very good at making teams hard to beat and this sort of fixture will turn him on. He's made his name getting 0-0 or 1-1 draws when he needs them and one of the reasons he didn't make it at Liverpool is because they want to see an attacking brand of football.
Hodgson knows the value of a draw on Tuesday night and he will set his team up accordingly - but that can be dangerous as well. He needs to leave players on the pitch who can win the game because if we sit back too much we'll be asking for trouble against a young, pacy, confident Ukrainian side who know each other well because so many of them play together for FC Dnipro.
It's really important that we leave an attacking threat on the field and I'd be amazed if the in-form Rickie Lambert doesn't start. He must keep hold of the ball well in this match because we'll be under pressure and it's vital the ball doesn't bounce back when we go forward.
Lambert must make the ball stick and bring the likes of Lampard, Steven Gerrard and Jack Wilshere into play. I think James Milner will probably play in one of the wide areas, but I'd like to see some real pace out there to cause them problems and occupy the full-backs.
I often play golf with Andriy Shevchenko and he's been very impressed with the young Ukrainian side. We've had a little side bet on this game because he thinks they're looking strong and their pace might be a bit too much for us.
I'm obviously hoping it will be a different story. I feel playing away from home may suit us because we can sit back and play on the counter-attack. We need to keep the ball well - we've done that well at times but not often enough - and the three players in central midfield need to be on top of their game because that's where we're strong.
A draw would be a great result for us on Tuesday night because if we can take a point and win our final two games at Wembley then we'll win the group. I think it will be a tight and nervy game, but I fancy us to draw 1-1.
And with the way that he plays and the way his career has gone, it wouldn't surprise me if Frank was to pop up and score a vital free-kick or penalty at some stage on his 100th appearance!