Pat Bonner says Giovanni Trapattoni facing Republic of Ireland exit
Pat Bonner says Republic of Ireland boss Giovanni Trapattoni is set for the axe after defeat to Austria.
Last Updated: 11/09/13 11:30am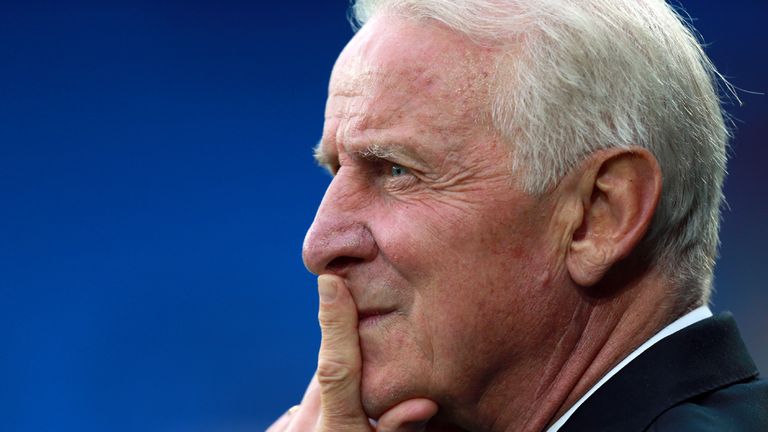 David Alaba's 84th minute winner for the hosts left the Republic six points adrift of second-placed Sweden in Group C and the Irish FA have since cancelled Trapattoni's scheduled news conference on Wednesday.
Former Republic of Ireland goalkeeper Bonner watched the game for Soccer Special and suspects the Italian's five-year tenure could be at an end.
"The repercussions are that Giovanni Trapattoni will probably be out of a job," said Bonner.
"Looking back at Trapattoni's Irish years, he was brilliant to get them to the European Championship finals in 2012 - albeit that they didn't perform that well there and I think he probably should have gone after that.
"They gave him that new contract before the European Championships, an expensive contract, and criticism will come in Ireland about the wages that he was on.
"We're now left in a situation where we're almost out of the qualification and we're probably going to end up fourth in the group.
Conservative
"He has tried to blood young players in there, but I'm not sure he really has faith in them. People have criticised how he plays the game.
"In Ireland they think he should use other players like Wes Hoolahan - he didn't bring him on tonight. People have been crying out for Wes to be in the team and he didn't bring him on tonight and that was a mistake, because he could have changed things around.
"The players work very, very hard, but that's a given with the Irish team - we work really, really hard. It's that other bit that we need and that quality is missing a little bit for us.
"Whether Giovanni Trapattoni's conservative way of playing enhanced that lack of quality, not allowing the players to express themselves in a way that most of us think he should of - that will be the criticism he will be under."
Replacement
On a potential replacement for Trapattoni, Bonner would like to see former Aston Villa, Sunderland and Celtic boss Martin O'Neill handed the reins.
However, Bonner fears question marks over the former Norther Ireland midfielder's salary demands could hinder his apppointment.
"Martin O'Neil is out of a job and there are the makings of a team there and Martin will be weighing that up.
"The problem with Martin is that I'm sure he'll be wanting decent wages - I don't think we can afford him unless we get a donor like we did in the past to give the wages to Trapattoni as our country is in financial meltdown.
"The Association has been affected by this and has a stadium to pay for, can they afford to bring in a manager of Martin's standing and pay him the wages that he would expect?
"Yes, he would be the favourite, but it's whether we could afford him. Mick McCarthy might be someone they would look to again and there are a few others out there, but it's going to be a trying time for the next couple of months.