2013's football story
Daniel Storey talks to Gibraltar head coach Allen Bula about one of football's most remarkable stories, which has seen an island with a player pool of just 150 finally be granted UEFA recognition
By Daniel Storey - @danielstorey85
Last Updated: 09/01/14 2:12pm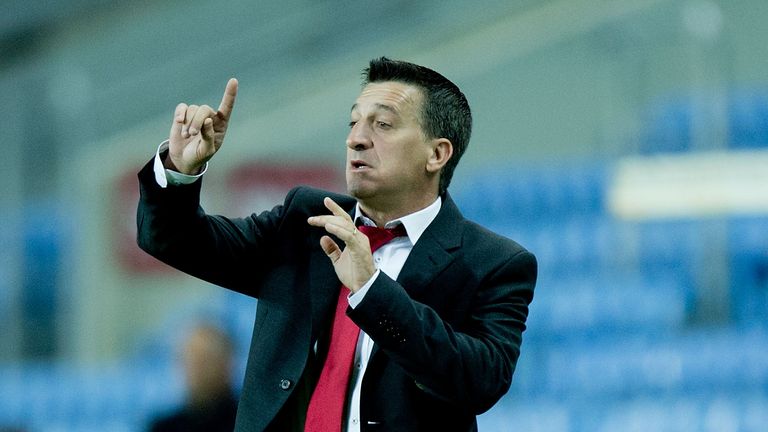 As football becomes ever more entwined (whether we like it or not) with the industry of entertainment, we search for the narrative in everything. Players score against their former clubs ("Well wouldn't you just know it"), any previous history creates a 'grudge match', masters face apprentices and Davids are pitted against Goliaths. We want the soap opera and the fairytale, an often falsely-inflated storyline helping to sell the product even if the football itself sometimes fails to impress.
2013 had its fair share of narratives. Bradford City got to the final of the Carling Cup, Sassuolo reached Serie A despite hailing from a town with just 41,000 inhabitants and Swansea City played in European competition just ten years after almost dropping out of league football.
There was, however, one story that eclipsed all others. Eighty years after the national side was created (and 118 years after the formation of the territory's Football Association), The Gibraltarian FA was finally accepted as a full UEFA member. With a population of just 30,000, Gibraltar became UEFA's smallest member by population, and will be part of the qualifying for Euro 2016.
The fairytale didn't end there, as on November 19th Gibraltar took to the field for their first ever official international. Their opponents were Slovakia, 65th in FIFA's World Rankings, who had beaten Poland 2-0 a few days earlier. Despite containing just one professional player (35-year-old Danny Higginbotham who had been appearing for Chester in the Conference Premier) Gibraltar managed to hold their opponents to a 0-0 draw - their achievements had finally merited international notoriety.
At the forefront of Gibraltar's achievements is manager Allen Bula, appointed in 2010 with clear remit to prepare for UEFA membership. Fiercely passionate about his home country, Bula worked as a youth coach in England before taking the plunge at the academy of Slovakian first division club MFK Kosice.
After such a phenomenal year, one could forgive Bula for resting on his laurels, but it soon becomes clear that UEFA recognition is by no means the final piece of the jigsaw and the manager refuses to see the draw against Slovakia as the ceiling of Gibraltar's footballing achievement.
This is a man with lofty ambitions and a refreshing lack of inbuilt caution, talking openly about the country's recent achievements, hopes for the future and some hard-hitting advice for young coaches in the UK looking to progress in the game. Despite having a pool of just 150 players, he's thinking big:
Allen, when you took over the job in 2010, was it on the understanding that Gibraltar would be aiming for UEFA recognition in 2013?
That's correct. My aim was to prepare Gibraltar for UEFA before we were admitted, rather than go in and then start to prepare. I knew that many smaller nations had made the mistake of preparing once in UEFA, and had paid the price for a few years.
One of my conditions was that the players and technical team started to work like professionals on and off the pitch, and that we played at least ten matches per year against professional sides.
In all everyone had to change their natural stance from amateur to a professional way of thinking and acting. One of my biggest tasks was to show the world that, even prior to entry into UEFA, we had the requisite quality to play at the highest level in Europe.
What would you say has been the key to the country's footballing growth?
My country is a football-loving nation, and that obviously helps a lot in growth. We are the seventh-oldest football association in the world, so football is in our blood from birth.
I also believe that our determination to succeed has always made us work twenty times harder than anyone else, as our road in life hasn't been easy.
We do have footballing talent in Gibraltar, what I sometimes call raw talent, but with a bit of polishing many of our players can become professionals. The most important factor is that our players are starting to believe in themselves, and see a light at the end of the tunnel.
You have called up Adam Priestley and Scott Wiseman from English football. How difficult is the balance between finding naturalised talent and using Gibraltarian born players?
I probably have in Europe the smallest pool of players to pick from, approximately 150 players. It is vital that in order to compete well in Europe I need to balance between naturalised talent and players having blood link with Gibraltar. The biggest football nations in the world do this, and they have pools of players to pick from which are in the hundreds of thousands.
Like with any other job, I am employed to do the best for Gibraltar, so I will always pick the best team for any match. Also always protect and give chances to homegrown players with the right quality, specially the upcoming young starlets.
After moving to England you took a job in Slovakia. How strongly would you advise young British coaches to take that punt?
I would advise it very strongly. Always look outside the box, and take the risk. In football it is very rare that doors open for you, so when take any opportunity with open arms. Working in different football cultures will definitely make you a stronger manager, and more successful.
In the UK coaches spend lots of money and years getting their coaching badges. They learn from great tutors at different FAs and yet are never given the chance, due to big influx of foreign coaches.
Don't throw all your hard work away when frustrated at system. Do something about it, and get a job or experience in another country that will open the door. Get the experience you need, and then eventually move back, more confident and with higher motivation that you will succeed. If you don't believe in yourself, how as a coach do you expect players to believe in what you want to achieve?
I'm assuming that your work in Slovakia led to the friendly that was Gibraltar's first recognised match? What were your feelings going into the game?
I actually had mixed feelings, as Slovakia is a country I have very fond memories of and have great friends over there. More so I was facing some of my ex-colleagues in MFK Kosice, the manager and for sure I didn't want them to get one over me, which I expect was the same what they were thinking.
I knew Slovakia was going to be a very tough opponent, but I also knew the weakness of the players and manager, and that's exactly how I worked on my gameplan. Many managers just work on strength and weakness of opponent players, but I also like to work on the same for the opponent managers. My idea is to make them make the mistakes that will then feed into their team.
I'm perhaps asking you to be too honest here, but how do you rank the side at the moment in terms of ability compared to the level of other small (in terms of success) nations?
It's very early stages to say, as we have only played against two nations in the history of Gibraltar football. One match was against Faroe Islands in 2011 which we won 3-0 and then the draw against Slovakia in Nov 2013. I need at least three or four more games in order to be honest and compare against other nations, and I still have to test my players with two matches in a week [in preparation for the qualifying campaign], and that's where my biggest headache comes, balancing the right fitness between amateurs, semi pro and full pros in my squad.
Just going on the past four years with the national squad, would rank us between 47 to 50 of the UEFA ranking and around 160 to 190 [above the likes of Andorra, San Marino, Liechtenstein and the Faroe Islands] in the world rankings.
Given the thrashings endured by countries such as Andorra, Liechtenstein and San Marino, what are your feelings on pre-qualifying tournaments for 'minnows'? Would that help create a sense of morale or damage it?
I am totally against pre-qualifying for smaller nations. How would you class smaller nations? By population size? By ranking? If you look at rankings now there are countries with high populations that are towards the bottom of rankings.
I have always said publicly that I don't want a pat on the shoulder if I lose matches, just because it is accepted that small nations have to lose. If we lose a match it's because I have done something wrong.
Any manager that enters a competition must aim for the prize. I am now entering the Euro 2016 qualifiers, and at the end of that journey is France, and that's exactly what I am aiming for. For me, the bigger challenges simply make me tick. If it's just about football then I could have easily stayed in Slovakia.
Many people will think that the target I have put myself is unrealistic, and I respect their opinion. I don't share it of course, because anything is possible in life, and as I long as I believe we can do it, my players and technical team will also believe, and that's half the match won already.
Being manager of a nation is one of the most honoured jobs there is, and all managers should be pushed to their limits to get results. No one should accept that it's acceptable for minnows to lose matches, as all this will do is create a safety barrier for many managers, and never push themselves to the limit.
Finally, what are your hopes for 2014 for the team?
The principal thing to work on is giving good performances in all of our matches, so Gibraltar gets a creditable name in UEFA.
In the Euro 2016 qualifiers, we will evidently give it all we have to gain points. As long as I am always given the tools I need for the team, Gibraltar can go far in the qualifiers.