Asian adventure
Disillusioned with life at Bradford City but in his prime of his career, Zesh Rehman decided to embark on a new adventure in Asia with Muangthong United in Thailand. Now in Malaysia, the experience has been a huge success...
By Adam Bate - Follow @GhostGoal
Last Updated: 05/02/14 10:15am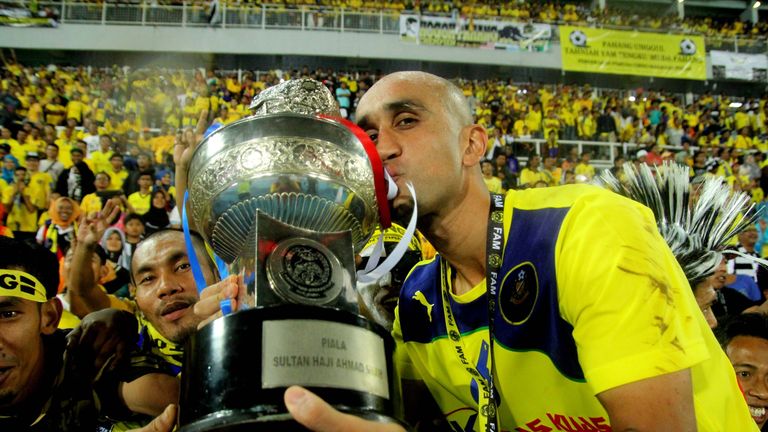 Zesh Rehman made 21 appearances in the Premier League for Fulham between 2004 and 2006 before moving to Queens Park Rangers and later captaining Bradford City. But in 2010, at the age of 27, the defender left English football behind for a new life in Thailand with Muangthong United.
More than three years later and after a successful spell with Kitchee in Hong Kong, Rehman's Asian adventure continues in Malaysia with Pahang FA. Adam Bate caught up with the Pakistan international in the week he won the Malaysian charity shield on his Pahang debut, to discuss this phase of his career and find out more about his experiences abroad...
How did the move to Thailand come about?
Basically, I had a little fall-out with Peter Taylor when I was the club captain at Bradford. So I was available to move. I had other options in the UK but then I got this random phone call from Thailand inviting me over to have a look. I thought it was a wind-up at first so I hung up two or three times.
But eventually I got out there and had a look. Within an hour of going around the place, looking at the club and meeting the people, I went with my gut instinct and signed. I just knew it felt right to have a new challenge and a change of environment. I've been in Asia ever since so I think it was a good decision.
Was it a big decision to leave English football behind?
When you're in the UK, you think there are only four leagues. But there's a big wide world out there and you start to see it. Obviously, you have to think about what you're leaving behind, but if you go out there with the right mentality and want to embrace your surroundings you can actually prolong your career playing in front of passionate fans and enjoy a good living out of the game.
Do you need to be a certain type of person to try your luck in a new country?
I think you just need to be open-minded and realise that where you're going can be good or bad depending on your outlook. If you have the right mentality then the move can be a success whether you're a player or a coach.
So did you throw yourself into life in Thailand and embrace the culture?
I adapted to the local culture really well. I had team-mates who'd take me out and we'd eat the local food, sampling the lifestyle. It really makes the whole move a lot easier if you allow yourself to become absorbed by your surroundings. Then you can enjoy your football a lot more because you feel at home.
What was the football like in Thailand?
I went over there three years ago and it has improved a lot since then. The fans are amazing. They're very passionate. I think you've only got to look at the fact that Jay Bothroyd has gone over there to play for my old club to see that more are going to follow because the level is better than it is made out to be. There are a lot of players there who could quite easily play in Europe.
As an experienced player from England was there an added responsibility?
When you're coming over from England or other parts of Europe, you're expected to make a difference and lead the team. You have to carry yourself in a certain way because the local lads look to you to show professionalism.
It was the same when I moved to Hong Kong. You're expected to lead by example and show why you played at certain levels. If you go there with an ego then you'll be sent home with your tail between your legs so you need to be respectful and help the local players as much as you can.
What made you move to Hong Kong? Was there not a temptation to return to England?
I had some interest from England and other parts of Europe but there was also lots of interest from Asia so I had to weigh it up. I had to work out where I'd be most valued and where I could make the most of my opportunities on and off the field.
I chose Hong Kong because the club there was playing in the AFC Cup, which is the equivalent of the Europa League. It is a good club that is trying to improve and I think I was there at the right moment because we won the treble in my first season.
Was it easier to adapt to life in Hong Kong after being in Thailand?
The transition to the second country was a lot easier because I had learnt some lessons from my first move. Once you move once or twice there's a process that makes it a lot easier to adapt. I settled into life in Hong Kong very quickly thanks to my experiences in Thailand.
And now you're in Malaysia so you must have a lot of contacts out there now?
There are over 50 leagues out here so if you do well it's only natural that clubs in those countries will keep an eye on how you're doing and try to entice you into their league. After two years in Hong Kong, I just felt that it was the right time for a new challenge. Pahang are the Malaysian Cup winners and a very big club so hopefully I can have some success here.
Are you enjoying it in Malaysia?
Compared to Hong Kong it is a lot quieter. Hong Kong was just a manic place so I'm just enjoying the peace and quiet after playing in big cities like Bangkok and Hong Kong. I'm enjoying the calm by the beach and I'm only a couple of hours from Kuala Lumpar so there's a bit of both lifestyles.
Very different to Bradford then?!
It's a little bit different to West Yorkshire. The weather is certainly different so I'm not complaining!
You've helped move several players and coaches out to Asia too haven't you?
Since I've been in Asia, I just see it as one massive opportunity for the lads in England and around Europe who are out of contract. Clubs in Asia are looking for good quality players and coaches. I manage to sort something out for Bas Savage, who is still playing in the Thai Premier League, George Boateng loved it in Malaysia and more recently Steve Kean went to Brunei.
For these kinds of guys, opportunities in the UK were perhaps becoming limited. But out here there is a need for them in those respective countries and they've really enjoyed it. So I think we will see more and more of those cases as time goes by.
Do you think people need to open their eyes to these opportunities?
If their mentality is right, they're in good shape and they go to work - that's the most important thing as it's not a holiday - then they can prolong their career. The bottom line is that if you're out of contract then you need to pay the bills and in Asia the living costs are a lot cheaper so you can actually save a bit of money too.
So do you see yourself staying in Asia?
Who knows? I'd still like to keep the door open to England because the Premier League is the best football around and there are a lot of good clubs and good leagues there. But in the long term, I wouldn't be surprised if I was here for some time to come.
I like to live day-by-day because you never know what's around the corner so I just attack every new league and every new country. Just embrace it to the full because I really believe Asia is going to become the new hotbed of football over the next five to 10 years.
You can follow Zesh Rehman on Twitter or read more about his work off the field with the Zesh Rehman Foundation here