Rising from the ashes
After emerging from one of the worst wars in recent memory, Bosnia will make their debut at this summer's World Cup. Pete Hall looks at their story, and what it means to those long-suffering fans.
Last Updated: 08/02/14 1:11pm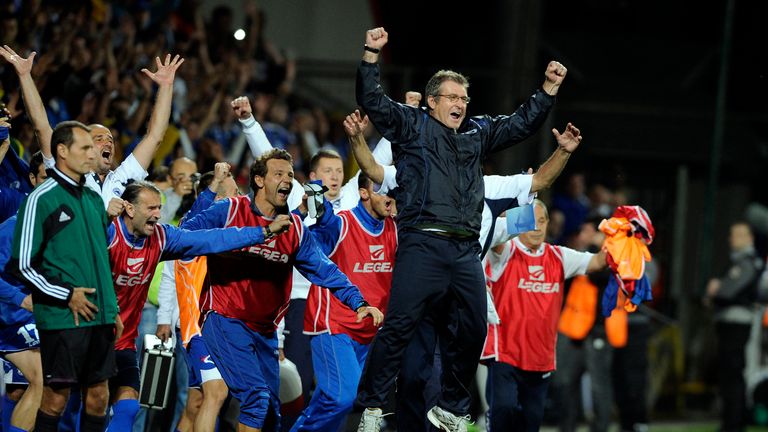 One of the youngest football nations in the world will complete an astounding World Cup baptism when they take to the field in Brazil in June.
Following peace talks, a war-ravaged Bosnia and Herzegovina only competed in their first official match in 1995, but now after an unbelievable qualification campaign that saw the Balkan state lose just one game en route to the finals, the Dragons head to South America brimming with confidence.
And after all they have been through, on and off the pitch, never has a nation had more support from the football community than the 2014 World Cup's only debutants.
Heartbreaking defeats in play-offs for the 2010 World Cup and Euro 2012, both to Portugal, led many to believe that coach Safet Susic would not be able to deliver what the country so craved.
However, Bosnia's 'Golden Generation' dispelled such fears, displaying an attacking elan that blew teams away, scoring 30 goals and amassing 25 points in sealing automatic qualification for the summer showpiece.
Jubilant scenes ensued all over the country, none more so than in the capital Sarajevo - the scene of some of the worst atrocities of the Bosnian War between 1992 and 1995.
Former Coventry and Derby defender Muhamed Konjic captained his country in their international debut back in 1995, and explained to Sky Sports just what it means back home.
"Honestly, it means everything to them. In a country that is world famous for it's war destructions, political turmoil and extremely difficult economic crisis, to have an opportunity to compete with the best in the world, on the world's biggest fair of football, for our fans it is more than a sporting success."
Some of the players that contributed to such an achievement, such as Manchester City striker Edin Dzeko, lived through the worst of the conflict. In a 12-to-a-room flat in the war-torn capital.
However, a large majority of the squad fled the war with their families in the early 90's, a fact which Bosnian Journalist Sasa Ibrulj points out has been integral to the burgeoning talent within the ranks.
"Of course, the most important thing is the fact that we have a very talented generation, mostly raised outside of the country, so we have perfect mixture of Balkan mentality with German/Dutch/American/French influence."
Asmir Begovic is a prime example of this generation. Brought up in Canada after fleeing the war with his family, the Stoke goalkeeper is proud of his roots, and never had any doubts of who to represent.
"Being Bosnian is in my blood. It was very painful to see the scenes of war from afar, but hopefully we can look forward to better times," said Begovic.
And it is that positivity of looking forward, rather than back, that has driven the Dragons to succeed.
It is all a far cry from back in April 2011 when Bosnia were banned from international competition for failing to amend its three-headed presidency, which saw a Bosnian, a Croat and a Serb all perform the role at the head of the organisation.
That ban was overturned after the formation of a Normalisation Committee, a move which "changed the atmosphere of Bosnian football," according to Ibrulj.
The players have benefitted from such a positive ethos within the Bosnian authorities, and have finally been able to match the ambition of their loyal following.
Recognisable faces include Dzeko, Begovic and Miralem Pjanic, who was a reported target of Manchester United after excelling in Roma's record-breaking start to their 2013/14 Serie A campaign.
Inspirational captain Emir Spahic has led by example throughout the qualification campaign, whilst experienced campaigner Zvjezdan Misimovic weighed in with four assists and five goals in qualification, despite his weary legs.
However, key to Susic's success was a tactical switch, which added the guile to unlock even the most stubborn of backlines.
"When it comes to the key players, Susic paired Dzeko and (Vedad) Ibisevic up front and they combined 18 goals and that says a lot," Ibrulj added.
Stuttgart hitman Ibisevic plays in the shadow of his more illustrious partner, but wrote himself into the record books by scoring the winner in Lithuania, securing top spot in Group G, and that all important berth in the draw for the finals.
Susic has won great praise for the way he has gone about his work, taking the 'nearly-men' all the way.
"After a very turbulent period, where former coach Miroslav Blazevic stuck to his specific leadership, putting too much confidence in a shaken team, Safet Susic has added a dose of peace and seriousness," Konjic eulogised.
And even the normally statesmanlike Susic can dream even bigger after December's draw for the finals.
Argentina represent a formidable obstacle to any further progression, but Nigeria and Iran, both ranked well below the Eastern Europeans, both offer significantly less of a challenge.
But the emphasis is very much on enjoying it while it lasts, as with a population of less than five million, and a poor domestic league, the chances of producing successors to the current heroes are slim.
"I think we have a good chance to get through the group stage and this would be an amazing story of global proportions. As we say here 'dreams come true for those who dream', so do not blame us fans of Bosnia and Herzegovina, for our perhaps immodest desire," Konjic added, struggling to hide his excitement.
And after having to endure what they did just 20 years ago, the Dragons are well within their rights to enjoy their freedom in the sun.