Gibraltar coach Allen Bula is raring to go ahead of the Euro 2016 draw
Graeme Bailey talks to Gibraltar coach Allen Bula ahead of the draw for Euro 2016 this weekend.
By Graeme Bailey - Tweet me: @graemebailey
Last Updated: 21/02/14 4:28pm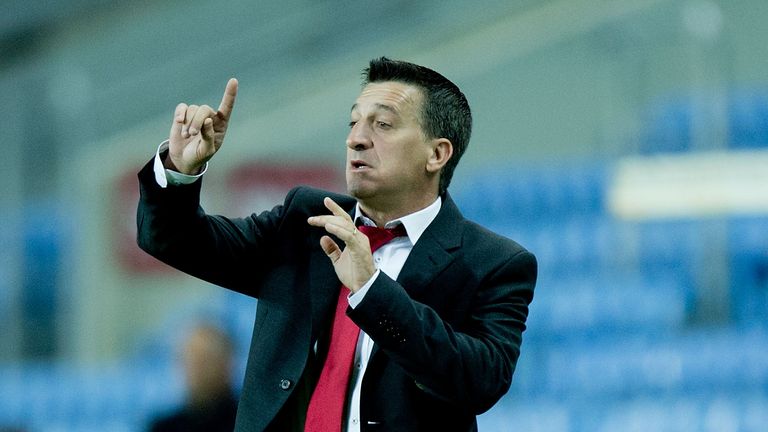 They enter the draw for Euro 2016 qualifying in Nice in Pot Six, alongside the likes of Andorra, Faroe Islands, Kazakhstan, Liechtenstein, Luxembourg, Malta and San Marino.
"It is reality now, Gibraltar is bursting with pride about it, and the reality will now hit and that is what I need," coach Allen Bula told Sky Sports.
"For me and the players and the association, the reality is there but the whole of Gibraltar will now get it."
Because of an earlier UEFA ruling, Gibraltar cannot be drawn with Spain, but they could draw three of the four home nations in the same group and that is the ideal scenario for the tiny Mediterranean territory.
"It would be excellent for us to get any one of the home nations, if you look at the pots - who knows we could almost get all the home nations," Bula continued.
Gibraltar will host their qualifiers in Faro in Portugal, until their own fit-for-purpose stadium is built in the next two years, and they admit getting Cristiano Ronaldo's men would be one of the more appealing options.
"It is going to be excellent whoever we can get from Pot One, I would love to get England - that would be a dream - but I have always had this feeling that it will be Germany. My president said last year he would like Portugal as it would fill up the stadium and it could happen too," added Bula.
Gibraltar have already played their inaugural international late last year when they held Slovakia to a famous 0-0 draw - and further friendlies with Estonia and Faroe Islands are scheduled.
Bula, as he has promised throughout, has scoured the world - mainly Britain - for players with Gibraltan heritage, and that has seen them call-up the likes of Scott Wiseman and the retiring Danny Higginbotham.
Southampton goalkeeper William Britt and Wycombe striker Reece Styche have more recently been added - which has caused some unrest in Gibraltar football circles - but Bula is unrepentant, given he has one of the smallest player pools in world football.
Player pool
"I know what I need, and bringing in professional players will help us on and off the field," said Bula.
"Having the smallest pool of players in UEFA, I need this sort of back-up - I knew there would be some backlash, but that is the way it goes.
"Every game we go into will be a final as we are seen as one of the easier members. It is pressure from both sides but one I have to handle."
And Bula is anticipating more issues given that Gibraltar football will be entering the likes of the UEFA Champions League and Europa League next season which also means they have to take UEFA rules.
"Next season, things like the Bosman ruling kicks in, and there will be no restrictions and clubs here want to get into Champions League and Europa League so we anticipate a number more foreign players coming in," he said.
"It will get even more complicated, obviously it is not going to make life easy for me as some of our younger talents will spend more time on the bench so I need all my options to be able to compete in Europe."
However, Bula fully believes that the chance of Gibraltar's own talent testing their skills around Europe will be a major boost.
"That will only benefit Gibraltar, we have a lot of talent here but it is raw talent that needs pushing in the right way in terms of development and we hope it does, it will benefit us, the more players we have going abroad it will be good for us all and will benefit the national team and I am sure a number of players will get snapped up," he said.
Bula confirmed that Higginbotham, his nephew, is in line to join his coaching staff.
"I have spoken with Danny and we had a good chat," he said. "I know his media work is very important and his priority, but the way we are setting up things we are working around that and we should have him for the qualifiers and he is happy, wants to do it and so that is looking very positive."
Gibraltar hope that attending draw ceremonies will become a bi-annual event, as they are in the process of joining FIFA - which they hope will soon come to pass.