Grondona hits out at England
Fifa vice-president Julio Grondona says England are 'always complaining' after FA failed to delay election.
Last Updated: 01/06/11 12:07pm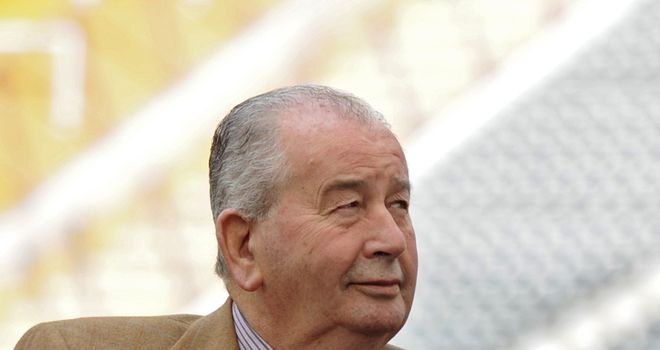 Fifa's senior vice-president Julio Grondona claims he would have voted for England to host the 2018 World Cup if the Falklands Islands had been handed back to Argentina.
England's bid to stage the tournament ended in disaster last December when they became the first country to be voted out of the running.
Russia eventually prevailed in the voting to stage the 2018 finals before Qatar were controversial winners of the 2022 contest.
Argentine Grondona, who is also the head of Fifa's finance committee, outlined his reasons for supporting Qatar for 2022 and snubbing England's claims for the 2018 renewal.
In an interview with a German press agency, Grondona said: "Yes, I voted for Qatar, because a vote for the US would be like a vote for England. And that is not possible.
"But with the English bid I said: Let us be brief. If you give back the Falkland Islands, which belong to us, you will get my vote. They then became sad and left."
Lies
And, after Football Association chairman David Bernstein failed to delay the Fifa presidential election in order to find another candidate to oppose current incumbent Sepp Blatter, Grondona offered further criticism.
He said: "We always have attacks from England which are mostly lies with the support of journalism which is more busy lying than telling the truth. This upsets and disturbs the Fifa family.
"To present such a project as David Bernstein presented is like shooting a penalty because it cannot be always from the same place that the insults and problems come from.
"Since 1974, things have changed and it seemed that this country didn't like it. Now, we are in 2011 and they still seem to always have something to say.
"I see it at every Congress. They have specific privileges with four countries having one vice-president. I don't know what our president has said.
"But we have seen the World Cup go around the world, to South America and Africa and it looks like this country does not like it.
"It looks like England is always complaining so please I say will you leave the Fifa family alone, and when you speak, speak with truth."