England await Rooney verdict
Fabio Capello believes Wayne Rooney has been taught a good lesson as he waits for Uefa to rule on the striker's punishment.
Last Updated: 09/10/11 6:09pm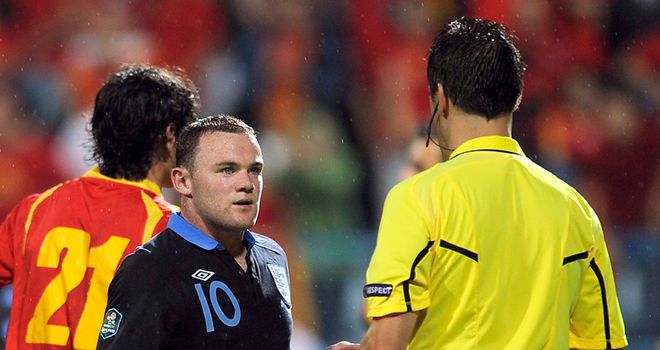 Fabio Capello believes Wayne Rooney has been taught an important lesson as the England manager waits for Uefa to rule on the striker's punishment after being sent off against Montenegro.
Rooney was dismissed in the second half of Friday's clash in Podgorica following a foul on Miodrag Dzudovic, as England picked up a 2-2 draw to secure qualification for Euro 2012.
England's next competitive match will be at next summer's finals in Poland and Ukraine, and Rooney must serve a suspension after Capello admitted he deserved to be shown a red card.
Rooney will definitely be banned for the first of those matches in the group stage, and possibly more depending on whether Uefa imposes an additional punishment.
And there is the heightened possibility of opponents attempting to wind up the Manchester United man in the games he does play, even if Capello tried to put a positive gloss on the situation.
"It will be a good lesson for him," said the Italian.
"We have to play three games at the start next year. I don't know how many he will miss. One, maybe two but I hope not.
"Really, it is too early to speak about it."
As Uefa will presumably deal with all disciplinary matters arising from this week's games prior to next month's play-offs, Capello will know by the time his squad gather for a high-profile friendly against Spain on 12th November exactly how long Rooney will be absent.
Opportunity for youth
England will also face Holland in a friendly before the tournament begins and Capello knows the upcoming games will provide a great test of his side's credentials.
"It will be really interesting," said Capello.
"Spain are the world champions. They are difficult to play against because their style is fantastic."
With a potential three friendlies to play before he finalises his squad, the England coach must complete the delicate balancing act of keeping his best players together, while exposing those with potential to high-level combat from which so much information can be gleaned.
And it all will be underpinned by the knowledge that Capello felt his players had all the energy sapped out of them in the period between November and March, prior to their World Cup debacle.
The early signs are that Capello is leaning towards experimentation against the world champions, which could be good news for Tom Cleverley and Daniel Sturridge in particular given they are the most notable emerging talents who remain uncapped.
"We will play young players and new players," confirmed Capello.
"I want to see some players at Wembley and how they do when they wear the senior shirt.
"Spain will be a really difficult game. But it will help me to understand a lot of things."