Capello still trusts Rooney
Fabio Capello has not lost faith in Wayne Rooney despite the temperamental striker's red card against Montenegro.
Last Updated: 10/10/11 8:33am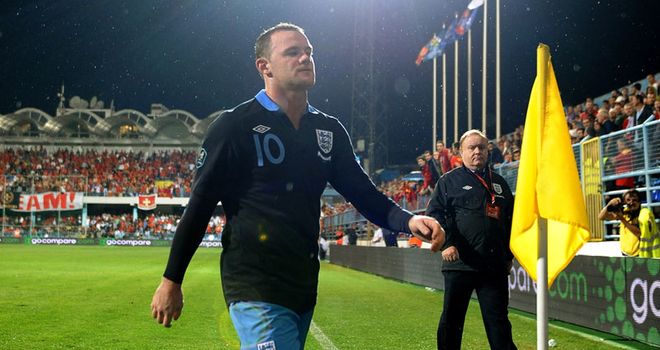 Fabio Capello has not lost faith in Wayne Rooney despite the temperamental striker's red card in England's 2-2 draw with Montenegro on Friday night.
Rooney will be suspended for at least the first match of England's Euro 2012 campaign next summer after recklessly kicking out at Miodrag Dzudovic.
The punishment could turn out to be even worse as Uefa have discretionary powers over such incidents, and at the very least Rooney has proved England's opponents with an incentive to target him.
It was the kind of needless, unprovoked incident that has scarred the 25-year-old's career periodically, despite repeated claims by Rooney that he is now a much calmer person and more in control of his emotions.
Really important
Capello did not go as far as to say it was a failing England must live with, but it was clear his opinion of Rooney remained undiminished.
"Absolutely yes," said Capello, when asked if he still trusted the Manchester United man.
"Why not? He is a really good player. A really important player. When he is at the top he makes the difference.
"For a long time he has been the best player of the national team and I am sure he will be really important at the Euros because he is very proud."
Capello had spoken to the Manchester United star on the eve of the game about his mental state, as Rooney had just been informed of his father's arrest as part of an ongoing investigation into a betting scam.
Difficult
And the Italian admitted it was impossible to predict how players will behave once they cross the white line onto the field of play.
"You can't read everything," said the Italian. "If he scores a goal, do you think about what happened 45 or 60 minutes before?
"Players are difficult to understand.
"When you have one player who is so good, it is difficult to read everything he will do in a game.
"He can do something fantastic and he can make a silly mistake."