Pearce - Rooney will learn
Stuart Pearce has admitted England must make sure they never go down to ten men again after Wayne Rooney's red card against Montenegro.
Last Updated: 10/10/11 3:27pm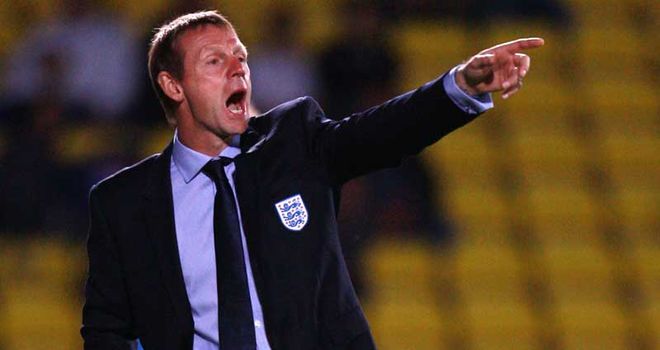 Stuart Pearce has admitted England must make sure they never go down to ten men at major tournaments but has backed Wayne Rooney to learn from his dismissal against Montenegro.
The Manchester United striker will be banned for the start of Euro 2012 after being sent off in Podgorica, with Uefa set to decide on the length of his suspension.
Pearce recognises that the red card tarnished what should have been a positive night for the Three Lions, but says it will at least provide players with an important lesson.
The England Under 21 coach, who will work alongside Fabio Capello at next summer's finals, also insists that Rooney is young enough at 25 to come back stronger from his latest disappointment.
"He'll be disappointed with himself, there is no doubt about that, and we must make sure it never, never happens," Pearce told Sky Sports News.
"It is a lesson that players, when they come into the Under-21 squad, we tell them we are not good enough to play with ten men. Those lessons have to be learnt very quickly.
"It probably tarnished a really good evening and we would have gone on to win the game and been much more buoyant.
"The most damning thing for Wayne will be when the competition starts next summer and he has got to sit in the stands and not be part of one or two games, whatever it may be, that will be when it really hits home, but you have to learn from that and move on.
"He has got a lot of experience but he is still a young man, and he will learn from that."
Capello call
Pearce has also called on Capello to make sure his Under-21 players are involved in matches if they are picked for senior squads.
Pearce is pleased that his youngsters are being promoted into Capello's set-up on a regular basis, but admits he is frustrated when they do not feature.
"It's part of my job to help as many of my young players as possible to get through to the seniors," he said ahead of England Under 21s' match against Norway on Monday night.
"There has to be that progression route and I'm pleased with that.
"But what we also have to make sure is when they do get elevated they have to play. If they don't play, what's the point?
"Phil Jones went with the seniors the time before last and didn't even get a place on the bench for the two matches.
"It's important we have an overview for these players and have a plan for them."