Fabio plots 'perfect' build-up
England manager Fabio Capello plans to find the key to success at Euro 2012, starting with a pre-tournament training camp in Marbella.
Last Updated: 04/12/11 9:22am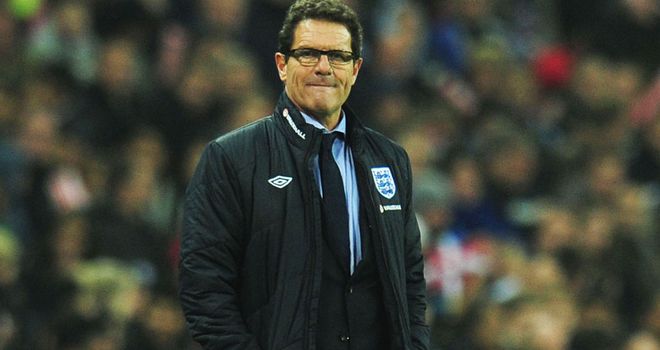 England manager Fabio Capello plans to find the key to success at Euro 2012, starting with a pre-tournament training camp in Marbella.
At last summer's World Cup, Capello was condemned for his choice of base, the Rustenburg complex deemed too remote to keep notoriously fidgety players occupied.
So, next year, they will inhabit a plush city centre boutique hotel in the attractive surrounds of Krakow.
Questions have still been asked about England's decision to remain based in Poland when they will play all their group games in the other host nation, Ukraine, but the freedom Capello plans to give to his players has been praised.
The Italian recognises, however, that every call he makes, both tactically and in terms of preparation, will be judged on whether his side win or lose.
"Look," he said. "The relaxing thing is when you win.
"I saw what happened (to the rugby players) in New Zealand - a lot of relaxing.
"If you find the key to win then everything is perfect. Everything is good. If you lose, everything is boring, the security (is too much), you're tired - everything is a problem."
No problems
It is why Capello is embracing the prospect of having to fly into Donetsk and Kiev for group games.
In actual fact, the flight times to these places are less than the road journeys that would have been required to Wroclaw and Warsaw if England had been pitched into the more favourable Pot A.
It is also the reason why, whilst committed to reducing the preparation time, which he accepts was too much ahead of the World Cup after what was a typically gruelling domestic campaign, Capello will take his players away for a few days, just as he did last year when they headed for the hills in Austria.
There is no altitude issue requiring acclimatisation, this time it is the heat, so England will spend time in Spain.
"We will go to Marbella for five or six days," he said.
"It's very nice. We needed to find a warm place, where we can work as a group and there are no problems for training.
"I know facilities very well because it is the place where Fiorentina train, Bayern Munich went there for a long time.
"There are also three good training pitches - that is why I picked it."
Capello added: "We need to prepare everything.
"We need to study when we need to go to Spain and when we need to play the friendly games. I have time to decide."
Energies
Capello will have plenty of time on his hands once Wayne Rooney's disciplinary hearing is out of the way on Thursday.
Almost two months will pass before he works with his players again, ahead of the friendly with Holland at Wembley on 29th February, nearly three more before his squad gather for final preparations.
And, as he found out last year, for all the promise of the autumn wins over Spain and Sweden, Capello cannot be certain what he will encounter by then.
"I hope my players will get time to recover their energies," he said.
"But I need to wait to see what situation the players arrive at the end of the season in.
"I can't speak about that now.
"If, for instance, two English clubs play the final of the Champions League then (it changes things)... you understand?"