Rio fears he has been fooled
Rio Ferdinand has defended younger brother Anton while admitting he has been left disillusioned by the current racism issues blighting football.
Last Updated: 05/02/12 1:10pm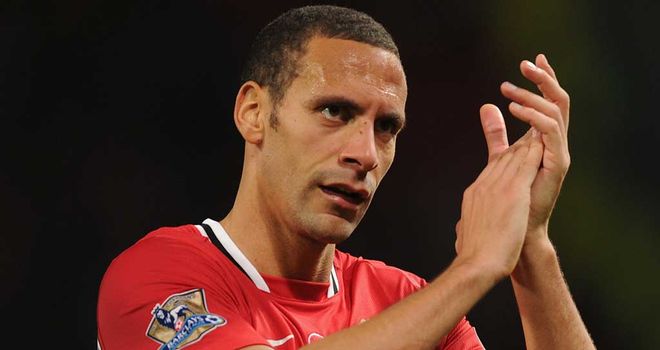 Rio Ferdinand has launched a passionate defence of younger brother Anton while admitting he has been left disillusioned by the current racism issues blighting football.
The Manchester United defender has so far kept his counsel on the saga involving his brother and John Terry, which has led to the Chelsea skipper being stripped of the England captaincy for a second time.
Terry denies a charge of racially abusing Anton in a match between Chelsea and QPR at Loftus Road last year. His trial will be held in July, after Euro 2012.
Ferdinand has admitted it has been frustrating watching Anton suffer the abuse of "small-minded people" following the incident over a matter that was not his fault.
"Anton is my little brother," he said. "We have grown up together and I have looked after him when we were kids.
"If something is going to affect him and hurt him, I am always there as a shoulder to lean on.
"In moments like this, when things are so public and you can't really say anything, it can be frustrating.
"For my family, yes, it has been tough. At the end of the day, my brother has not brought any accusations to anyone. He is not the accused.
"But he has had to sit there and take abuse from some small-minded people, which has been very disappointing.
"I hope people see what effect that has, not just on the actual person but the people around them as well, and think before they speak."
Fooled
The allegations against Terry surfaced in October, just a week after Patrice Evra complained about Luis Suarez during Manchester United's Premier League encounter with Liverpool at Anfield, when Ferdinand was part of the visitors' starting line-up.
Suarez was subsequently banned for eight matches by the Football Association for racially abusing the United defender and Liverpool's conduct in the aftermath was called into question.
There have also been scores of abusive messages sent to the likes of Stan Collymore on Twitter and Ferdinand has reassessed how successful numerous anti-racism initiatives have been.
"I almost feel I have been fooled a little bit over the years," said Ferdinand.
"Look back to the days when John Barnes and the other guys were playing and all the stuff they had to deal with, bananas on the pitch etc.
"I have always been someone who has championed our country for making great strides, and we have, but I thought that era was gone. It seems like it was just put to one side for a while.
"Now it seems to be a little bit more prominent. I hope it is just a group of small-minded people who are making it newsworthy at the moment and it can be stamped out."
With Terry now deposed as England skipper for a second time and supposedly considering his position within the whole international set-up, Ferdinand has insisted he is not interested in taking on the job that was whipped away last March by Fabio Capello, who has also been left bruised by the turn of events.
Couldn't care less
Ferdinand would still like to play for his country though, even if persistent back problems appear to have eased him out of the reckoning.
However, the 33-year-old insists his sole concentration at present is on Manchester United, and their pursuit of a 20th league title.
On balance, the authorities are probably breathing a sigh of relief that Terry has been ruled out of Sunday's Stamford Bridge encounter between Chelsea and United, which means there is no further debate about the prospect of a pre-match handshake between the two long-time England colleagues.
Not that Ferdinand was worried by it. "Not really," he said, when asked if it was a relief Terry was not going to be involved.
"I couldn't care less if he played or not. I just think about playing for Manchester United and winning the game.
"I let the media talk about it, go on about it and create the storm. We are footballers. That is where we are best. That is where we enjoy being.
"The result and the performance of our team against theirs was definitely the most important thing for me."