Fabio response surprises Shearer
Ex-England captain Alan Shearer is surprised Fabio Capello has publicly backed John Terry after he was stripped of the armband.
By Rachel Griffiths - Follow me on Twitter @SkySportsRachG
Last Updated: 07/02/12 10:21am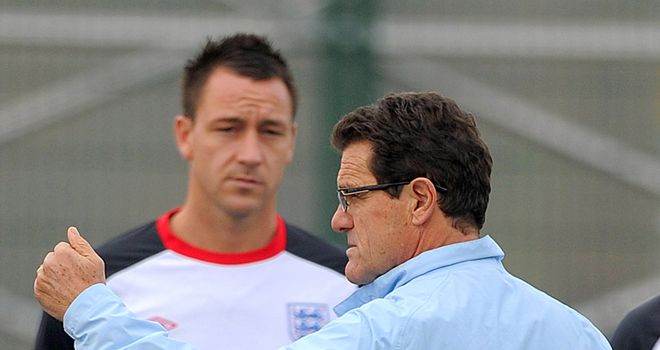 Former England captain Alan Shearer admits he is surprised manager Fabio Capello has chosen to publicly back John Terry after he was stripped of the armband by the Football Association.
Chelsea defender Terry is awaiting trial after being accused of racially abusing QPR centre-half Anton Ferdinand in a Premier League game back in October.
The case will be heard on July 9th, just days after the end of Euro 2012.
The FA announced late last week that the defender will not captain the England team "until the allegations against him are resolved".
Disapproval
Capello has voiced his disapproval at the decision, which was made without consulting the Italian, insisting he still considers Terry as captain.
Shearer, who skippered the Three Lions 34 times, was surprised by the manager's staunch backing of the stopper.
He told Sky Sports: "It's not nice. I'm surprised it's been aired in public.
"We all don't know the full facts of what has been said or what has been done but I think the sooner it can be resolved the better it will be for everyone because let's not forget there's a European Championship in June that England need to do well in."
Terry's demotion and Capello's reaction to the decision have prompted suggestions that both could walk before the Euros even get underway.
But that is an unlikely scenario according to Shearer, who added: "I'd be surprised if that was the case.
"Let's not forget, playing for England is a tremendous honour. Managing England, I'm assuming, is a great honour for him.
"We have to put our country first and we have to try and resolve issues, then look forward to the football side of things to try to do well, because we need to."
Shearer admits he is lowering his expectations of England this summer following the disappointments of recent major tournaments.
Expectations
"I've always been one that's had high expectations of England, leading into any tournament, irrespective of whether I was playing or not, because I still believe we have the players to do well," he said.
"But it seems that we haven't been able to do that over a number of years now, so I'm going to lower my expectations this year for the first time.
"Yes, there'll be pressure on them to do well, but I think if we all expect them to get to the quarter-finals, semi-finals, and anything else is a bonus."