Bernstein - Fabio's choice
Football Association chairman David Bernstein insists that they did not ask Fabio Capello to step down from his role as England coach.
Last Updated: 09/02/12 1:47pm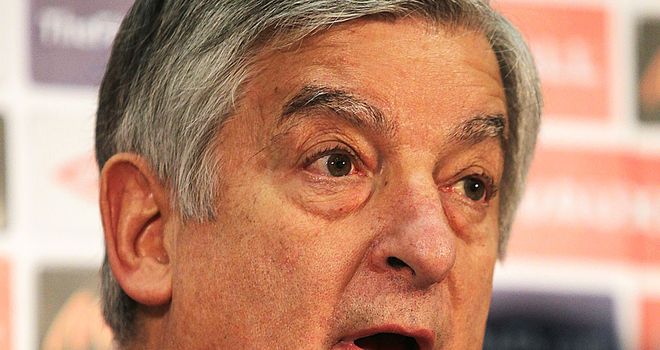 Football Association chairman David Bernstein insists that they did not ask Fabio Capello to step down from his role as England coach.
Bernstein led a packed media conference at Wembley on Thursday, less than 24 hours after it was confirmed that the Italian would be leaving his role just four months before Euro 2012.
The announcement came after Bernstein and FA general secretary Alex Horne met with Capello to discuss the stripping of the captaincy from John Terry, and the Italian's subsequent angry reaction.
It emerged earlier this month that Terry's court case for alleged racist abuse of Anton Ferdinand will not take place until July, rather than within the next few months.
As a result of that announcement, the Football Association board acted and took the decision to strip Terry of the role ahead of Euro 2012, only telling Capello after the decision was made - which prompted his unhappy reaction on Italian TV.
"We all believed John Terry would be dealt with in March or April and when it was decided it wouldn't, the board made a unanimous decision and informed him (Capello) on Thursday evening, and before the announcement on Friday morning. He wasn't happy but he accepted it and on Sunday he conducted an interview which caused conjecture and public debate," said Bernstein.
"Until the court's decision, we did feel the best solution was for the court to come to a conclusion, guilty or innocent, and then we could have reacted accordingly. But once it was delayed it changed the dynamic. We felt with this issue over hanging, we could not have it.
"It was a matter of circumstance [the timing of their decision], we had to consult 13 board members and spoke to Fabio as soon as we could. I do understand that he would find it difficult and I said I hope we can work closely together."
Dignity and honour
Bernstein insisted that there was no animosity in the meeting on Wednesday which led to the coach's resignation, and Capello and the FA parted on good terms.
"I would like to publicly thank Fabio for all the work he has done, he has provided us with two qualifications and I just want to emphasise that he has behaved with dignity and honour. We concluded matters with a handshake, any reports of storming out are not true and a complete misrepresentation of the facts," he said.
"We adjourned the meeting and met with Fabio, and at that time he offered his resignation and I agreed it was the right decision. I want to emphasise they [the discussions] were professional and amicable, all events were concluded within four hours.
"I have been in football for 20 years, and I agree a manager is the most important person, but there are moments when a board or chairman have to step up to the plate.
"Of course it is regrettable when a manager leaves like this. Could it have been avoided? I don't know. It was very civilised but at the end he decided to go.
"I accepted it [the resignation], because the matters arising from the English team captain's issue and the subsequent interview. It was in the best interests of the English FA to accept it - we had a full and frank discussion and he came to that conclusion."
Bernstein stressed that neither he or Horne asked Capello to step down from his role.
"There was no ultimatum, we asked questions, but there was no pressure at all at the first meeting - we just said we would part and think about the situation," he said.
"I don't think we encouraged it [resignation], I can't read his mind and he came up with the desire to leave his post.
"We went into the meeting with an open mind, there were serious issues, that goes without saying, not the sort of thing any one of us want to read."
No point
Horne added: "Fabio felt the best thing to do was to resign, and we felt the best thing was to accept it as there was no point in having a manager who doesn't want to be in the job.
"Having both stepped away and reflected, it was the right decision to accept."
Bernstein insisted that the FA were right to strip Terry of the captaincy.
"I think principles are very important and these things have been done in the interest of the England football team, I know the importance of success. We want to produce a winning set-up.
"It is hardly ideal, but we are where we are."
He also insisted that Capello had done some very good work as England coach, despite agreeing he was 'expensive'.
"I would certainly say it is expensive, but it was not a mistake. He has been a great manager and done a great deal of good, nobody is going to defend South Africa, but the qualifications have been successful," he admitted.