Di Canio - Redknapp is the man
Paolo Di Canio feels Harry Redknapp would have the backing of 90 per cent of English football fans to take charge of England.
Last Updated: 09/02/12 9:02pm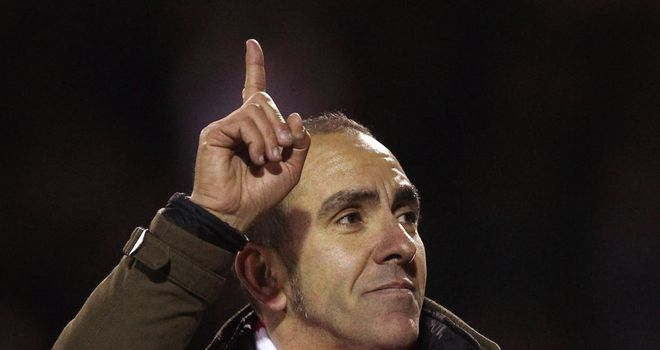 Paolo Di Canio feels Harry Redknapp would have the backing of 90 per cent of English football fans to take charge of England.
Di Canio, who played for Redknapp at West Ham and still maintains a close friendship with the current Tottenham boss, has backed the 64-year-old to pick up the reins at Wembley after Fabio Capello resigned his post on Wednesday following the Football Association's decision to strip John Terry of the national captaincy.
For the Italian, Redknapp has all the hallmarks of a top quality international manager, and he believes the former Portsmouth and Southampton chief can reignite the flames of national pride in those chosen to wear the Three Lions.
Furthermore, Di Canio insisted he would be the popular choice up and down the country.
"I am sure he has the experience, the knowledge and also the support of 90% of the people in England because he is the one," insisted Di Canio.
"He can encourage and let them believe in what they do. Sometimes the players forget that, when you wear the Three Lions, that has to be heavy in your brain if you want to do something special.
"I don't know if all of them feel the cause when they sing at the beginning of the game. That is crucial to do something more.
"Redknapp can help in this way. To have an English staff in the dressing room, thinking about tactical and technical but also to say they must fight for 65 million people and they have to feel this shirt on your body, that makes a difference.
"You can imagine if you play with 120% desire not 90. So for this I am happy for Redknapp to go because he can help in this way.
"Everyone recognises that he is intelligent. I hope that those players don't think because he's English he's like an old, old brother that they can do what they want around.
"Redknapp is not this person, he's not the manager who gives you all the chance to do what you want.
Fox
"Redknapp is a fox, he is intelligent, he knows how to handle the situation."
Whoever takes over at the helm, Di Canio is desperate to see an Englishman given the top job.
"It is a new era, a new start. I hope, even if I am Italian, thinking about English football, that the next one will be an English manager," added Di Canio.
"The first time people saw football was in England over 125 years ago, and I can't imagine you don't have the chance to bring up an English manager.
"Probably there weren't in the past very many because we know they were connected too much with the players.
"This is the problem in England, there wasn't the discipline in the past. Now it's a new generation. Terry, (Frank) Lampard, Rio Ferdinand - they are more professional than the past."
Capello backing
Having known Capello in both public and private capacities during his time as a player, Di Canio stressed that his resignation reflected the stringent principles the former Roma and Real Madrid manager has operated by throughout his career.
"Capello once again proved he is a fantastic manager, he is a strict person - he has his values and beliefs - in the way he handled the situation with his board and with his players," continued Di Canio.
"I am not surprised. It was a natural reaction from him and absolutely right in my opinion. Even if the Football Association was right with the decision they made, Capello should have his word before they made the decision.
"That didn't happen and, as the strong man he is, it's not about the money and he says 'bye, bye, I'm leaving because I defend my job'."