Redknapp expects Spurs stay
The leading contender to become the next manager of England, Harry Redknapp, intends to see out the season with Tottenham.
Last Updated: 11/02/12 3:48pm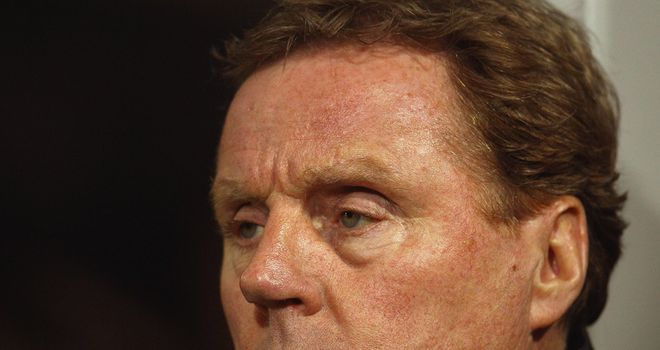 The leading contender to become the next manager of England, Harry Redknapp, expects to see out the remainder of the season with Tottenham.
Redknapp is the overwhelming frontrunner to replace Fabio Capello and it appears only a matter of time before he receives an official approach from the Football Association.
However, with Stuart Pearce confirmed as caretaker boss for February's friendly against Holland, there is no immediate rush to make an appointment.
And with no games to play until two weeks after the Premier League season has finished, there must be a chance Redknapp will be allowed to remain with Spurs to try to engineer a successful conclusion to a stellar campaign so far.
"I hope so," said Redknapp. I'd be very surprised if I didn't finish the season with Tottenham, that's for sure.
Scenario
"I haven't thought about not being here at the end of the season and I've got no idea why I shouldn't."
It does seem like a plausible scenario, which would allow Redknapp to take over England duties for the friendlies against Norway and Belgium, then into a Euro 2012 campaign.
Redknapp has admitted to uncertainty over whether the England job could be done part-time, but in these circumstances, it is difficult to see why not, if he wants the job.
It seems Redknapp's plan would be to massage the egos of England's underperforming stars, if he was to become manager.
As jocular as his approach seems to be, he has mastered the art of getting the most from his players, which does not just happen with a laugh and a joke.
Rubbish
Capello tried the disciplined method, which met with resistance, and Redknapp uses his own example to show that words of praise may get better results.
"England have got great players, it's about getting the best out of them," he said.
"It's the same for everyone. If the editor is telling you you're doing a great job, you feel good.
"If he keeps telling you you are rubbish, it's murder. Your confidence goes. We all want a pat on the back.
"I want the chairman to say, 'well done' to me. I love it if he says, 'Harry, you aren't half doing a good job for us'."