Redknapp calls for FA to wait
Harry Redknapp believes the FA should wait until May before approaching its preferred candidate to replace Fabio Capello as England coach.
Last Updated: 17/02/12 11:07pm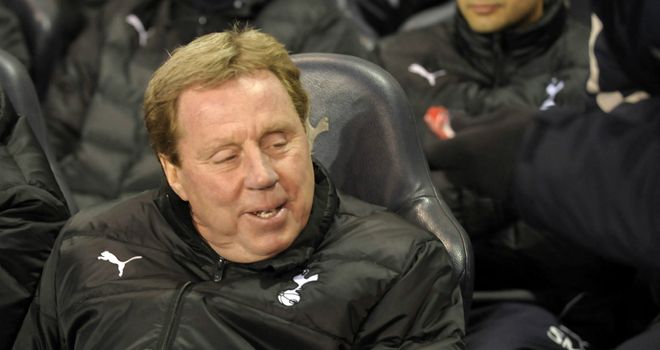 Harry Redknapp believes the Football Association should wait until the end of the season before approaching its preferred candidate to replace Fabio Capello as England coach.
Capello's resignation from the job last week has left the FA searching for a successor to lead England into Euro 2012 in Poland and Ukraine this summer.
Under 21 coach Stuart Pearce is in caretaker charge for the friendly against Holland at the end of this month, while England's next game is not until after the domestic season finishes.
Redknapp is the overwhelming favourite for the vacancy, but the Tottenham Hotspur boss remains focused on his current job and feels the FA may be better advised to wait until May before making an appointment.
Easier
"It would be easier for everybody (if the FA waited until the end of the season)," said Redknapp.
"Whoever they go for, they will probably be in a job anyway so it's going to be difficult for them to walk out of their clubs at this stage of the year.
"It wouldn't be fair, whatever happened or whoever was asked."
Redknapp has put Spurs into a position to challenge for the Premier League title this season and he admits he would be loath to leave the club now when he believes they are on the verge of something special.
"I couldn't do anything or go anywhere now," he said. "This is where I am. I have to concentrate on Tottenham. If I didn't it wouldn't be right for the club.
"We have had a great season, I wouldn't want the players to start thinking, 'What is he doing, is he going, is he staying?'.
"I am here and I have to be until the end of the season, whatever happens."
The 64-year-old also revised his view on whether the role could initially be done on a part-time basis after citing Sir Alex Ferguson's bad experience of managing Scotland at the 1986 World Cup following the death of Jock Stein.
"If Sir Alex struggled, it has got to be tough, hasn't it?" Redknapp said. "Mind you, it was Scotland, so it is different!
"But if somebody takes it to the end of the Euros and it does not go well, where do you go then? Back to your club with your tail between your legs, I suppose.
"It's a job that somebody has got to go in and do full time."