Pearce - I'm not for long-term
Stuart Pearce does not feel he is the man to take charge of England permanently but would be prepared to stay at the helm for Euro 2012.
Last Updated: 01/03/12 8:23am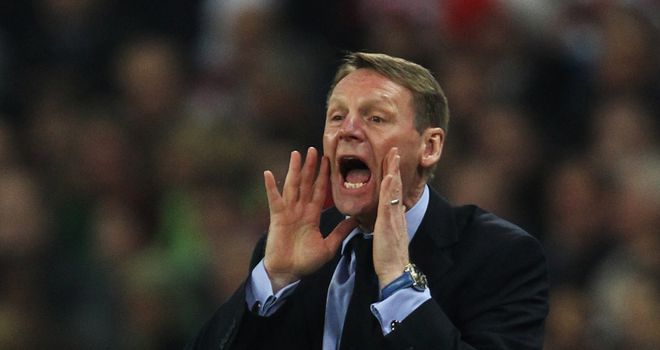 Stuart Pearce does not feel he is the man to take charge of England on a permanent basis but would be prepared to stay at the helm for Euro 2012.
The England Under-21s coach took caretaker charge of the senior side for Wednesday night's 3-2 friendly defeat by Holland following Fabio Capello's resignation.
Pearce says he is open to leading England into this summer's European Championship if the Football Association do not appoint a permanent boss before the tournament, but does not see himself taking the job full-time.
Experience
"I feel I would be confident in taking the squad to the Euros because of the experience I have got as an international player and manager," he said.
"That wouldn't be daunting to me. I don't think after that period I have the experience for this job.
"I really enjoyed this week. I would enjoy the summer if that opportunity was there. All I'm doing is buying the Football Association some time if they've not got someone in place.
"The full-time manager of England is somebody else at this moment in time. It certainly isn't me."
Tottenham midfielder Scott Parker was Pearce's surprise selection for the captaincy role against the Netherlands, with Steven Gerrard having been tipped as favourite for the armband ahead of the clash.
The coach applauded Parker's performance, telling Sky Sports: "I've very pleased with him.
"A lot will be made about who's captain and who isn't. People have to realise that I'm around these players all the time.
"I just had a feeling (from) his personality around the players, and I think he'll grow with the job to be fair.
"But that's a one-off call for me tonight. Whether he goes into the summer or on and beyond that I've made my feelings quite well known.
"But we hope the FA will have someone in place by then. If not I am available for the summer and we'll work from there."
Arjen Robben scored the winner for Holland in injury time after goals from Gary Cahill and Ashley Young had looked like earning England an unlikely draw after they conceded two goals in two second-half minutes from Robben and Klaas Jan Huntelaar.
Belief
Pearce, who chose to field several younger players in the Wembley clash, believes England are lacking confidence.
"I think we need to galvanise a bit of belief within the group if I'm being honest, which has probably been lacking before this evening in some games," he said.
"It's galvanising that little bit of belief in their ability. We put a lot of young players on the pitch tonight and found out a great deal about them.
"Tonight was a big call, this is one of the best teams in the world. But I decided it was the right and proper thing to do, for us to learn something as an organisation about these players and those players to get a feel of international football at the top level."