Hooper eyes England spot
Celtic striker Gary Hooper hasn't given up on representing England at Euro 2012, according to his agent.
By Chris Hammer
Last Updated: 01/03/12 11:31am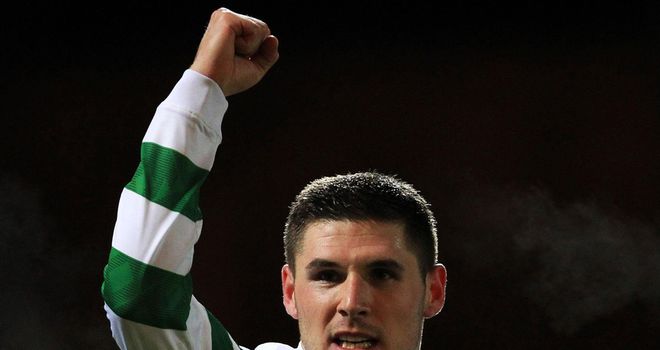 Celtic striker Gary Hooper hasn't given up on representing England at Euro 2012, according to his agent.
The 24-year-old is the top scorer in the Scottish Premier League this season and his 16 goals have helped propel the Hoops towards their first title since 2008.
Hooper attracted the attention of several English and European sides during the transfer window thanks to his exploits north of the border, which has seen him net 20 times in all competitions, but he is yet to win an international cap at any level.
The former Southend and Scunthorpe frontman, who has a career record of 133 goals in 326 games since starting out with non-league side Grays, has already indicated he would love to be a part of the Great Britain set-up at the Olympics this summer but also has his sights on a call-up for England to show what he can do ahead of Euro 2012.
His agent Simon Dent said: "Gary has scored goals wherever he has played and has more goals this season than the three England strikers (Fraizer Campbell, Daniel Sturridge and Danny Welbeck) left in the squad to play Holland put together.
"It has been said that the SPL is the equivalent of playing in the Championship and that's a reason why Gary has been overlooked. You can only score against the team in front of you and Gary has done this consistently from the age of 18.
"We are hoping that Gary will get his chance to impress before the Euros but if he doesn't he'll carry on doing what he does his whole career and not make a fuss."
Praise
Celtic team-mate Kelvin Wilson is also baffled that Hooper wasn't called up for England's friendly against Holland.
He said: "I don't know how it works but I think Gary deserves one (a call-up).
"This is the second season he's scored goals here and he's not just a goalscorer, his all-round play is very good. I'm surprised he's not at least in the squad."
The Celtic defender added: "People say the English league is stronger than the Scottish one. I think they called up David Nugent and Jay Bothroyd before when he was playing in the Championship.
"They're saying the league is weak up here but why are they calling up players from that league and not Gary Hooper? I think he's got to just keep doing what he's doing. If he gets picked, he gets picked. If not, he'll just keep scoring goals."