FA unworried by club competition
The FA's hunt for the next England manager will not be hindered by competition from clubs, insists chairman David Bernstein.
Last Updated: 06/03/12 9:22am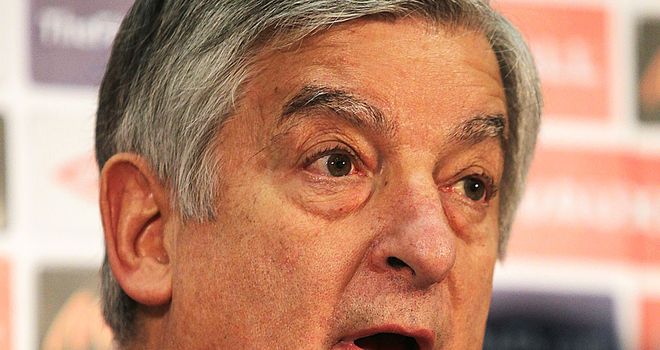 The Football Association's hunt for the next England manager will not be hindered by competition from clubs, insists chairman David Bernstein.
The sacking of Andre Villas-Boas by Chelsea has raised the prospect of both the Stamford Bridge club and the FA going for the same man.
Bernstein, however, believes the unique nature of the England job will prove so attractive to the right candidate that it should prove irresistible - even if the manager could earn a greater salary at a club.
Unique
Asked if the FA were at a disadvantage compared with other clubs in the market for a manager, Bernstein said: "This position is so unique that the right person would want to do it on a sensible basis and for the right reasons.
"It is a very fluid situation, I am not sure if (other clubs searching for managers) helps or hinders. It depends on how the cards fall."
Tottenham manager Harry Redknapp remains the overwhelming favourite for the national team position but the four-man Club England board have earmarked a handful of likely candidates, at least three, which they will whittle down. They are working towards making an appointment in early May, although they will not rule out making a move earlier should circumstances change.
When Fabio Capello was appointed in late 2007, the FA narrowed their list down to four names before finally deciding on the Italian and they will operate in a similar way now in finding his successor.
Bernstein added: "The process is quite clear. The Club England board have been clearly mandated by the FA board to find a new manager for England.
"At the last board meeting we agreed our intent would be to make a recommendation of one person to the FA board, we won't be doing lists of people and the nature of people we are going to be looking at focuses on a very small number of high quality people.
"We have now arrived at a number of target names, I would call it a flexible target list because it's not absolutely fixed in stone and we will react to events depending how events unfold.
"We would intend to deal with this at the back end of the season but it could be earlier, if certain things fell into place and the key appointment came, it could be earlier."
Bernstein said there was nothing to be gained by rushing the appointment process.
He said: "We are treating this with the greatest urgency and under no circumstances should our taking time over this be taken as anything other than dealing with it professionally and urgently.
"We don't believe rushing this process is going to be good for arriving at the right conclusion.
"We are also doing this treating clubs and managers with the greatest of respect, we don't want to disrupt the season of the clubs. Most of the people we are looking at are in positions and whatever we do we ought to try and do it in a way which enables clubs to finish their season with the minimum of disruption."
Interest
The Club England quartet - Bernstein, FA general secretary Alex Horne, FA director of football development Sir Trevor Brooking and Club England managing director Adrian Bevington - have spoken to a number of figures in the game for their opinions, but not current players. They will also be using 'intelligence' to gauge who would be interested.
The FA have not ruled out the new manager not starting until August, if that was deemed necessary.
If that is the case, and it seems unlikely, England Under 21 boss Stuart Pearce has already made it clear he would be available to take over the senior side for Euro 2012.