Cole hails French tactics
Joe Cole believes his tactical awareness has improved immensely since his loan move to Ligue 1 side Lille.
Last Updated: 24/03/12 1:18pm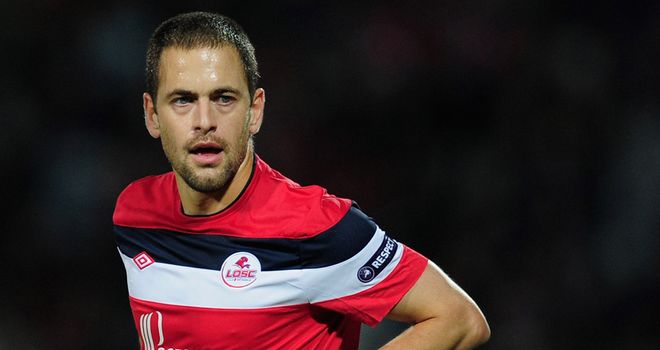 Joe Cole believes his tactical awareness has improved immensely since his loan move to Ligue 1 side Lille.
The 30-year-old midfielder, on loan from Liverpool, is enjoying a successful spell in France's top flight, featuring in 24 of Lille's 28 league games.
"On a tactical level I have improved. I have opened my eyes," he told L'Equipe. "I like the freedom given to the players. At Lille, we play a very attacking game.
"I was often confused when I played with English clubs against continental teams, because we could never win the ball.
"Now I can understand why. Ball possession is a key part in the players' education here.
"The role of the full-backs is vital in France, particularly at Lille. Mathieu Debuchy and Franck Beria help bring in extra numbers in attack.
"In England, the back four guys are just there to defend."
With his five goals in all competitions, Lille's fans have warmed to the England international and Cole believes his style of play goes hand in hand with the French game.
'Continental'
He also feels his technique is similar to former England internationals Glenn Hoddle and Chris Waddle, who each had club spells in Ligue 1.
"I am lucky to be 'bi-culture'. I was born an English player but my football is continental," said Cole.
"Since my childhood I have had to evolve against the trend. If I had been French, I would have probably developed my football with more ease.
"I'm a little like Glenn Hoddle or Chris Waddle who had so much fun here."
Cole has 56 England caps to his name and admits it is his dream to force his way back into the squad ahead of this summer's European Championship.
The former Chelsea man wants Harry Redknapp to lead England at the tournament, claiming the Tottenham boss has the backing of the current squad.
"I know the English FA recently sent a scout to oversee my matches. That is big boost," he said.
"It will all depend on my end to the season. It is my dream. Harry Redknapp knows me, he knows what I am capable of.
"With him we will achieve something there, we can even win that Euros. We would have had less of a chance with [Fabio] Capello, the players are ready to die for Harry and he knows how to get the best out of them."