Ox fancies England's chances
Alex Oxlade-Chamberlain is hoping to earn a spot in England's Euro 2012 squad and insists they are contenders to win the tournament.
Last Updated: 03/04/12 3:57pm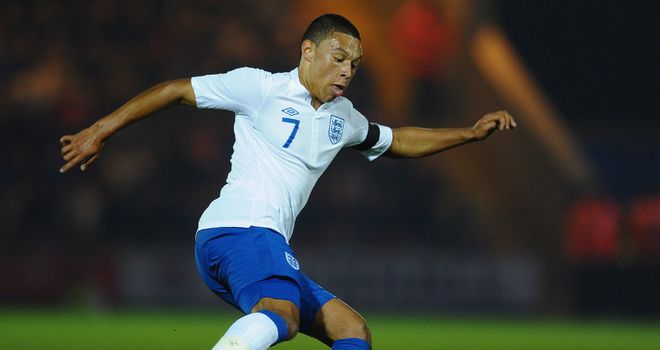 Alex Oxlade-Chamberlain is hoping to earn a spot in England's European Championship squad and insists the Three Lions are contenders to win the tournament this summer.
The clamour for Arsenal winger Oxlade-Chamberlain to be a wildcard pick for this summer's finals has grown since the start of the year, with the 18-year-old having earned rave reviews for his performances in the Premier League and UEFA Champions League.
Oxlade-Chamberlain told Arsenal Player: "It would be very nice but I don't get too far ahead of myself or get carried away."
Omitted
The youngster was omitted from caretaker England manager Stuart Pearce's first squad for February's friendly against Holland, denying him his maiden senior cap.
But Pearce insisted he would consider taking the Under-21 star to Poland and Ukraine were he to remain in charge this summer.
England are currently without a permanent manager or captain following Fabio Capello's shock resignation almost two months ago, with neither vacancy set to be filled until the end of the season.
It is a far-from-ideal state of affairs leading into a major tournament but Oxlade-Chamberlain believes they have the players to triumph this summer.
"There are a lot of good teams like Spain and Holland, but you have to say England have what it takes to get to the final and even win it," he said.
"We have a lot of really good players in this country and a lot of experienced players."
Oxlade-Chamberlain is one of several Arsenal youngsters who have put their hands up for Euro 2012, with Jack Wilshere and Theo Walcott also in the frame.
He said: "The fact that they are pushing on already and are in the England squad, while playing week in, week out in the Premier League, can only be good.
"There are a lot of English players coming through, such as the likes of Danny Welbeck and Kyle Walker, while at Arsenal we have the likes of Jack Wilshere and Theo.
Future
"As long as everyone keeps progressing as they are at the moment, it will be good for England's future.
"We have a lot of English talent here at Arsenal and we will all be working hard to get into the national team.
"The longer you play with people, the better you get to know them. You bond, and being around the same players means that you bounce off each other. It will be good for the future."