FA close on manager move
FA chief executive Alex Horne has confirmed the organisation is 'not far away' from making its move to appoint a new England manager.
Last Updated: 15/04/12 9:58pm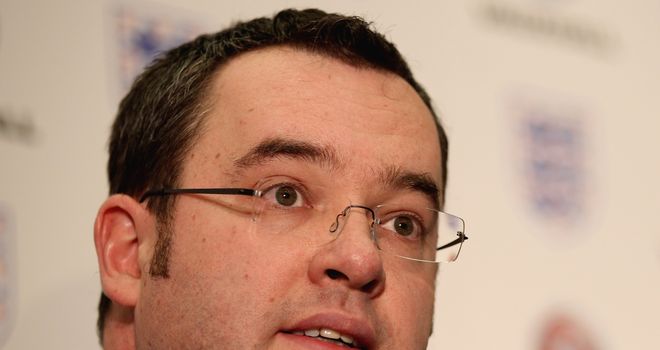 Football Association chief executive Alex Horne has confirmed it will not be long before the organisation makes its move to appoint a new England manager.
The four-man panel charged with naming Fabio Capello's replacement have refused to go too early for fear of upsetting one of England's leading clubs.
However, with the opening Euro 2012 group clash with France now less than two months away, the point is being reached where the FA need to act.
There have even been suggestions that the first approaches will come this week, although they may be to more than one candidate.
"We're waiting until the tail end of the season," Horne said.
"We are not far away."
It had been assumed that overwhelming favourite Harry Redknapp would be appointed and the FA were just waiting for Spurs' fate in domestic combat to be sealed before making an announcement.
Dramatic exit
However, almost since Capello's dramatic exit in February, Tottenham's season has spiralled downwards, culminating in Sunday's 5-1 FA Cup semi-final defeat to Chelsea at Wembley.
Spurs are facing a renewed threat to their top four place from Chelsea and Newcastle and should the north London outfit fail to secure a UEFA Champions League berth, Redknapp's reputation would undoubtedly take a knock.
West Brom boss Roy Hodgson has been suggested as another potential candidate, although the obvious drawback would be the difficulties he endured at Liverpool and the fact that, unlike Redknapp, he has never won a trophy in England at club level.
However, there is no sense of panic from the FA, who believe the plans Capello initially put in place for Euro 2012, that were subsequently "tweaked" by Stuart Pearce, will allow for a smooth integration for whoever is appointed.
"What we've done as an FA is clearly set up all our plans," said Horne.
"We know exactly what we're doing between now and our first game and we just need to slot a manager in, giving that individual enough time to get used to the set-up."