Bent - I'll be ready for Euros
Aston Villa striker Darren Bent insists he will be fit in time for the European Championship this summer.
Last Updated: 13/05/12 11:50am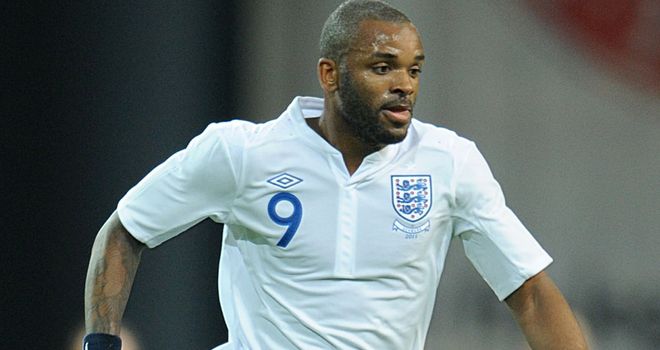 Aston Villa striker Darren Bent insists he will be fit in time for the European Championship this summer.
Bent has been sidelined at Villa since February with ankle ligament damage and has been in a race against time to be fit for the tournament in Poland and Ukraine.
England physio Gary Lewin has twice made checks on the 28-year-old former Tottenham and Sunderland star in the last fortnight to assess his fitness.
However, after missing Villa's last 19 games, Bent ultimately knows the final decision will come down to new head coach Roy Hodgson, who announces his Euro 2012 squad on Wednesday.
When asked if he will be fit for Euro 2012, Bent said: "I'd like to think so. My fitness is getting better every week and I go out every day working hard. I feel I'll be ready for the Euros.
"I've been doing a lot of work and I can do all the running in the world on the training ground but what counts is game situations.
Test
"That is where the test is and if I can get in the squad and play in the two friendlies (with Norway and Belgium) that is going to be a massive help as well.
"The medical staff came to see me on Wednesday, Gary Lewin and Ian Beasley, the doctor and the physio.
"The saw me shooting at goal and running through cones so they saw I could do all the basic things. It is just a case of whether the manager thinks I'm ready to go.
"It would be nice to get on the phone and have a conversation with him but, at the same time, I'm sure he has got his own ideas and hopefully I feature in that."
Bent admits the biggest test will be how he performs in a match situation rather than on the training ground.
He said: "I guess I won't really know until I get into a match situation.
"If I can get my fitness up and get one or two goals in the friendly games that would put me right up there in terms of confidence as well.
"Confidence is a massive thing in the modern game and if I can get a couple of goals and even be in the squad it is going to give me a massive boost and that is going to help."
Staying put
Bent also revealed he will still be a Villa player next season despite this year's struggle against relegation.
Villa have sold the likes of Gareth Barry, James Milner, Stewart Downing and Ashley Young in recent seasons.
But Bent said: "I'd like to think I'd be here next season. I have three years left on my contract and I've said before I would like to remain here for as long as that if not longer.
"I'm sure I'll be here next season. We lost some big players (Young and Downing) from last season so it has been a transitional season.
"I'm sure next season will be better than this one because the manager (Alex McLeish) will assess the situation.
"He knows the players he is working with, he is going to bring in some fresh players and that will eventually be his team."